Beavis And Butt-Head Season 2 Teaser Announces The Perfect Release Date In April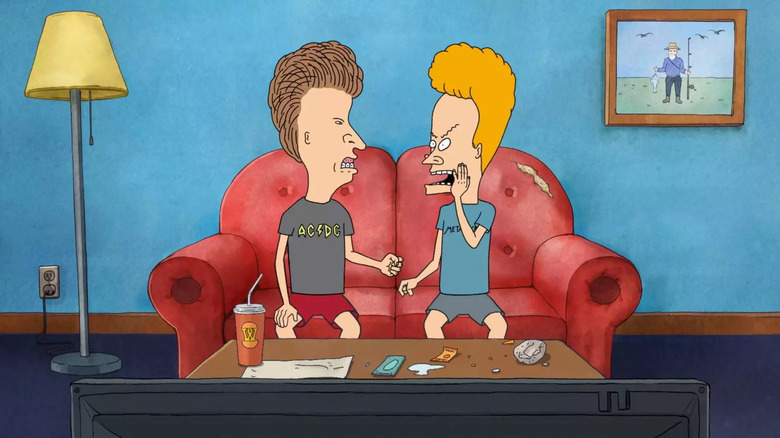 Paramount+
When it was first announced that Paramount+ was rebooting Mike Judge's beloved animated series, "Beavis and Butt-Head," fans of the original series were rightfully concerned that bringing everyone's favorite MTV buffoons into the current era was a recipe for disaster. And yet, after the wildly successful "Beavis and Butt-Head Do the Universe," Judge effortlessly incorporated his horny, mouth-breathing, lovable losers into the 2020s.
The first season of the "Beavis and Butt-Head" reboot was, quite honestly, the absolute best possible outcome. The structure of the series didn't change at all, instead evolved to better reflect our current times. The characters still end up in nonsensical adventures like getting trapped in a bathroom thinking it's part of an escape room (or enacting revenge on some raccoons for eating their nachos) and still have the interspersed asides of commenting on whatever is on TV. Instead of focusing primarily on music videos as they did in the '90s, the two now provide commentary on TikTok viral trends, weird memes, and even reality TV. Watching them mock and analyze an unboxing video of someone being delivered human skulls is truly hilarious.
It's fascinating because we're now a society where people can have a full-time career recording themselves opening up packages or reacting to whatever random thing they feel like, and yet Beavis and Butt-Head's commentary is still better than whatever "content creator" behind a cartoonishly shocked-face YouTube thumbnail can provide. These turkies were ahead of the curve in the '90s, and they're already beating the current generation of teens at their own game.
And luckily for us, they're back for another rousing season heading our way.
Check out the teaser for Beavis and Butt-Head season 2
The teaser for season 2 was released on the 30th anniversary of the original run's debut on MTV, so this news report should also serve as a reminder to anyone who was old enough to watch the show the first time around to schedule their yearly mammogram and start thinking about getting their prostate checked. Promoted as "another reason not to leave the couch on 4/20," season 2 of "Beavis and Butt-Head" will just likely follow the same release schedule as the first season, meaning we'll get two episodes at the start of the season with new episodes released weekly thereafter. Then again, this hasn't been officially confirmed, so if that doesn't happen ... my bad.
Mike Judge's "Beavis & Butt-Head" is executive-produced by Judge, Lew Morton, and Michael Rotenberg, as well as Chris Prynoski, Shannon Prynoski, Ben Kalina, and Antonio Canobbio for Titmouse. Judge returns to voice Beavis and Butt-Head, respectively, but no other voice cast has been announced at this time.
"Beavis and Butt-Head" season 2 drops on April 20, 2023.