Cool Stuff: Celebrate Jurassic Park's 30th Anniversary With Dino-Mite LEGO Sets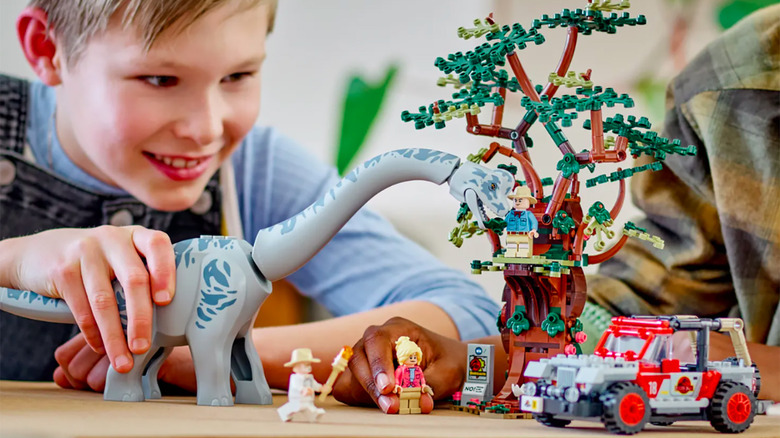 LEGO
This year marks the 30th anniversary of Steven Spielberg's modern classic blockbuster "Jurassic Park." In honor of the milestone anniversary, Universal will be celebrating the original dinosaur adventure all year long, including a bunch of new merchandise for fans to collect. 
Perhaps the most exciting reveal so far is a batch of new "Jurassic Park" LEGO sets that finally deliver perfectly sized building brick versions of the Jurassic Park Jeep and Ford Explorer from the doomed theme park. But of course, it wouldn't be a proper "Jurassic Park" LEGO collection without a batch of dinosaurs and minifigures for all the important characters from the beloved movie. There are also crucial details for fans to enjoy, such as the Barbasol shaving cream can be used to smuggle dinosaur DNA and the "one big pile of s***" that Ian Malcolm wryly comments upon while checking on a sick Triceratops.
Take a look at the new "Jurassic Park" LEGO sets below!
Stick, stupid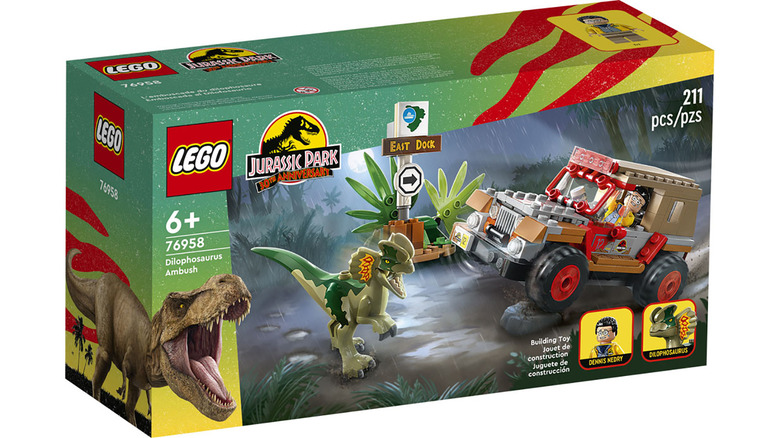 LEGO
LEGO Jurassic Park Dilophosaurus Ambush lets children play out a memorable Jurassic Park ambush scene with this collectible building set featuring a buildable Jeep and Dilophosaurus figure. With Dennis Nedry in the driver's seat, children can let their imaginations run wild and decide whether or not he can escape before the Dilophosaurus attacks.
The sneaky Dennis Nedry (Wayne Knight) doesn't get away with his betrayal of John Hammond (Sir Richard Attenborough) when he attempts to steal dinosaur DNA and sell it to a mysterious buyer. Instead, he gets turned into a nice meal for the deadly Dilophosaurus. 
Along with the Jurassic Park Jeep and Dilophosaurus, you also get a Nedry minifigure, complete with a minifigure head that swivels to reveal a face splattered with sticky venom.
Two no-shows and one sick Triceratops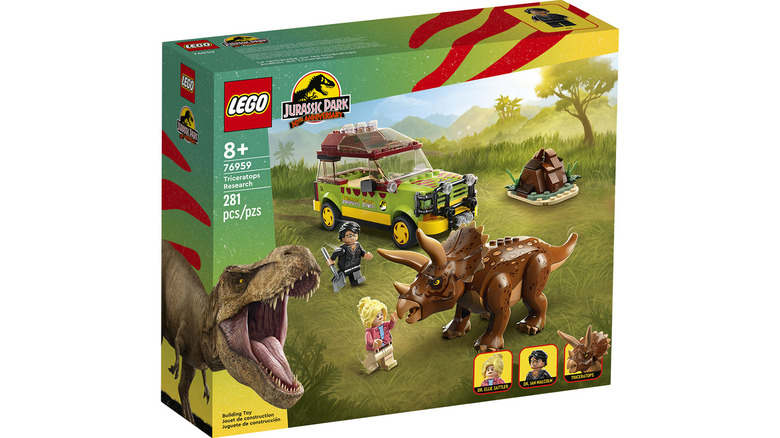 LEGO
• LEGO Jurassic Park Triceratops Research gives children a chance to join Dr. Ellie Sattler and Dr. Ian Malcolm on a research mission to find dinosaurs. Jump out of the off-roader vehicle and help take care of the sick Triceratops bylooking for clues to what has caused the illness.
When Dr. Alan Grant, Dr. Ellie Sattler, Dr. Ian Malcolm, lawyer Donald Gennaro, and John Hammond's grandkids Lex and Tim venture out into Jurassic Park, the tour doesn't exactly go as planned. Dinosaurs don't just show up on command, and there's a sick Triceratops that needs tending to. When Dr. Sattler jumps out of the tour vehicle to get a closer look, we get a magical movie moment where the paleontologists get up close and personal with one of the prehistoric creatures that have been gone for 65 million years. It's a great scene that reminds us that these dinosaurs aren't monsters, even the scarier, flesh-hungry ones.
What's great about this set is that it gives us the LEGO version of the Ford Explorer decked out in neon colors and the Jurassic Park logo, something that was only previously available in more expensive LEGO sets. Previously, this was only available in a larger LEGO set, and we're glad it's coming in this smaller playset now. Plus, it has that big pile of dinosaur poop, and who doesn't want a building brick butt truffle?
Welcome to Jurassic Park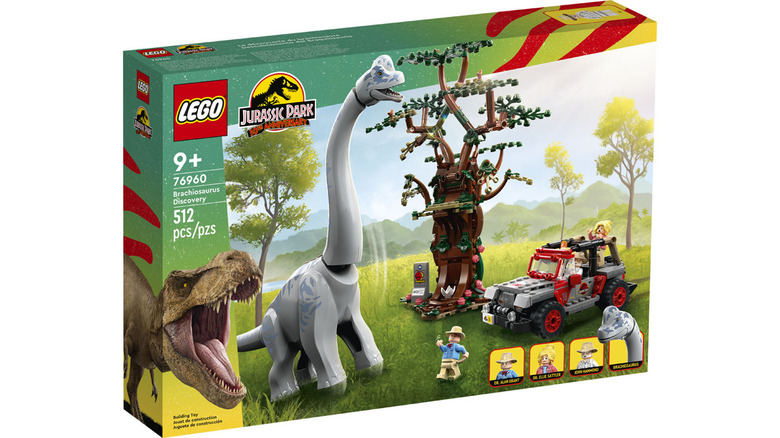 LEGO
• LEGO Jurassic Park Brachiosaurus Discovery set, invites fans to jump into the Jeep® Wrangler with John Hammond, Dr. Ellie Sattler and Dr. Alan Grant in search of dinosaurs. With 512 pieces for ages 9+, fans can recreate a classic scene from the iconic, original film featuring the first-ever Brachiosaurus LEGO dinosaur, or simply build and display the impressive model when complete.
One of the most beautiful moments in "Jurassic Park" comes when Dr. Grant, Dr. Sattler, and Dr. Malcolm see real life dinosaurs for the first time. John Williams' score swells as we see the massive Brachiosaurus stroll across the open field to enjoy some shrubbery. Sam Neill and Laura Dern give us their best Spielberg face as they look off-camera at the stunning creature. Now you can recreate that scene, complete with another Jurassic Park Jeep. In fact, you can create two different scenes, because the tree that you can build also includes a little platform that allows you to put Grant at the height of the dinosaur's face to feed it some leaves. However, if you want to include Lex and Tim, you'll have to get a different set.
We spared no expense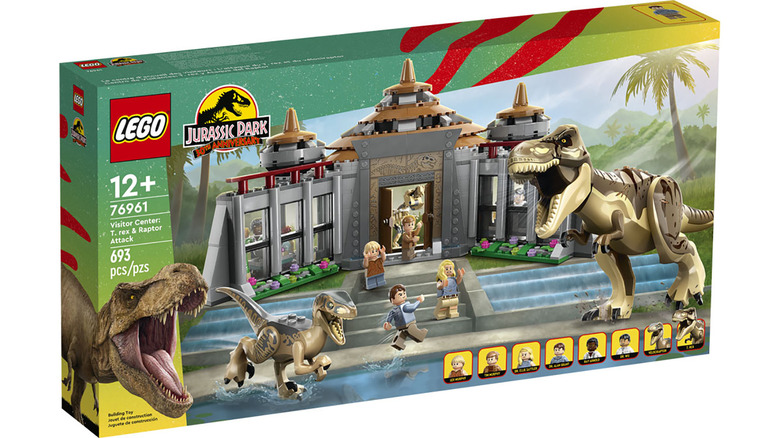 LEGO
• LEGO Jurassic Park Visitor Center: T. rex & Raptor Attack sparks memories of the classic Jurassic Park film by letting fans perform tests and check on the dinosaur eggs in the incubator with Dr. Henry Wu and Ray Arnold. Take a break in the kitchen for a quick snack with Dr. Ellie Sattler, Dr. Alan Grant, Tim and Lex Murphy (Joseph Mazzello and Ariana Richards) before the T. rex and Velociraptor cause total chaos. Unlimited play opportunities with this 693-piece set are waiting for children ages 12+ as well as adult fans.
Finally, we have the Jurassic Park visitor center. Though it's not as cool as the larger LEGO Ideas creation that was not approved for production a few years back, it"ll get the job done. This set comes with plenty of minifigures, including the dirty and roughed up versions of Grant, Ellie, Lex, and Tim, not to mention Jurassic Park employees Ray Arnold (Samuel L. Jackson) and Dr. Henry Wu (B.D. Wong). 
Plus, there's a T-rex and a Velociraptor, as well as the fossil display that they smash up in the film's finale, complete with the banner that says, "When dinosaurs ruled the Earth." 
All of these items (with the exception of the Brachiosaurus set, at least at the time of this writing) are available for pre-order now, but they won't ship until June 1, 2023.