Lorne Michaels Nearly Slept Through The Meeting That Launched Saturday Night Live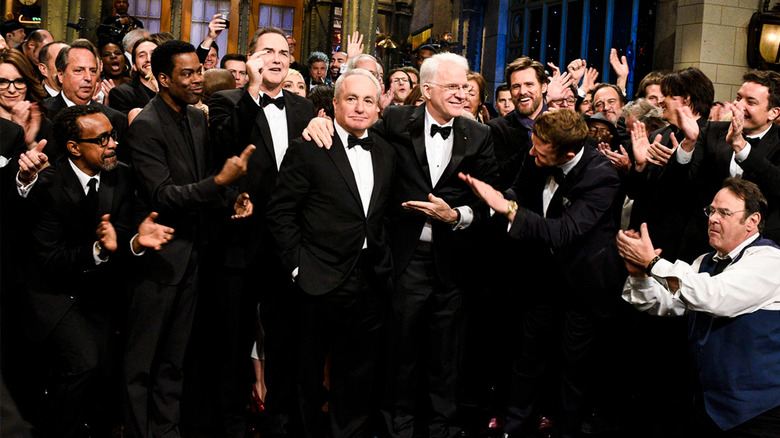 NBC
The longevity and cultural relevance of "Saturday Night Live" was made possible by a staggering legacy of comedic talent on stage, and the terrific writers and creative talent working behind the scenes. There isn't one singular person who has made "SNL" the political and cultural powerhouse that it is today after nearly 50 years broadcasting on the NBC airwaves. But it is incredibly difficult to imagine the comedic circus of the live sketch show sustaining its unparalleled success without its steadfast ringleader, Lorne Michaels.
Before becoming the face and main creative force behind "Saturday Night Live," Michaels began his career as a writer and broadcaster for CBC Radio in Canada. Already, he had grown accustomed to breaking the line between the talent backstage and the on-camera talent. Michaels has become such an icon of New York City, it's difficult to picture him in Los Angeles, but in 1968 he went to L.A. to become a writer for "Laugh-In" and "The Beautiful Phyllis Diller Show." After moving to NYC, Michaels pitched the idea of a live sketch show to legendary NBC executive Dick Ebersol that reflected the youth culture of the '70s. "Saturday Night Live" was not going to be just another uninspired, out-of-touch variety comedy show.
Even before the long hours and late nights that came with running point on "SNL," Michaels was already a night owl who wasn't accustomed to stuffy meetings with top executives. Ebersol wanted Michaels to produce "SNL" and a young producer named Don Ohlmeyer to direct it. Ohlmeyer had previously worked with the NFL on "Monday Night Football," so he knew live television and could speak the corporate language a little better than Michaels. The main concern was if Michaels would be able to get up in time to make the "SNL" meeting at all.
'You know I can't function at that hour'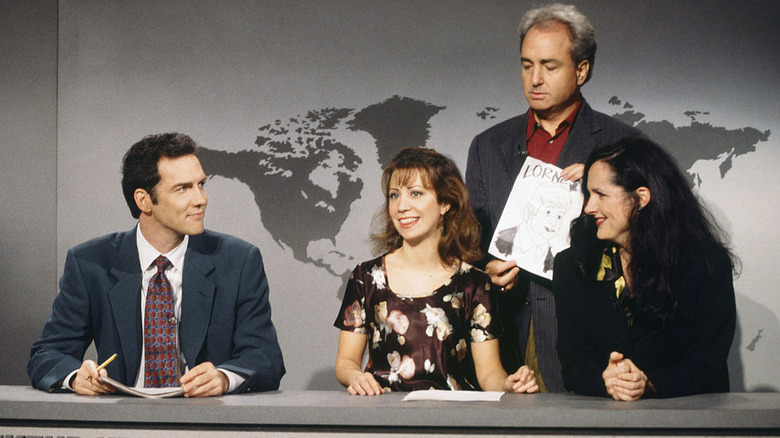 NBCU Photo Bank/NBCUniversal
In the all-encompassing book "Live from New York: The Complete, Uncensored History of Saturday Night Live" by James Andrew Miller and Tom Shales, Dick Ebersol talked about the passion and vision that Lorne Michaels had that convinced him a late night live sketch show could work:
"Lorne just took my breath away the way he talked about things, how he wanted to have the first television show to speak the language of the time. He wanted the show to be the first show in the history of television to talk — absent expletives — the same language being talked on college campuses and streets and everywhere else."
NBC had set up a meeting for eight o'clock in the morning to hear the pitch. If Michaels didn't show, "SNL" probably would have still been greenlit, but there was certainly no guarantee. Ebersol recalled Michaels saying, "Dick, eight o'clock?!? You know I can't function at that hour." TV producer and talent agent Bernie Brillstein was the one who called Michaels to make sure he got up and was there on time.
Ebersol remembered Michaels finally showing up and doing his best to suck up to the suits in the room:
"I don't know if he'd even been to bed, and he's sitting with these two guys who, despite whatever nice things they did for me, I have to give the title of 'stiffs.' They're basically asking if Connie Stevens is going to do the show. Lorne goes into his best BS. When it's over they say, 'Well, he's awfully young. But okay, you can have him.'"
Television history was made that morning, so let this be a lesson to always set your alarm. Yes, even you Lorne.