Cool Stuff: All Of The Christopher Reeve Superman Movies Are Getting A 4K Box Set This Spring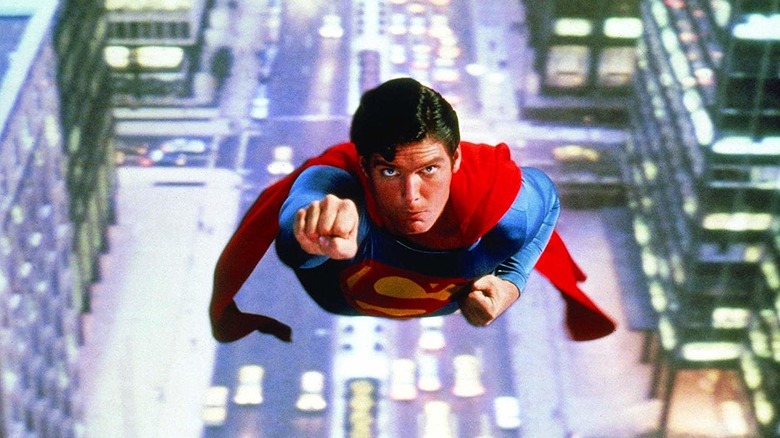 Warner Bros.
Look, up in the sky! It's not a bird or a plane, but it's definitely one heck of a treat for fans of the big blue boy scout superhero. Superman may have experienced a bit of a rocky road in recent DC history on the big screen, despite an actor as capable and charismatic as Henry Cavill leading the action and even with James Gunn's promise that the immensely popular hero will be a "huge priority" moving forward. But even the biggest DC fans would have to admit that there's a certain ineffable charm to the original movies that first made audiences believe that a man could truly fly.
Christopher Reeve starred in four separate "Superman" movies, in addition to the special Richard Donner director's cut released for "Superman II," and now all 5 titles will be made available just in time for the 100th anniversary of Warner Bros., the studio behind the classic DC character originally created by Jerry Siegel and Joe Shuster. Later this year, fans will be able to purchase all of these "Superman" movies in one collectible box set — and better yet, they have been remastered in 4K Ultra HD. Look for the collection to hit both digital and in-store locations on April 18, 2023. Read on for all the details!
Superman 1978 – 1987 5-Film Collection Details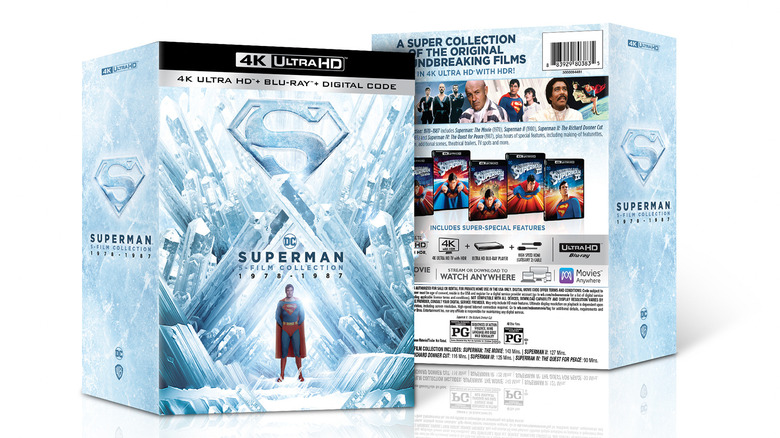 Warner Bros./DC
You know who would be a big proponent of physical media, to the point of maybe even calling it his kryptonite? That's right: Superman would. The most beloved and world-famous superhero icon of them all is finally flying onto the scene in style, thanks to a 5-film box set putting together all the highs (and, okay, a few lows) of the cape-wearing Man of Steel. The Ultra HD Blu-ray Combo Pack comes loaded with all the works, including all 5 features in Ultra HD Blu-ray and in 4K with HDR, a Blu-ray disc with the films and special features in HD, and digital versions of each respective film, as well. Fans can purchase this collection in-store at major retailers and digitally through Amazon Prime Video, AppleTV, Google Play, Vudu and more. The special features included along with each film are as follows.
"Superman: The Movie"
Commentary by Ilya Salkind and Pierre Spangler
"The Making of Superman" — vintage featurette
"Superman and the Mole-Men" — vintage featurette
Super-Rabbit — 1943 WB cartoon
"Snafuperman" — 1944 WB cartoon
"Stupor Duck" — 1956 WB cartoon
TV Spot
Teaser Trailer
Theatrical Trailer
"Superman II"
Commentary by Ilya Salkind and Pierre Spengler
The Making of Superman II — 1980 TV Special
Superman's Soufflé — Deleted scene
Fleischer Studios' Superman vintage cartoons

"First Flight"
"The Mechanical Monster"
"Billion Dollar Limited"
"The Arctic Giant"
"The Bulleteers"
"The Magnetic Telescope"
"Electric Earthquake"
"Volcano"
"Terror on the Midway"

Theatrical trailer
"Superman II: The Richard Donner Cut"
Commentary by Richard Donner and Tom Mankiewicz
Introduction by Richard Donner — featurette
"Superman II: Restoring the Vision" — featurette
Deleted scenes

"Lex and Ms. Teschmacher head north"
"Lex and Ms. Teschmacher head south"
"The villains enter the fortress"
"He's all yours, boys"
"Clarke and Jimmy"
"Lex's gateway"
"Famous Studios vintage cartoons"
"Japoteurs"
"Showdown"
"Eleventh Hour"
"Destruction, Inc."
"The Mummy Strikes"
"Jungle Drums"
"The Underground World"
"Secret Agent"
"Superman III"
Commentary by Ilya Salkind and Pierre Spengler
The Making of Superman III – 1983 TV special
Deleted scenes

"Save my baby"
"To the rescue"
"Making up"
"Going to see the boss"
"Hatching the plan"
"The con"
"Rooftop ski"
"Boss wants this to go"
"Superman honored"
"Gus' speech"
"Hanging up on Brad"

Theatrical trailer
"Superman IV: The Quest for Peace"
Commentary by Mark Rosenthal
Superman 50th anniversary special — 1988 TV special
Deleted scenes

"Clark's morning"
"Jeremy's letter"
"Superman's visit"
"Nuclear Man's prototype"
"Metropolis after hours"
"Lex ponders"
"Flying sequence" (extended scene)
"Battle in Smallville"
"Battle in the U.S.S.R."
"Nuclear arms race"
"Superman's sickness"
"Red alert"
"By my side"
"Lark and Lacy say goodbye"
"No borders"

Theatrical trailer