Jonathan Majors Pitches The Rom-Com With Issa Rae That We All Need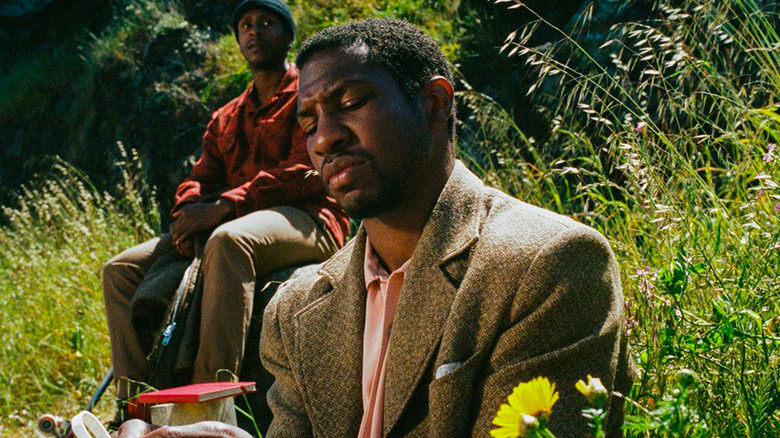 A24
Jonathan Majors was pretty much born to play the heartthrob. The "Ant-Man and the Wasp: Quantumania" star has charm for days — and after a whirlwind rise to fame that's seen him on the cover of Men's Health and Vanity Fair, his status as the internet's new boyfriend can't be ignored for much longer.
Of course, it's not that his talents have been wasted in his most recent roles: Majors has been a consistent, scene-stealing highlight in everything from "Quantumania" to his big break in "The Last Black Man in San Francisco." Still, it would be nice to see him in something less physically or emotionally intense — and Majors himself agrees. In a recent profile published by The Cut, Majors admitted that he'd like to star in some lighter fare — a rom-com, specifically — after back-to-back roles that demanded intense physical transformations. It's got fans of the actor, and of the struggling genre, on the look-out for prospective co-stars.
"Insecure" creator and star Issa Rae is the latest to demonstrate some serious chemistry with Majors. After the duo presented at the 2023 NAACP Image Awards, social media was ablaze with ideas for a project the two could star in together. And funnily enough, Majors also has a pitch of his own.
'I mean, it's Issa Rae, you can't drop the ball'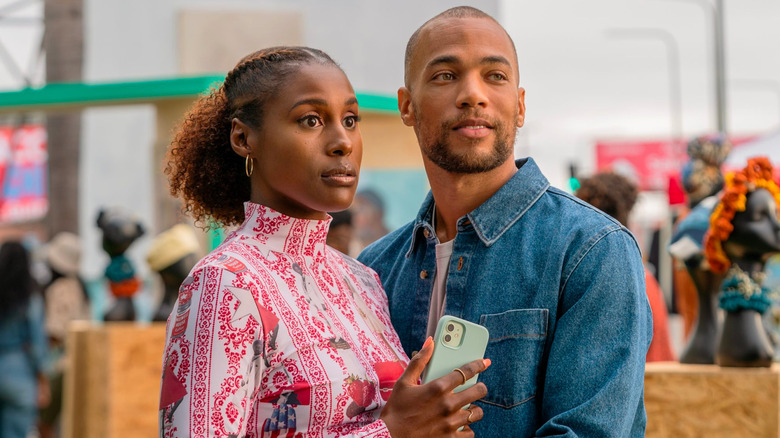 HBO
Jonathan Majors sat down with Variety to discuss his latest film — and his third released in as many months — "Creed III." When the outlet asked Majors about specific tropes he would like to explore in a romantic comedy, the actor wasted no time in laying out his own vision:
"We grew up together. And then I come back home, and it's like 'Oh, okay.' We can start with that. I want to do a run through a park, you know what I mean, a run through Central Park, trying to beat her to the airport. [...] Say we live in Harlem, then we've got Central Park and then you're running through LaGuardia trying to find Issa."
Majors also spoke on the experience of presenting at the Image Awards alongside Issa Rae. Though he'd never presented in that capacity before, their effortless banter clearly helped to break the ice. "She was fabulous and I just kind of ... I mean, it's Issa Rae, you can't drop the ball," Majors continued. If they get along this well off-screen, one can only imagine how great they'd be as co-stars.
"Creed III" opens in theaters on March 3, 2023.