Any Hope Of Keeping Shazam In The New DC Universe Lies In Box Office Receipts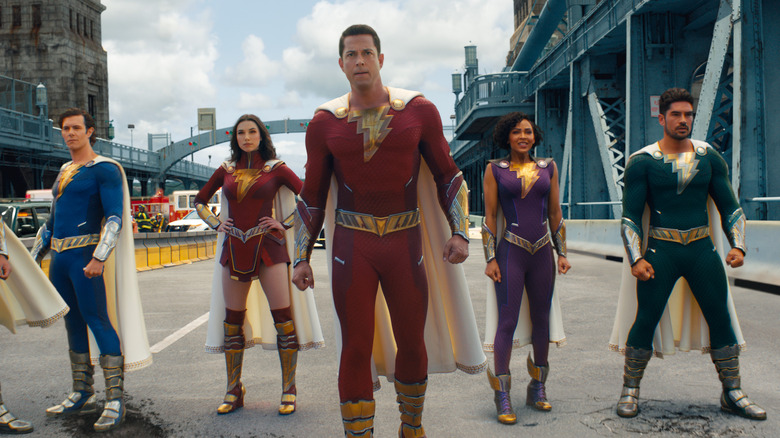 Warner Bros. Pictures
We can file this one under the "No, duh" news column for the day. Future sequels for the latest blockbuster superhero movie depend entirely on whether audiences turn out to watch it or not in theaters? Who would've thought! Well, if you're a longsuffering DC Comics movie fan, then you should know that nothing is simple when it comes to this particular franchise in the last few years.
On the face of it, the circumstances surrounding "Shazam! Fury of the Gods" should be pretty straightforward. As the sequel to a heartwarming, family-friendly (and occasionally gory) original that performed solidly enough at the box office, "Fury of the Gods" looks to up the ante with an even more packed team of supporting superheroes and a group of villains played by name-brand stars. But the film's release can't help but feel a little overshadowed by all the goings-on over at Warner Bros. Discovery, particularly with the change in leadership that resulted in James Gunn and Peter Safran taking over the newly-appointed DC Studios. With the co-chairmen and co-CEOs embarking on a large-scale makeover of what's become an admittedly ramshackle universe, fans have been quite vocal online about the remaining franchise leftovers yet to be released — ones that feel stuck in a limbo of sorts, dependent on whether Gunn and Safran choose to integrate them into their new vision or not.
Well, "Shazam!" director David Sandberg is answering those concerns as best he can. According to him, nothing about this corner of the universe goes against what DC has in store overall. But there's a very obvious catch, of course. The sequel has to be profitable enough to justify more appearances by Zachary Levi, Asher Angel, and the rest of the cast.
'Your best bet is to go see the film'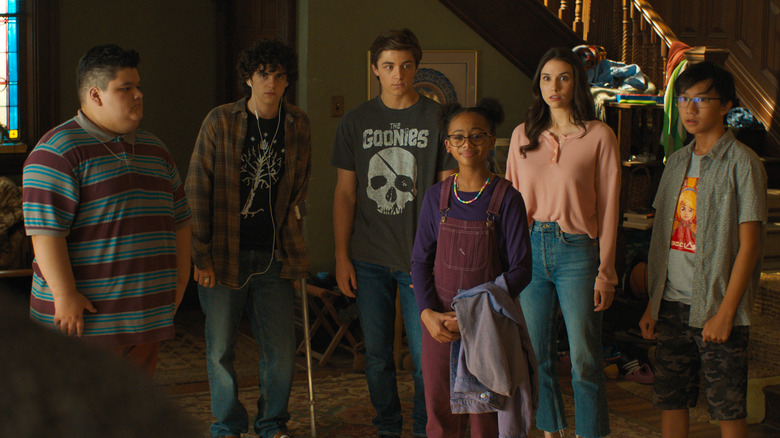 Warner Bros. Pictures
Remember the days when people went to the movies just to watch that specific movie, without even imagining that their interest in the moment would be entirely dependent on the possibility future sequels or spin-offs? To be fair, that still happens all the time ... but you wouldn't know it if you only paid attention to superhero movies. Like /Film's own Witney Seibold wrote previously, the remaining DC movies ought to be worth watching on their own merits.
But for better or worse, audiences these days have been conditioned to view each and every franchise movie as a small part of a much larger whole. That's what that led to one concerned fan to march into "Shazam!" director David Sandberg's Twitter mentions and demand an answer as to whether Zachary Levi's Shazam will play a part in the future of live-action DC. The internet-savvy filmmaker responded diplomatically and with a welcome dose of common sense, saying:
He definitely won't if people don't go see the movie. What I've been told is that there's nothing in the 'Shazam' films that contradict the future plans for DC. So the possibility for more 'Shazam' is there and if that's what you want your best bet is to go see the film."
Now, it goes without saying that a director promoting their latest movie will always want people to pay to see their latest movie, but this comment does reveal a glimpse into the inner-workings of Gunn and Safran's plans. To avoid the same fate as, say, Dwayne Johnson's "Black Adam," the "Shazam!" sequel needs to perform well enough to prove that audiences still care about this character moving forward. We'll see what happens when "Shazam! Fury of the Gods" flies into theaters on March 17, 2023.