Quantumania Gives Bill Murray A Perfectly Bill Murray Role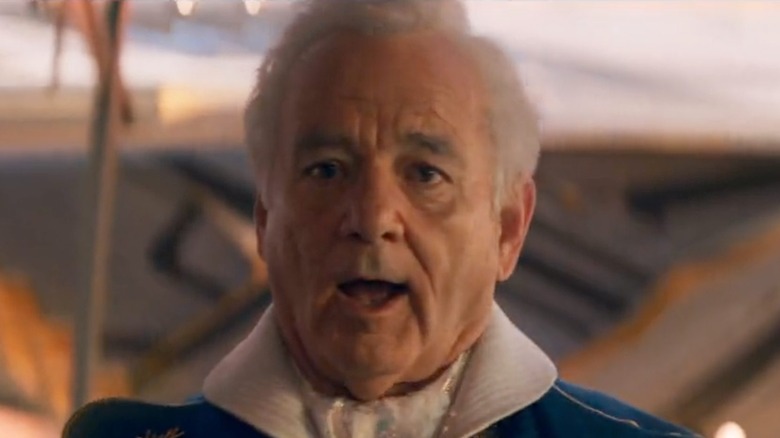 Marvel Studios
This post contains spoilers for "Ant-Man and the Wasp: Quantumania."
If you want to make a big splash with a minor character, you call Bill Murray. And that's exactly what Marvel did for the Lord Krylar character in "Ant-Man and the Wasp: Quantumania." When Lord Krylar dramatically steps off his transport ship to meet Janet van Dyne (Michelle Pfeiffer) in the city of Axia, it really should barely make a blip considering his insignificance to Marvel Comics. But when has Bill Murray barely made a blip?
Lord Krylar is not a known quantity in the Marvel Universe. Until now, he appeared briefly in one 1972 comic, and that's it. According to Marvel Heroes Library, Krylar is both introduced and killed in "Incredible Hulk #156," released in October of 1972. In the issue, Lord Krylar is a green-skinned scientist and leader of Pitll Pawob, the isle of assassins on the micro-world of K'ai (before the Quantum Realm existed, there was the strange story of Marvel's Microverse).
For Lord Krylar's introduction to the Marvel Cinematic Universe, director Peyton Reed took a big swing with the enigmatic Bill Murray. Instead of a green-skinned scientist, we get an exuberant caped conspirator, fueled by greed and extravagance. And yet, somehow, still likable. That's Bill Murray.
Murray's character is 'crucial' to the plot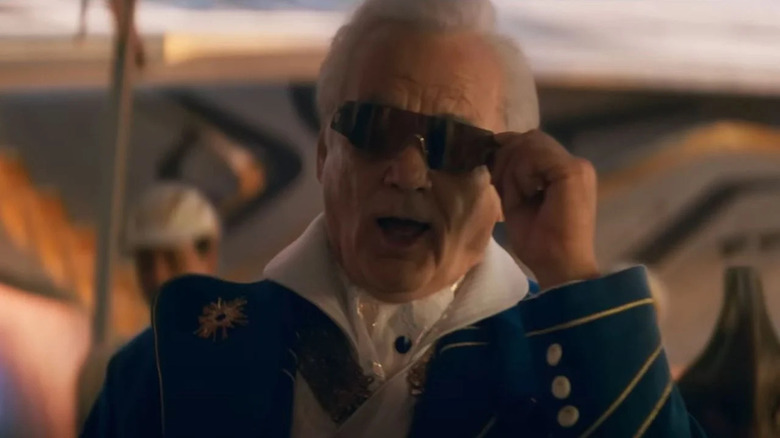 Marvel Studios
For a minor character with little screen time, Lord Krylar has a surprising amount of depth. And because he only had a bit part in the single 1972 comic, Marvel gave the character a clean slate. In "Ant-Man and the Wasp: Quantumania," Krylar is the leader of the Quantum Realm city of Axia. Although he once fought alongside Janet in the fight for freedom against Kang the Conqueror (Jonathan Majors), he has since joined Kang.
Director Peyton Reed, who also directed the two previous "Ant-Man" movies, promised this film would be "Avenger"-sized and stressed the importance of Murray's character. The director told Entertainment Weekly:
"We wanted to go in a different direction and create an epic movie where the bulk of it takes place in the Quantum Realm ... Bill Murray plays a character from Janet van Dyne's past. It's a crucial role. A big theme in this movie is the things that parents and kids don't say to each other, the secrets that they keep in families."
While stuck in the Quantum Realm, Janet struck up a romantic relationship with Krylar. When this is revealed to Hank Pym (Michael Douglas) and Hope van Dyne (Evangeline Lilly), it leads to some humorously awkward moments between the four. Krylar, holding agency over the group, playfully cavorts around the conversation while the secret hangs over Janet's head. But most importantly, Krylar's full reveal sets the plot of the movie in motion.
The role is quintessential Bill Murray, played similar to the Grandmaster character played by Jeff Goldblum in "Thor: Ragnarok," but with the stylish indifference that Murray brings to any role. And in classic Murray fashion, it was a golf tournament that brought the actor to the MCU.
Murray asked Kathryn Newton for permission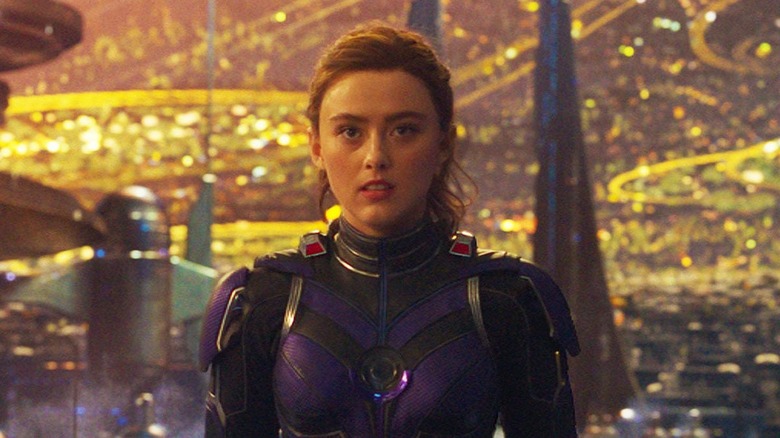 Marvel Studios
Murray's appearance in the movie is a bit of a surprise. Last year, allegations of inappropriate behavior by Murray from a female crew member suspended production of the Aziz Ansari film "Being Mortal." A settlement was eventually reached between Murray and the unnamed crew member, though production has yet to resume on the movie.
Perhaps that's why Murray felt the need to ask one of his young female co-stars for permission to be in the movie. In an interview with Extra TV, Kathryn Newton, who plays Cassie Lang, explained how Murray ended up in the film. Newton said:
"I played in a golf tournament with [Bill Murray] ... and he was asking me what project I was working on and I was trying to be cool, and I'm like, 'Ant-Man.' Low key, I wasn't allowed to tell him. And Bill's like, 'hmm, Marvel, okay.' And like a month later I got a phone call, my mom's like, 'Bill Murray is on the phone for you' and I'm like, 'What?' He was like, 'I've been thinking about joining the Marvel Universe, I've always wanted to do a Marvel movie, is it cool if I join 'Ant-Man?'"
"Ant-Man and the Wasp: Quantumania" brilliantly sets up Phase 5 of the Marvel Cinematic Universe. It was quite the subversive way to introduce super-villain Kang the Conqueror in preparation for two more "Avengers" movies, set for 2025 and 2026. And, perhaps most importantly for Bill Murray fans, insert the legendary actor into the MCU as the over-the-top Lord Krylar.