The Daily Stream: The Great British Baking Show: The Professionals Will Make You Drool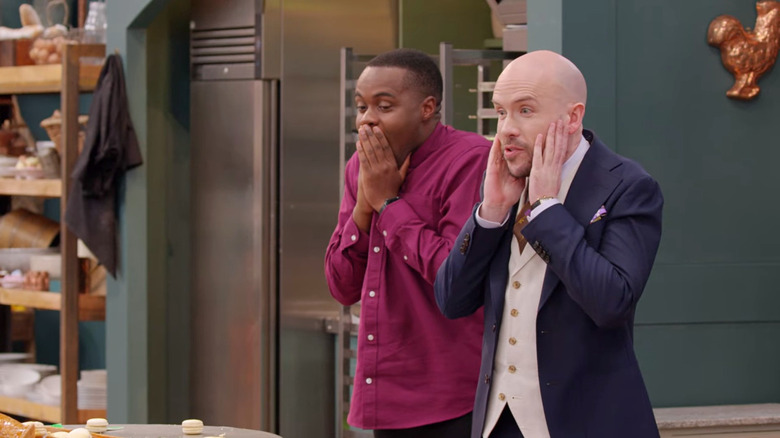 Netflix
(Welcome to The Daily Stream, an ongoing series in which the /Film team shares what they've been watching, why it's worth checking out, and where you can stream it.)
The Series: "The Great British Baking Show: The Professionals"
Where You Can Stream It: Netflix
The Pitch: If you've watched "The Great British Baking Show" aka "The Great British Bake Off" in the U.K., you know all about the calm and joy of that series. The reality competition got many of us through the pandemic with its supportive amateur bakers who hug each other and help anyone having a hard time. It's a ... cuddly show. That may seem like a strange word to describe a series, but it just fits. 
If that warm and cozy series got you excited about baking competitions and you've run through every season Netflix has of that, the holiday versions, and "Junior Bake Off," you may just be ready to graduate to another spinoff, though this one is less cuddly. "The Great British Baking Show: The Professionals" (called both "Bake Off: The Professionals" and "Bake Off: Crème de la Crème" in the U.K.) doesn't feature a lot of hugging. The precise desserts are measured with rulers, but it's fascinating to see how professional pastry chefs work together and create things that defy logic.
In the series (we only have season 6 on Netflix), hosted by former "Bake Off" contestant Liam Charles (who also judges "Junior Bake Off") and comedian Tom Allen, teams of two professional pastry chefs representing fancy hotels, restaurants, and other places I can't afford to eat at compete for a silver cake plate. Yes, like the originals, there is no cash prize here. The desserts are judged by chefs Benoit Blin and Cherish Finden. 
Why it's essential viewing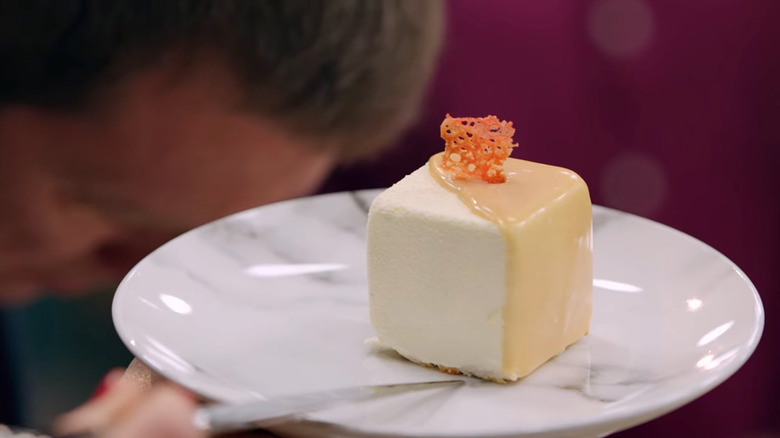 Netflix
This is a much more formal affair, with slightly grumpier contestants (though still quite lovely) and more serious judges. Benoit Blin's accent is fun to interpret, and though he's harsher than even Paul Hollywood, his critiques are spot on. Cherish Finden has so much energy it makes you want to give her a cup of tea, but she's just as astute with her critiques and a whole lot of fun to watch. 
The real charm here is from the hosts, however. Liam Charles may be the nicest person I've ever seen on television. I was already a fan after "Junior Bake Off," but I guarantee if you give him a moment of viewing, you'll feel the same. He knows what these contestants are going through. He's been there, and he's so supportive. He's also paired really well with Tom Allen. I'd seen him sub in for Noel Fielding on "The Great Christmas Bake Off" when Fielding was on paternity leave, and he's a delight in a three-piece suit. Even the silly skits that all the hosts have done for these shows are fun with the two of them. 
They all fall down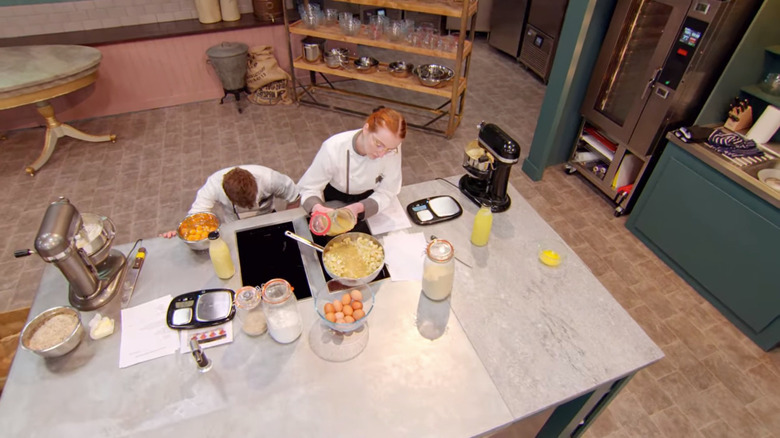 Netflix
The pastry chefs are given two challenges here instead of the three in the original series. They have a miniature challenge where they have to make a ton of tiny versions of desserts and a showpiece challenge that often has a height requirement. If you enjoy watching people build giant chocolate and sugar sculptures and the tension of them being moved from table to table, this show is for you. Not all of them make it, and though they show some of the crashes in the opening credits, you won't remember by the time they get there. I gasped several times audibly in the first episode as bits and pieces fell off, and sculptures fell to the floor. 
This has a different feel than the other offerings in this franchise, but it's a fun contrast. These bakers are used to working together all the time, and you can really differentiate between the skills they clearly have and the pressure of the competition. They're not in a windy tent that is affected by random rainstorms that happen in the British countryside or unusual heat that makes sugar sculptures melt like snow in summer. The tables are huge, and the techniques are incredible. Just watching the molding of sugar under heat lamps will make you want to take up a new hobby. (Pro tip: Don't. Having burned myself with melted sugar once, I cannot in good conscience recommend this as a smart choice.)
I do hope you give this one a shot because I really want to see more seasons on Netflix. It gives you a real appreciation for the incredible amount of work baking takes and how much of it the amateur bakers put into the creations that they make.
Happy baking!