The Little Mermaid Trailer: Halle Bailey Brings A Classic Story To Life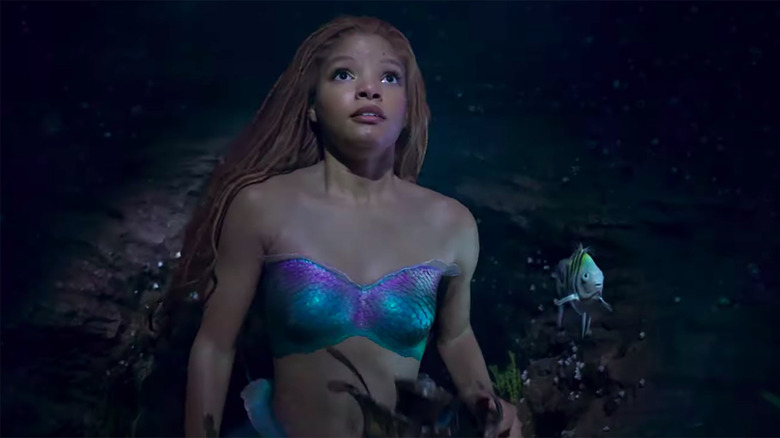 Walt Disney Studios
"The Little Mermaid" is largely credited as one of the movies that launched Disney into its infamous Renaissance Era, so it's probably no surprise that the studio has decided to revisit it in a big way. Its live-action remake, starring Grammy-nominated singer Halle Bailey, is on its way, and we've got the first true look at the Rob Marshall-helmed film.
Much of what we see in this trailer looks familiar if you've watched the original 1989 film, only adapted to a live-action medium. However, we did get plenty of new footage in this new trailer that is sure to entice fans. We got to see Ariel (Bailey) explore the film's version of Atlantica, see other characters such as the charming Prince Eric (Jonah Hauer-King), and, unfortunately for her, see her get brought into the clutches of the conniving Ursula (Melissa McCarthy). Speaking of which, Ursula in live-action looks and sounds great so far, as does Ariel, obviously.
Swim over to The Little Mermaid trailer
"The Little Mermaid" has a star-studded cast outside of the previously-mentioned names. Javier Bardem will play King Triton, Ariel's father who disapproves of her curiosity about the human world. Daveed Diggs will voice the mermaid's trusty crab friend, Sebastian, while Jacob Tremblay and Awkwafina will voice Flounder and Scuttle, respectively. Art Malik will also Grimsby, Prince Eric's voice of reason.
Marshall directed this live-action remake with the help of screenwriters David Magee and Jane Goldman. Alan Menken, the original film's composer and songwriter, returned to revamp the music for the remake alongside Disney favorite Lin-Manuel Miranda. The film will feature many of the film's original songs, such as the classic "Part of Your World," while also featuring brand-new compositions. Fun! Marc Platt and John DeLuca serve as producers alongside Marshall and Miranda.
"The Little Mermaid" becomes part of our world on May 26. Read the film's official synopsis provided by Disney below:
"'The Little Mermaid' is the beloved story of Ariel, a beautiful and spirited young mermaid with a thirst for adventure. The youngest of King Triton's daughters, and the most defiant, Ariel longs to find out more about the world beyond the sea, and while visiting the surface, falls for the dashing Prince Eric. While mermaids are forbidden to interact with humans, Ariel must follow her heart. She makes a deal with the evil sea witch, Ursula, which gives her a chance to experience life on land, but ultimately places her life — and her father's crown — in jeopardy."