Hit-Monkey Gets A Second Season From Hulu, But Without The Marvel Branding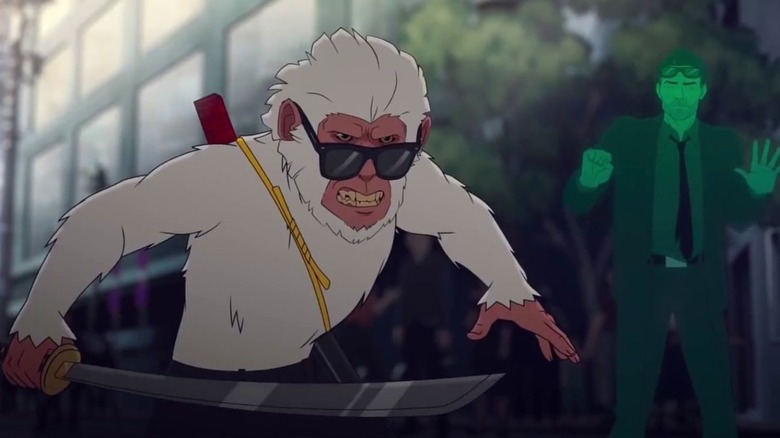 Hulu
Marvel's "Hit-Monkey" was released on Hulu way back in November 2021 and, given that we haven't heard much about the show since, it very much seemed like this was going to be a one-and-done series. But not so fast! Amazingly enough, Marvel and Hulu have confirmed that the animated series is indeed returning for a second season. However, there will be a couple key changes. Not only will the action shift to New York, but the series will be dropping the Marvel branding from the title (we'll get to why in a second).
More hits. More monkey. Season 2 of Hit-Monkey is coming soon! pic.twitter.com/KySB8yIb6V

— Hit-Monkey (@hitmonkey) February 2, 2023
Arguably one of the most unlikely Marvel Comics heroes to make the jump to the screen, "Hit-Monkey" tells the tale of a Japanese snow monkey who is aided by the ghost of an American assassin whilst on a quest for revenge through the Tokyo underworld, where he manages to become the famous "killer of killers." 
Little more information was revealed than what that above teaser tells us, but co-creators Josh Gordon and Will Speck will remain on board as executive producers for season 2. No release date has been confirmed, but the brief teaser does say "coming soon," so it's possible this has been quietly in the works for a little bit.
Cast members returning for season two include Olivia Munn ("The Newsroom"), Jason Sudeikis ("Ted Lasso"), Ally Maki ("Wrecked"), and Fred Tatasciore ("Hulk and the Agents of S.M.A.S.H.), with Leslie Jones ("Saturday Night Live") joining the ensemble.
Why did it take so long?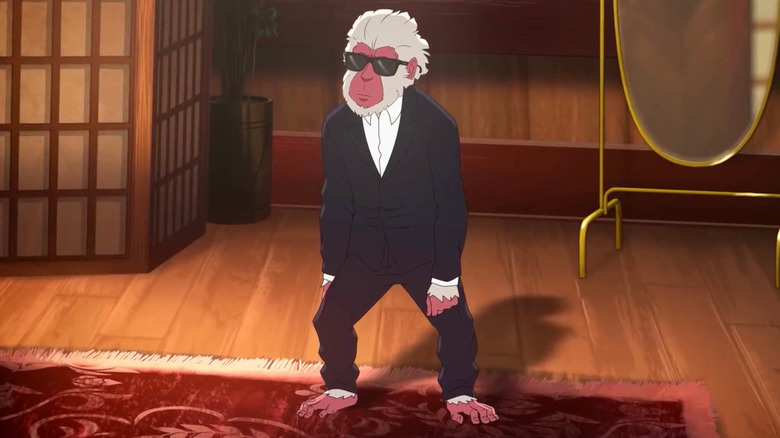 Hulu
Now for the big question: why on Earth did it take so long for "Hit-Monkey" season 2 to be announced? For starters, the show was originally given the green light back when Marvel Television was still around, before the division was closed down and everything was shifted under the Marvel Studios umbrella. That movie paved the way for the Disney+ shows such as "WandaVision" and "Loki." Meanwhile, "M.O.D.O.K." and "Hit-Monkey" were kind of caught in the middle. As for the big crossover Hulu had planned with other would-be shows "Tigra & Dazzler" and "Howard the Duck" before the big behind-the-scenes shift? Scrapped along with Marvel Television.
While "M.O.D.O.K." was scrapped after a single season, that may have had more to do with the fact that the character is going to debut in the Marvel Cinematic Universe in "Ant-Man and the Wasp: Quantumania." That's speculative, but it is highly unlikely Hit-Monkey is ever going to make that jump. As such, once the dust settled between Marvel Television shuttering its doors and Marvel Studios absorbing the TV side of things, "Hit-Monkey probably seemed like a good bet to retain.
The series debuted with solid reviews, has the Marvel brand attached to it, and is probably not terribly expensive to produce. As such, it gives Disney's other streaming service, Hulu, a way to stay in the Marvel business without getting in the way of the MCU. As for the "Marvel" name being dropped from the title? According to The Hollywood Reporter, that has to do with the fact that 20th Television Animation is taking over as the primary studio for the second season. Though the Marvel logo will still appear in the show, likely in a pre-credits card.
More story to tell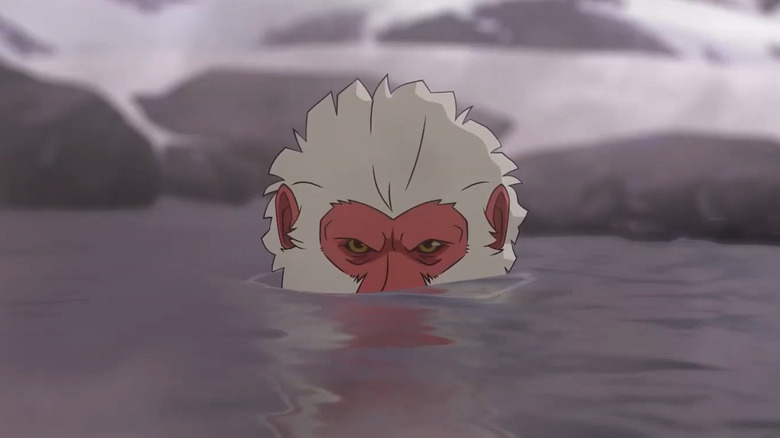 Hulu
When it comes to what to expect from "Hit-Monkey" season 2, little has been said officially. The brief logline released by Marvel and Hulu states that "Bryce and Monkey head to the city that never sleeps, New York City." We can safely assume more assassin-related carnage is in store. One thing we can somewhat safely assume is that Josh Gordon and Will Speck will not leave things open-ended. When I spoke to the duo ahead of the release of the first season, Speck explained that they essentially treated the first season like a movie, as to not leave the audience wanting in case it was just a one-off situation.
"We ended up being able to model the whole first season, really more on a feature model. So it really does tell a full, complete story beginning, middle, and end. But then it really does hint at where the story could go in New York and all the other layers that I think certainly Bryce, Monkey, and in our minds, Haruka and Akika, who really would've gone forward and will go forward into New York, how those characters could have future storylines."
Feels like a safe bet they would apply that some logic and "feature model" to the second season as well. The pair also joked in our interview that "we thought we were going to go at least 30 seasons," while also noting that the character had been an "obsession of ours for a very long time," and that this wasn't just some piece of IP they were handed. So, rest assured, they are going to make the most of round tow with Bryce and Monkey.
"Hit-Monkey" season 2 does not yet have a release date.