How Director Marc Foster Convinced Tom Hanks' Son To Join The Cast Of A Man Called Otto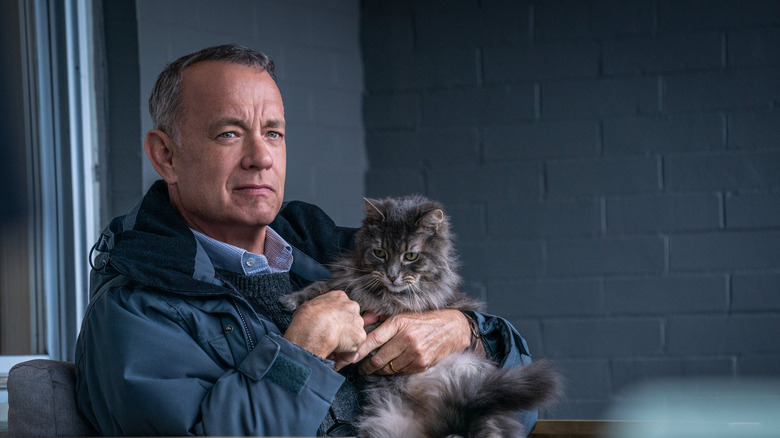 Sony Pictures Releasing
In order to make a whole new version of "A Man Called Ove" work, director Marc Forster had his work cut out for him building the world of "A Man Called Otto." The American remake of the 2016 drama stars Tom Hanks as an aging pseudo-mayor of a small gated community he's lived in—and begrudgingly done all the work for—for many, many years. But one of the film's tentpoles involves flashbacks, in which we meet the younger version of Hanks' curmudgeon character.
Forster explained how he and Hanks were able to enlist Hanks' son Truman to play the younger Otto in a recent interview with Forbes:
"Yeah, his parents thought he wouldn't want to do it, but I said, 'Why don't you sit down with him and talk to him?' We had a good conversation, and he felt very comfortable and then said yes. For me, it was essential to make him feel warm and welcome. Rachel Keller, who plays Sonya [his wife] opposite him, relaxed him and said, 'You can just be yourself in front of the camera. It's nothing to worry about. It just can be.'"
The vivid personalities of the flashbacks are a major selling point for "A Man Called Otto," and Hanks' son does an excellent job of taking on the same guarded perspective as his father's present-day version of the character. Their performances really gel, and they work in tandem to activate the emotional core of Otto's backstory and how it directly correlates to his present-day life in the film.
Deciding on Truman Hanks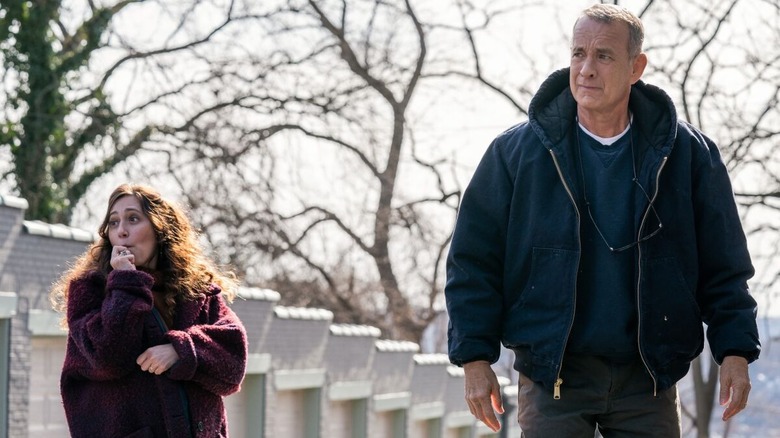 Sony Pictures Releasing
Forster also explained how he built a creative language with Hanks to pull off the balance of tone with "A Man Called Otto," which led to casting his son. He explained:
"[Me and Hanks] had this very similar set of sensibilities. I like everything to be real and underplayed and not too slapsticky, but in this case, because we go to a darker place, we can go a little bit down that slapstick road too. A lot of it is him massaging the movie. You have this play between the dark and the light, and then you have the same between the present and flashbacks. We had to weave flashbacks into the present day so that it doesn't disconnect, especially as we used Truman Hanks, Tom's son, to play a younger version of Otto. The reason we used him, someone who is not an actor, was to make sure that it felt embedded and you're not taken out of the movie."
Both father and son Hanks are crucial to building a believable character within a very specific tonal landscape. The film is at all times both a strong drama and a strong comedy, and while the older Hanks bares the brunt of balancing it between the two of them, the younger Hanks sets the foundation and gives the character the basis on which to change. The movie charts an emotional metamorphosis, where Otto is forced to reckon with his past and reframe his present—and it hinges on the right casting for the younger Otto role. When you've got a father and son taking on two versions of the same character, it makes sense that there would be a connection in these parts, but having such a strong performer bring his kid along, you know they are going to at least be pretty dang good. And they are. 
"A Man Called Otto" is in theaters now.