Claire Danes Always Thought Of Homeland As A Piece Of 'Origami'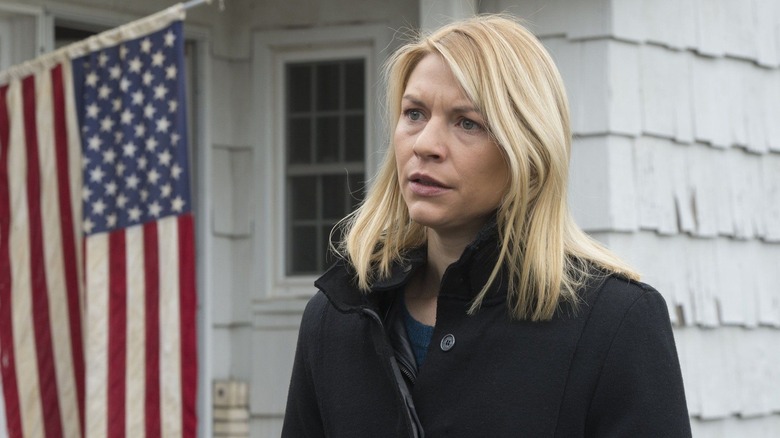 Showtime
"Homeland" may have been an uneven product quality-wise, but it never stopped being a poignant reflection of our own world. The series starred Claire Danes as Carrie Mathison, a CIA officer who became embroiled in high-stakes affairs between the U.S. government and other countries after a marine, Nicholas Brody (Damian Lewis), is suspected of being a terrorist for al-Qaeda. Of course, the eight-season show stretched far past the brief logline, but "Homeland" never lost sight of what's important. In addition to being a fascinating, nuanced character study about Carrie, "Homeland" never ceased to be socially and politically relevant in different ways each season.
No matter how many times Carrie found herself neck deep in international espionage, "Homeland" rarely repeated itself. Sure, it may have overstayed its welcome, but the show always forged a new path to move the story forward significantly. I mean, they literally killed off the fan-favorite Brody at the end of the third season. And more often than not, "Homeland" evolved in accordance with the ever-changing reality it belonged to. In fact, Danes acknowledged that "Homeland" had self-reinvention down to a science, in large part thanks to the world around it.
'It's a little like origami'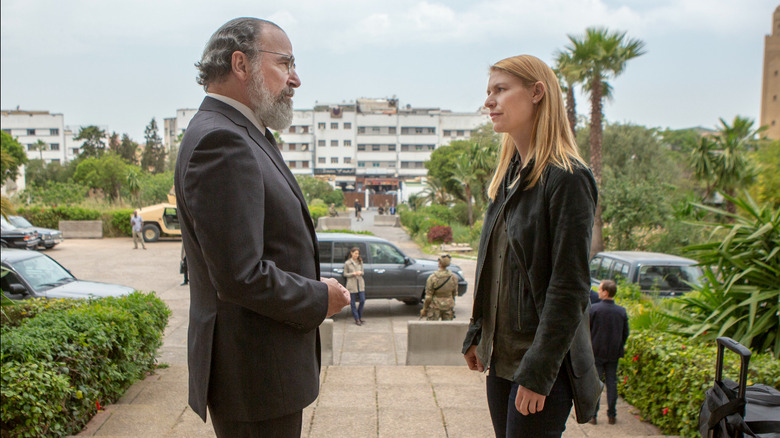 Showtime
In an interview with the Guardian, Claire Danes discussed the never-ending relevance of "Homeland" as a reflection of a constantly evolving reality:
"It's a little like origami. You just refold it and it becomes a slightly different creature. Its function was to mirror what was happening in the world and that's ever changing, so by definition it had places to move and grow, and it was never going to suffer too badly from stagnation. My character was so wildly dynamic there was always a new facet to start to explore."
As Danes aptly noted, "Homeland" was able to shift its narrative from season to season through the powerful lens of the protagonist. At the center of every international incident was the story of Carrie, a woman who suffered from bipolar disorder and the trauma that came with her profession. A devastatingly personal journey grounded the high-stakes nature of the show (almost to a fault). "Homeland" always closely tied itself to real-world events, and that was especially true for the eighth and final season.
Never not relevant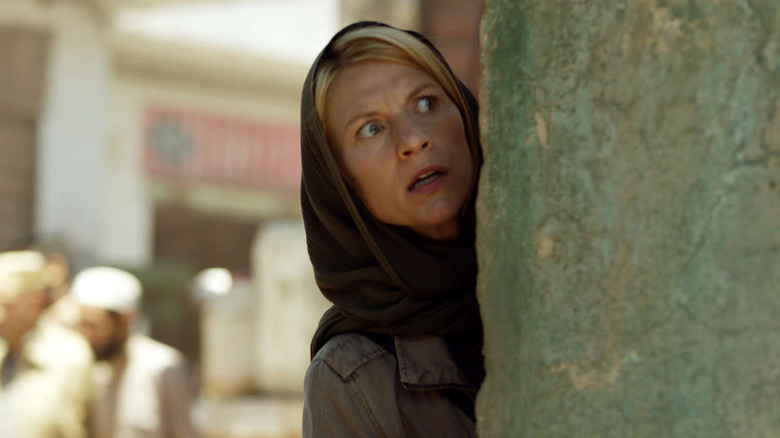 Showtime
During the final season of "Homeland," Carrie found herself yet again at the forefront of another U.S. government-led initiative across the seas. Taking place mostly in Afghanistan, Saul Berenson (Mandy Patinkin) tasked his former apprentice with assisting the U.S. in peace talks with the Taliban. It all got very complicated and dramatic fairly quickly, especially since Carrie was still reeling from being in a Russian prison in the season prior. However, the overarching narrative actually bled into the events of the real world at just the right time. The audience saw itself witnessing the peace efforts between international entities as they occurred in "Homeland."
Shortly after the season 8 premiere in early 2020, the actual U.S. government reached an agreement with the Taliban, not unlike the one pursued in "Homeland." A heavily traumatized and gifted CIA agent named Carrie was not at the center of it, but the parallel is as clear as day. The show always dealt with real-world problems, like the everyday treatment of Muslims and the generalized outlook on them that the U.S. still carries to this day. However, this may be the most direct reference. I'm almost certain that "Homeland" did not actually affect how the U.S. conducted its international business (actual peace talks were already underway long before the season's premiere), but the coincidence is too great to dismiss in this case.
As Danes implied, this is simply proof that the series always had its finger on the pulse of reality, and was not afraid to shift gears when necessary. All eight seasons of "Homeland" are still available to stream on Showtime (which will be getting a major name change in the near future).