Theater Camp Review: This Side-Splitting Comedy Can Rub Elbows With The Best Mockumentaries [Sundance]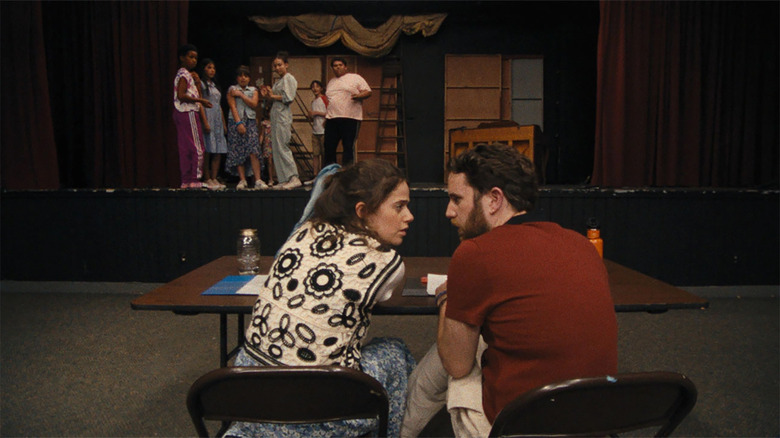 Searchlight
There are plenty of movies about making movies, both literally and figuratively, but you won't find nearly as many films about the art of theater. With so much drama surrounding, well, the drama of theater, it's a setting that is ripe for comedy, and the new Sundance-selected film "Theater Camp" takes advantage of that and delivers sidesplitting laughs in droves with a wonderful assembly of talent both in front of and behind the camera.
As the title suggests, "Theater Camp" follows the mentors and aspiring young actors who come together every summer in the Adirondack mountains for the uplifting and beloved theater camp known as AdirondACTS. Even more beloved is Joan (Amy Sedaris), the founder of the camp, but when the strobe lights of a local stage production send Joan into a seizure followed by a coma, AdirondACTS suddenly finds itself in the hands of crypto-bro Troy (Jimmy Tatro of "American Vandal"), Joan's "en-Troy-preneurial" son who has no stage experience whatsoever. But as anyone who has ever attended theater camp will tell you, the show must go on, even in the face of the camp's crippling debt that threatens to shut the camp down.
Shot in a cinéma vérité style that makes it feel like a lost episode of "Documentary Now," the film follows Troy as he tries to get a handle on running AdirondACTS while the frustrated, annoyed, and perpetually melodramatic instructors of the camp are just doing their best to put on their next show. The de facto leaders of the camp are Amos and Rebecca-Diane, a pair of co-dependent best friends played splendidly by Ben Platt ("Dear Evan Hansen") and Molly Gordon ("Good Boys," "Booksmart"). After meeting at a Juilliard audition, the two became quick collaborators and have been by sparking each others' creative endeavors ever since. Every summer, they're responsible for writing the camp's main show, and this year it's a tall order because it's an entirely original musical production cleverly called "Still, Joan," based on the life of the camp's comatose founder.
Also along for the ride is Ayo Edibiri ("The Bear"), who may have bitten off more than she can chew with an exaggerated resume that includes stage combat experience. Adding plenty of flair and flamboyance to the proceedings are costume designer Gigi (Owen Thiele of "Dollface") who is every bit as glamorous and sassy as you can imagine, and dance instructor Clive (Nathan Lee Graham of "Zoolander"), who isn't shy about telling the kids how he really feels about their inadequate movies. And then there's Glenn (Noah Galvin of "Booksmart"), who is basically running around doing every technical job you can imagine for all the various little productions happening around the camp. 
An incredible ensemble cast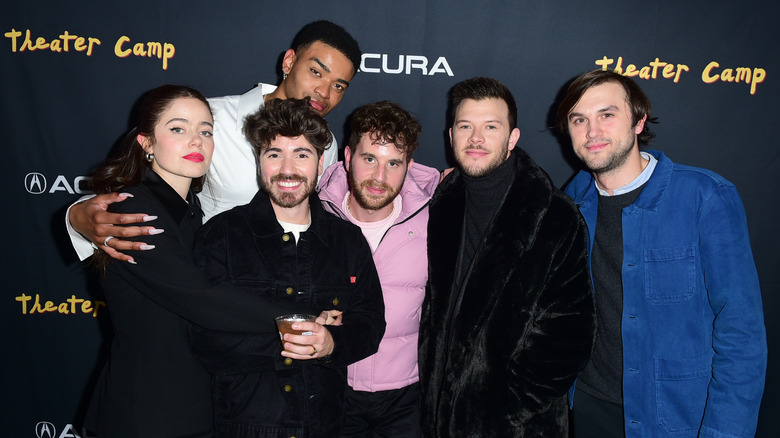 Vivien Killilea/Getty Images
Plenty of laughs come from Troy's inadequacy and inexperience, as he simply doesn't have a grasp on the vibe of theater camp. Hell, he doesn't really understand theater at all, but he certainly perks up when one kid, who is nervous about coming out as straight to his gay dads, performs a rendition of Post Malone's "Better Now" during auditions.
There's even more hilarity to be found in the ongoing theatricality of the camp itself, where everyone takes themselves entirely too seriously in a fashion that only theater kids can. That includes the skilled assembly of aspiring child and teen stars who are attending the camp. These precocious kids don't miss a beat alongside their adult co-stars, which is even more impressive considering how much improvisation was done for this movie. Whether it's Luke Islam ("The Mighty Ducks: Game Changers") refusing to have his "Defying Gravity" audition finale upstaged by behind-the-scenes shenanigans, or young Bailee Bonick catching the disappointment of Amos and Rebecca-Diane for using a tear stick to add genuine waterworks to an emotional rehearsal, the child stars of this movie are undeniably stellar. Young Alan Kim (of "Minari") in particular has a couple scene-stealing moments, as he aspires to be a fast-talking entertainment agent who is always on the phone. It's really not fair for kids to be this talented at such a young age.
What makes "Theater Camp" work so well, other than the amazing ensemble cast that won the U.S. Dramatic Special Jury Award for Ensemble, are the filmmakers behind it, and they just so happen to be part of the cast too. Molly Gordon and Nick Lieberman adapted their own short film of the same name into a feature, and it's clear that they have a burning passion and genuine love for theater and all the silliness that comes with it. That's why they're able to lampoon it so confidently, complete with plenty of gags that feel directly inspired by the extensive stage experiences of Ben Platt and Noah Galvin as co-writers (and they're also newly engaged). The mockumentary framework also allows for a great little collection of funny moments that are "caught" by the camera in an admirably genuine fashion. Furthermore, you will inevitably see many lines from this movie turned into gifs all over social media, though it never feels like that's intentional. Leave that to Netflix. 
But despite having so much to like, "Theater Camp" has a little bit of trouble sustaining its runtime, even at a breezy 94 minutes (including credits). There are a few too many dialogue-free montages that are clearly meant to take up space rather than add anything significant to the overall movie, even if they do include a handful of great physical gags. Thankfully, it all comes together in the end.
A shockingly great finale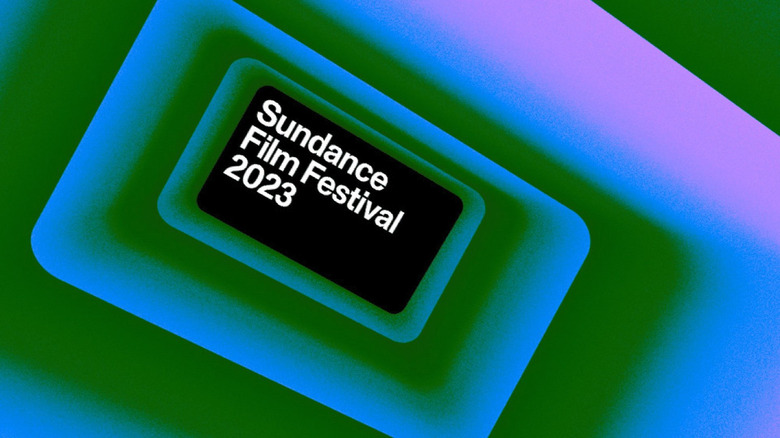 Sundance Film Festival
Throughout the runtime of "Theater Camp," both the camp and the chief production about its founder continue to encounter new hurdles, from the threat of being bought by a nearby, upscale rival theater camp to the unraveling of Amos and Rebecca-Diane's long-running friendship and creative collaboration. But it all coalesces into a musical finale where we see "Still, Joan" come together in a shockingly great fashion. The original songs created for this faux musical are simply stupendous, and they sound every bit as good as tracks from a legit Broadway musical. There's even an amusing twist to the big show that makes the proceedings that much more funny. 
Though "Theater Camp" doesn't quite match wits with predecessors like Christopher Guest's "Waiting for Guffman," it still delivers a satisfying amount of laughter and it's an admirable successor. Honestly, "Theater Camp" feels like it would be a great lead-in to a full-on TV series that could easily utilize the temporary nature of the summer camp for even more extensively entertaining theater antics. The rich roster of characters mixed with the mockumentary style could easily wipe the eventual poor taste that "Glee" left in our mouths and could even serve as a worthy successor to both "The Office" and "Parks and Recreation." But even if that never happens, "Theater Camp" stands on its own as a quirky, comical mockumentary worthy of your time. Thankfully, Searchlight Pictures grabbed the movie at Sundance, so you'll be able to see it sometime later this year.
/Film Rating: 8 out of 10