Stephen Curry: Underrated Review: An Underdog Story About An Unlikely Champion [Sundance]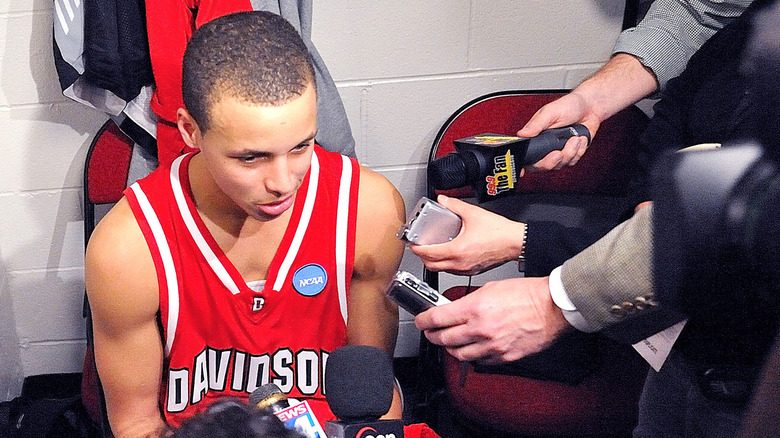 Apple TV+
At the age of nine, Steph Curry realized he wasn't as big as his fellow basketball players. Being undersized and outgunned never killed his love for the game, but if he wanted to make an impact, he was going to have to embrace the challenge of adapting to that reality and figuring out ways to compete. Multiple NBA championships later, it's safe to say he succeeded. Like all classic underdog stories, director Peter Nicks' "Stephen Curry: Underrated" is about determination. But it's also about second chances, and how believing in and supporting someone in their lowest moments can have life-changing consequences.
The film crosscuts between parallel tracks, one chronicling Curry's journey to attempt to win a fourth championship with the Golden State Warriors during the 2021-2022 NBA season and the other tracking his rise at North Carolina's sleepy Davidson College. Interviews with his coaches and teammates provide insight into what it was like as the school went on a meteoric rise in the mid-2000s, but the most personal moments come from Curry himself, who details how he completely biffed his first career game (he turned the ball over 13 times) and how instead of benching him, his coaches let him start the next game, which ended with Curry racking up a stellar 32 points. His college career is explored in granular detail (so granular it can occasionally start to feel a little lethargic), but the current-day storyline is comparatively given short shrift, whizzing through his NBA career at breakneck speed and paying lip service to Curry finally trying to get his degree since he left Davidson a year early to enter the league.
A case of bad timing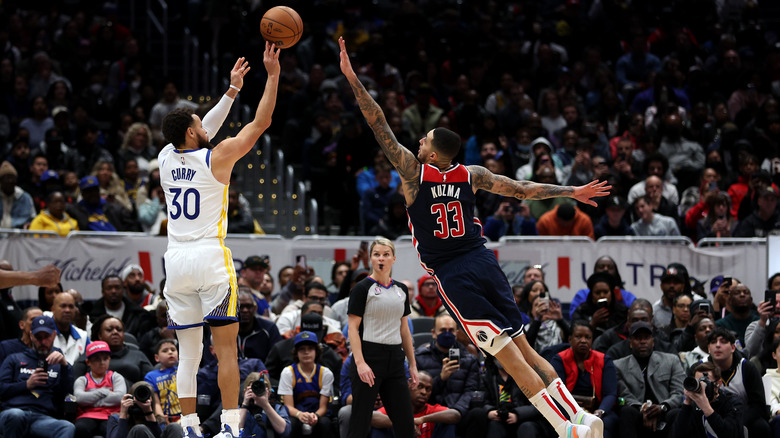 Patrick Smith/Getty Images
Unfortunately, it's bad timing for this documentary to come out. "Stephen Curry: Underrated" can't match the larger-than-life personalities on display in 2020's exemplary "The Last Dance," which featured the fascinating compulsions of Michael Jordan and the off-the-court antics of eccentric teammates like Dennis Rodman. Even last year's "The Redeem Team" showcased how Kobe Bryant's dedication inspired the superstar players around him on the U.S. Men's Olympic team to buy into the mentality of truly playing as a team. In contrast, this movie stays focused on one player, and while Curry certainly comes off as a Good Dude™, he's far more low-key than anyone in those other high-profile basketball documentaries.
Similarly, Curry's particular skillset makes this film feel slightly hamstrung. It opens with him breaking the NBA record for the highest number of three-point shots in a season, which is a stunning accomplishment. But the film doesn't really communicate just how difficult that record was to achieve. A mid-credits interview with former superstar and famed three-point assassin Reggie Miller talking about how Curry changed the entire NBA with his three-point abilities is tossed off like an afterthought instead of being a foundational pillar of this story. And on a basic level, footage of someone draining three-point shots — which this doc has in spades — is inherently less cinematic than a player hurling their body through the sky and dunking.
Still, the footage here is impressive, and the movie really comes to life in its last few minutes, flashing between the past and the present almost in the blink of an eye to show Curry's consistent effectiveness as a shooter. I'm not sure how illuminating this will be for basketball fans (I would consider myself a distant fan of the NBA, so the footage of Curry's collegiate career was new to me), but Curry is extremely generous about his former teammates and Davidson coach Bob McKillop, so if nothing else, viewers will probably come away from this feeling more warmly about him as a human being than ever.
/Film Rating: 7 out of 10