The 2023 Oscars Didn't Give Enough Love To Sarah Polley's Women Talking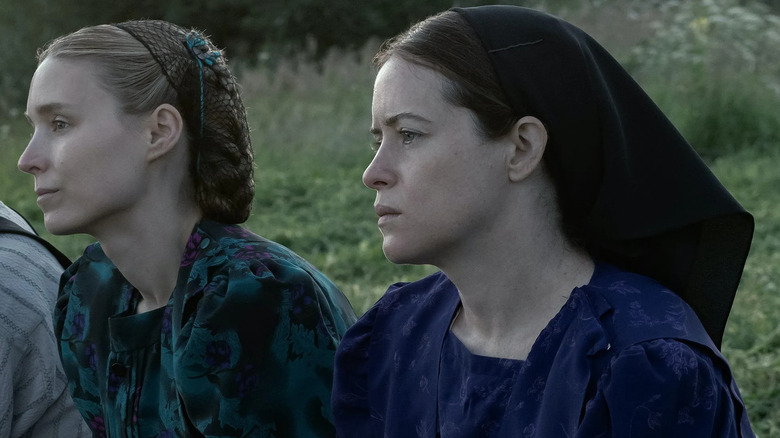 United Artists Releasing
When it comes to the Academy's not-so-inclusive history and the lack of love for a movie titled "Women Talking," the joke feels a little too obvious.
Don't let the Oscar nominations fool you — the wider awards season has reflected yet another banner year for female filmmakers. Gina Prince-Bythewood blew audiences away with the Viola Davis-starring stunner, "The Woman King," first-time feature filmmaker Charlotte Wells debuted "Aftersun" to massive critical acclaim, Chinonye Chukwu has been widely praised for the profound emotion of "Till" and both Maria Schrader's "She Said" and Sarah Polley's "Women Talking" dared to elevate the conversation around post-Me-Too era movies. Yet, as the nominees for the Best Director category filled in, I was utterly unsurprised to see the names of six men, once again shutting women out of the category entirely. Then a little later, I was shocked to see Sarah Polley's "Women Talking" get some much-deserved recognition as a Best Picture contender.
Of course, let's certainly celebrate our wins where we can: "Women Talking" walked away with two nominations total, including one for Best Adapted Screenplay. But the movie didn't direct itself. It's hard to miss the glaring omission of Sarah Polley's name in Best Director when the list is entirely comprised of men. And the more I lingered on the subject, the more cartoon steam started erupting from my ears: a Best Director nod is just the tip of the iceberg. "Women Talking" deserved a lot more love across the board.
All hail this act of female imagination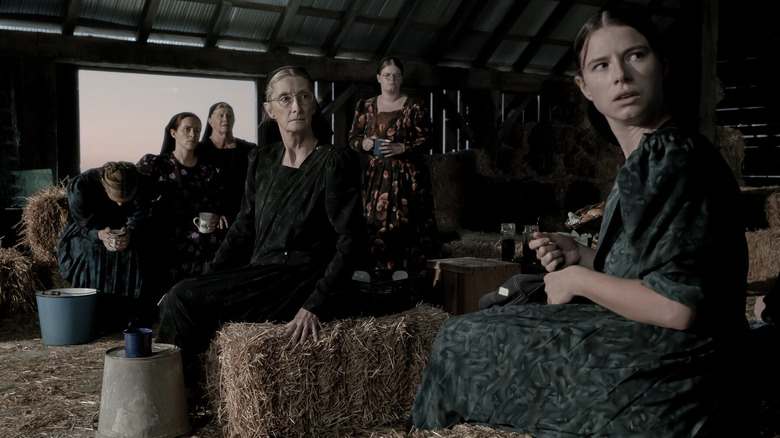 United Artists Releasing
An adaptation of the Miriam Toews novel, "Women Talking" follows a group of Mennonite women who discover that the men of their isolated colony have been drugging and raping them for generations. When the colony's men leave to bail the rapists out of jail, they give the women two days to "forgive" and move on: but in their absence, the film's title is fulfilled. The women gather and talk, struggling with their faith as they debate whether or not to remain in the colony, or leave everything behind, band together, and leave.
It's an evocative exploration of "female imagination" as the opening title card reads, one that flat-out refuses to pull its punches. Unafraid to be complex, Polley's script is tackling impossible questions. As we watch, the women tie themselves in knots, searching for a solution, struggling to process their anguish, clashing with one another, and grappling with the impossibility of agreement. At the same time, it's surprisingly funny, searching out moments of levity and aching joy, despite the suffocating darkness of its premise.
In more than a few ways, "Women Talking" is quietly revolutionary: where a long lineage of movies about sexual assault have come with the ridiculous notion that the only way to truly communicate the trauma is for the audience to experience it alongside the person being assaulted, this film engages sexual violence with nuance. The assault may be the backdrop, but the women's way forward is the focus.
The women of Women Talking were robbed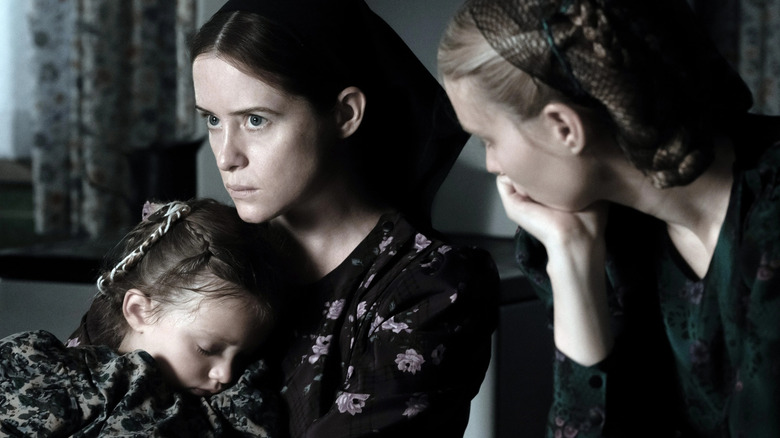 United Artists Releasing
As the title promises, this is a very talky kind of film — dialogue-laden and well deserving of the Best Adapted Screenplay nod that it's received. But for that very reason, it feels absurd for "Women Talking" to garner no recognition for the various, incredible performances. Polley asks a complex balancing act of her cast: the women of this colony are resilient and fierce, but excavating trauma is not delicate work.
As Salome, Claire Foy is armed with barely contained rage, ready to exact revenge and condemn her soul in the process if that's what it takes. But her raw anger is also capped with anguish, particularly when Salome worries over the fate of her children. Another whose trauma manifests as anger is Jessie Buckley's frustratingly callous Mariche, lashing out at the women around her as she struggles to envision a world in which they leave. But as the conversation progresses, Buckley does brilliant work, slowly unveiling the truth of Marche's abrasive armor.
Rooney Mara is the steady, contemplative voice of the group as Oona, while Sheila McCarthy's Greta and Judith Ivey Agata offer sage wisdom and bitter regret as the group elders. This movie even has four-time Academy Award winner Frances McDormand in it! She's there for all of five minutes, but what she does with a withering expression almost feels worthy of a nod all on its own.
One of the best ensembles of 2023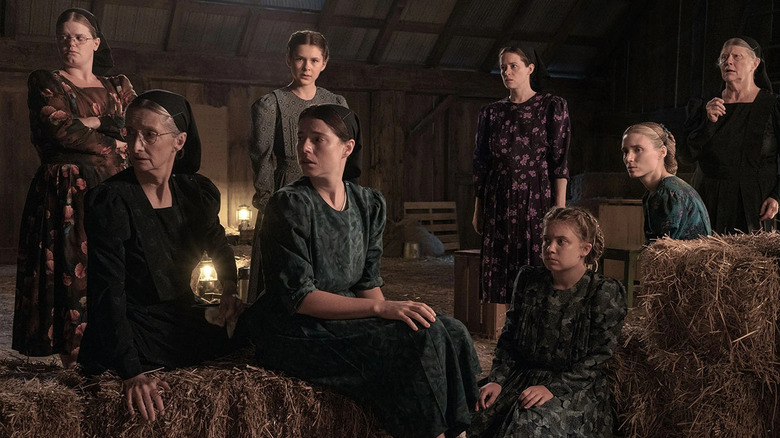 United Artists Releasing
The point is that "Women Talking" is the kind of movie where you couldn't possibly name a lead performer and it's near impossible to even dub someone the standout. Everyone is operating at such a high level that they all feel worthy. So why does it feel like that accomplishment forfeits their chance entirely?
If none of these actresses can quite qualify as a lead performance, are they all eligible for Best Supporting Actress? And do they all get put forward — or just the most flashy and recognizable names (Foy, Mara, and Rooney)? When it comes to massive achievements in filmmaking, it's almost never about the individual: it's about the work done by the many. This is a prime example of that being proved, in the form of many impeccable performances. Ultimately, "Women Talking" feels like our yearly reminder that there should be an Oscar for Best Ensemble: there is no shortage of powerhouse performances, but not one of them earned recognition.
Performance ends up being one of the many places that "Women Talking" deserved some love, to no avail. But then, trophies and accolades are just one way of celebrating a film's achievements. As /Film's Sarah Milner hints in her review, "Women Talking" will no doubt live on in bigger ways:
"It's a fierce message against the oppressors, unapologetically feminist in reckoning against the patriarchy. This may be a movie about crimes committed within a Mennonite community, but its message is one we can apply to greater society as a whole."
The 95th Academy Awards will air live on ABC on Sunday, March 12, 2023.