Invincible Season 2 Trailer: Mark Knows You've Been Waiting A Long Time, Okay?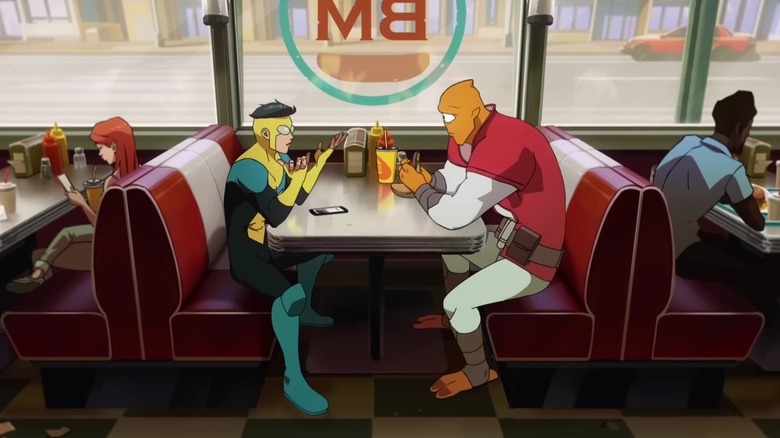 Prime Video
Great animated shows take a while to make, as the first promo for "Invincible" season 2 is here to remind us. The acclaimed Prime Video series based on Robert Kirkman's comic books will be back later this year for its long-awaited sophomore season, but in the meantime, Mark Grayson (Steven Yeun) and Allen the Alien (Seth Rogen) are taking a lunch break to catch up on what we've missed.
This return announcement is a really clever way to remind fans of the bloody superhero series about the characters they know and love while also acknowledging that it makes sense for an animated show to have a long off-season, given just how much work goes into making it happen. Honestly, since the pandemic first started slowing down production on all our favorite series, I think animated and live-action shows alike shouldn't have to defend their time away ... but if they're going to, they should take their cues from this great teaser for "Invincible."
Watch the teaser for Invincible season 2
The clip starts with Allen slurping a drink at Burger Mart, where he sits opposite a bored-looking Mark. The first time we saw Allen, the friendly alien had just realized he ended up on Earth instead of Urath, which he was meant to be assessing for the Coalition of Planets. When he returned in the season 1 finale, it was with no mention of that mission. "Did you ever find Urath?" Mark asks during the diner scene here, to which Allen unconvincingly replies that he discovered a planet with yellow skies, purple grass, and hamburgers. While Allen's apparently been slacking, Mark –- or, rather, the "Invincible" team — has been hard at work.
In a cool meta-montage, Mark explains that he's been busy "writing, designing, storyboarding, voice acting," and doing assorted layers of animation "for roughly thousands of shots." As he talks, we get to see the layers of this shot's design come to life, plus catch a glimpse of the real-life Steven Yeun, a script page featuring a showdown between Invincible and The Immortal (Ross Marquand), and a character design for Atom Eve (Gillian Jacobs). "90% of that, if I'm being honest, sounds completely made up," Allen tells Mark before goading him into giving out an approximate release date for the new season.
The show's first season ended with a pretty intense reveal as Mark finally discovered that his dad, superhero Omni-Man (J.K. Simmons), is actually a ruthless villain responsible for the deaths of heroes and civilians alike. All that, and Mark still has to go to high school. "Invincible" season 2 will premiere on Amazon Prime in late 2023.