A Shrewd Business Move By Katharine Hepburn Landed James Stewart His Role In The Philadelphia Story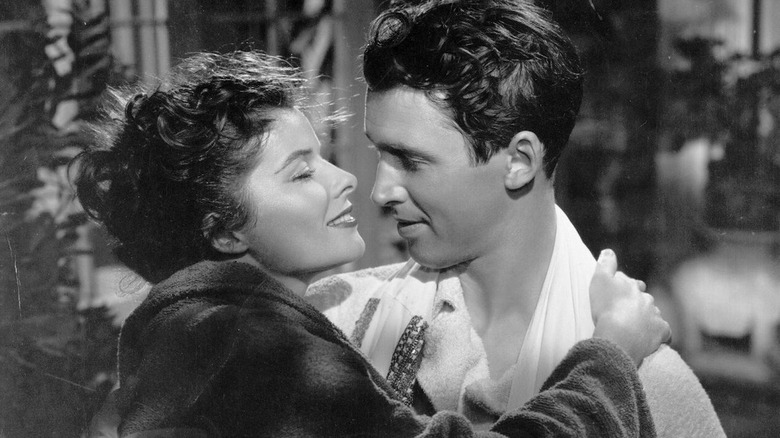 MGM
It seems kind of absurd to think about, but back in the late 1930s beloved starlet Katherine Hepburn was considered "box office poison." Yes, arguably the preeminent actress of her generation was dismissed by her industry after starring in a string of box office failures, which these days are considered classics. Back then, audiences were seemingly unimpressed with Hepburn's run at RKO, which ended with 1938's "Bringing Up Baby" — a Howard Hawks-helmed screwball effort that lost around $300,000 on its initial release.
Later that year, Hepburn's name showed up in a now-infamous trade magazine ad in which President of the Independent Theatre Owners Association, Harry Brandt, claimed that her and other actresses' "box office draw is nil." The term "box office poison" became synonymous with Hepburn, who a month later would show up in George Cukor's "Holiday," which failed to overcome the financial struggles that had dogged Hepburn's movies in recent years.
But Hepburn refused to let her declining reputation kill her career. The shrewd actress turned to Broadway, where in 1939 she starred in Philip Barry's stage play "The Philadelphia Story" as heiress Tracy Lord — a part written specifically with Hepburn in mind. The production ran for more than four hundred performances in New York before going on tour. But the play was just the start of Hepburn's re-ascension. The actress made some inspired moves behind the scenes that would not only reassert her star power but bring to prominence a now similarly beloved star in the form of Jimmy Stewart.
Stewart stole the show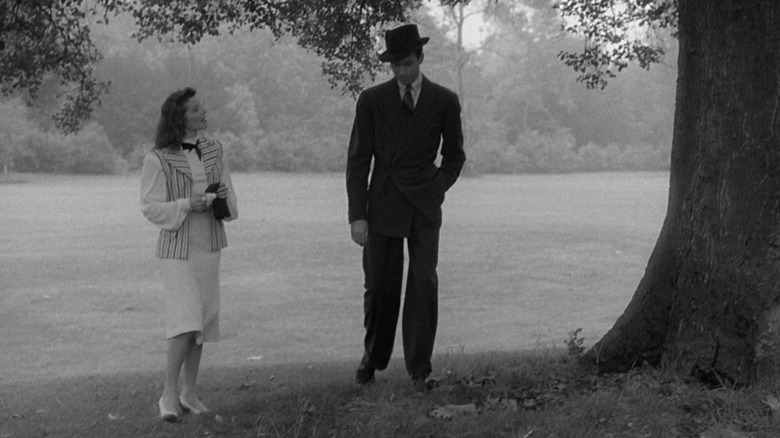 MGM
While Hepburn was churning out flops in the late-'30s, James Stewart's star was on the rise. There was a buzz around the mild-mannered leading man following his turn in 1938's "Vivacious Lady," which intensified with Frank Capra's "You Can't Take It With You" and "Mr. Smith Goes To Washington." But it would take Hepburn and her film version of "The Philadelphia Story" to gain Stewart his first Oscar and cement his standing as one of the biggest stars in Hollywood.
Hepburn was gifted the film rights to Barry's play by her then boyfriend Howard Hughes, and made some prescient decisions prior to selling those rights to MGM. As recounted in Roy Pickard's "Jimmy Stewart: A Life In Film," Hepburn had "shrewdly purchased a percentage of the [play's] production costs" and had then, "Insisted on a clause in her contract that stated that should the play be made into a film she would automatically play the role and that she would also have the choice of her two leading men."
With the play proving a success, and MGM paying a whopping $250,000 for the film rights and Hepburn's appearance, the actress was indeed granted final say over the two male leads. Initially, she wanted Clark Gable and Spencer Tracy but was told by MGM co-founder Louis B. Mayer that those megastars were unavailable. And so, her frequent co-star Cary Grant was brought in to play Lord's ex-husband C.K. Dexter Haven, while Stewart was tapped for the role of "Spy" Magazine reporter Macaulay "Mike" Connor. And while the whole thing was designed to reassert Hepburn's stardom, it was arguably Stewart who stole the show, winning an Oscar for his portrayal of Conner and solidifying his star power. All of which came as a result of Hepburn's sharp business maneuvers.
'He talked his way into an Academy Award'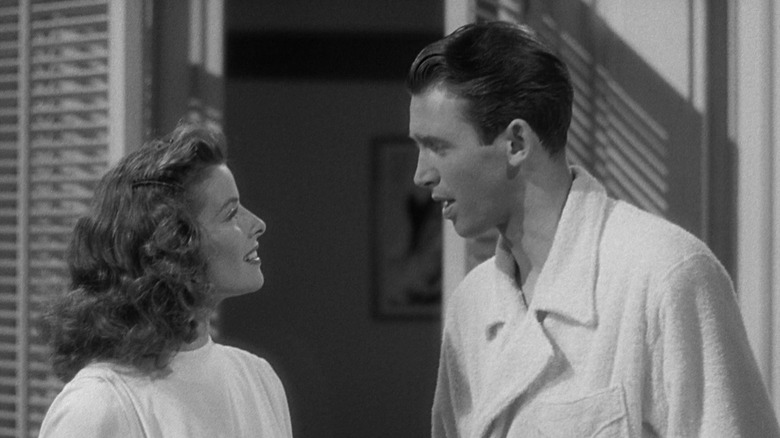 MGM
Recalling her time on the film, Hepburn remembered a particular scene which made Stewart "wildly nervous." The scene in question involved the actor having to profess his deepest feelings for Tracy, requiring Stewart to turn on the romance and deliver such flowery lines as, "You've got fires banked down in you, hearth fires and holocausts." Despite struggling at first, it was moments like this that arguably won Stewart his Oscar. As Hepburn saw it, "He was wonderful in that part, I thought. He talked his way right into an Academy Award."
With that in mind, just as it seems ridiculous that Hepburn was struggling with her star power in the late 1930s, it's wild to imagine that Stewart was essentially a backup after Clark Gable and Spencer Tracy were out. His performance as Conner remains special not just for his light-hearted comedic competence, but because his on-screen presence would shift in the following years to take on a darker tone. Later performances for directors such as Alfred Hitchcock would see Stewart playing more serious men, often caught up in some sinister scheme beyond their comprehension. But in "The Philadelphia Story," Connor is self-possessed, confident, and charming in a way that seemed to fit Stewart perfectly. That made for some classic movie moments that continue to endure, even while the hot takes of the day that cast Hepburn as some sort of washed-up former starlet happily fade.