The 10 Best Carrie Fisher Roles That Aren't Princess Leia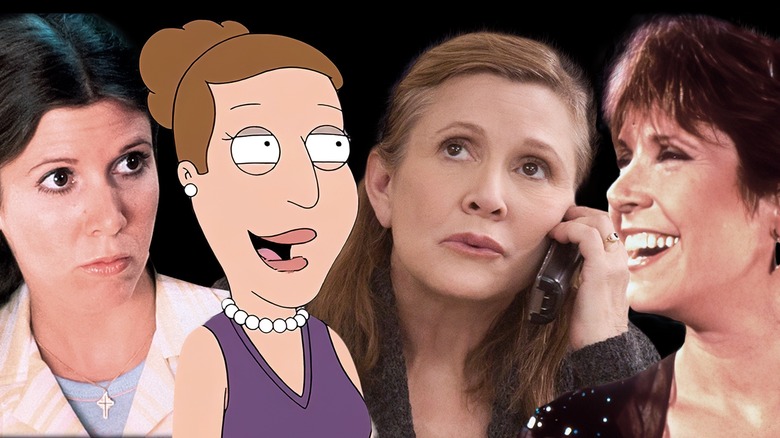 Channel 4, Fuzzy Door Productions, 20th Television Animation, Castle Rock Entertainment, Universal Studios
To fans of "Star Wars," Carrie Fisher will always be Princess Leia Organa, the role that remains her most iconic. And why shouldn't it be? Fisher introduced Leia in the 1977 sci-fi blockbuster, reprised her in two sequels, and then reintroduced her in a new batch of "Star Wars" films nearly four decades later. A true Hollywood scion (Fisher's parents were famed singer Eddie Fisher and legendary movie star Debbie Reynolds), Fisher pulled off the rare feat of carving out her own niche as an actor, stepping out from the considerable shadows of her famous folks. In fact, Leia was far from Fisher's only role, simply her best-known from a unique and eclectic career that spanned from her 1969 screen debut — playing a Girl Scout in one of her mom's TV specials — until her death in 2016 at the age of 60.
Beyond acting, Fisher created her own second act as she expanded from the screen to the page. Powered by her inimitable wit, Fisher went on to earn further acclaim as a writer, authoring bestselling novels such as "Postcards from the Edge" and "Wishful Drinking" – the latter spun off from her one-woman show and subsequent HBO special, a great example of Fisher's literary and acting careers intersecting. To explore her onscreen work beyond a galaxy far, far away, keep on reading for a look at the 10 best Carrie Fisher roles that aren't Princess Leia.
Lorna Karpf in Shampoo (1975)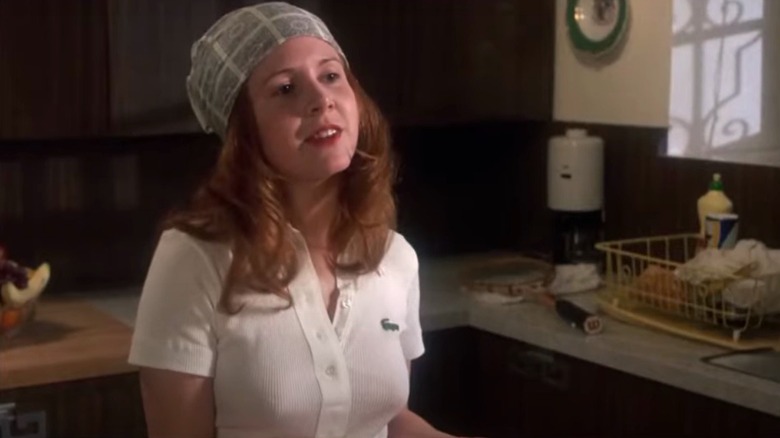 Columbia Pictures
Carrie Fisher was just 17 years old when she made her film debut in the classic 1975 comedy "Shampoo," in which Warren Beatty starred as lothario Beverly Hills hairdresser George Roundy, precariously leaping from one sexual encounter to the next. Fisher's role isn't a big one, but she delivers a scene-stealing performance as Lorna Karpf, the precocious teenage daughter of one of George's many girlfriends (played by Lee Grant). When George drops by, Lorna accuses him of being gay — he is a Beverly Hills hairdresser, after all — but with an endgame of goading him to sleep with her in order to tick off her mom, whom she loathes. George, being George, can't help himself, resulting in an awkward scene when Lorna's mother returns home, only to find Lorna sitting on a bed as George exits the bathroom, buckling up his belt. Not only did the teenage Fisher hold her own against one of Hollywood's biggest names, but she also exuded her own unique star quality while doing it, placing herself firmly on Hollywood's radar.
While Lorna may have bedded Beatty's character, life did not imitate art in that particular case. That was not, however, due to Beatty's lack of trying. "He offered to relieve me of the huge burden of my virginity. Four times," Fisher said of Beatty during an interview with Madonna for Rolling Stone. "That was the big offer. I decided against it. I decided for reality over anecdote."
Mystery Woman in The Blues Brothers (1981)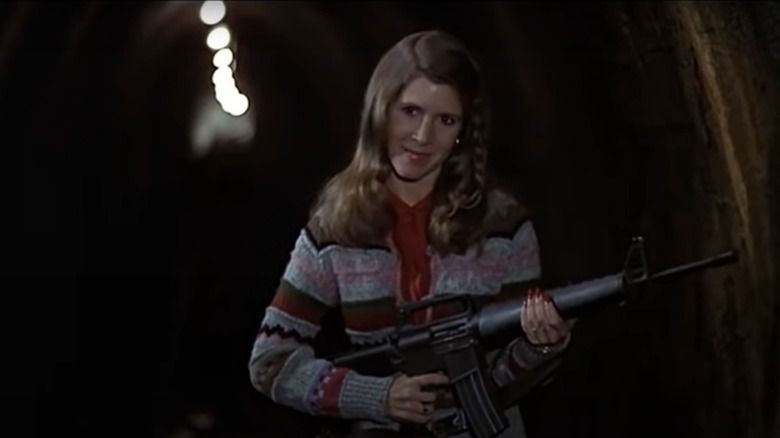 Universal Pictures
Carrie Fisher was still starring as Princess Leia in the original "Star Wars" trilogy when she appeared in the 1981 comedy "The Blues Brothers." Her role was not a large one — comprising about six minutes of screen time — but does make an impression. Billed simply as "Mystery Woman," Fisher's character pops up at intermittent points in the movie as she attempts to assassinate titular Blues Brothers Jake (John Belushi) and Elwood (Dan Aykroyd), using methods ranging from a rocket launcher to planting a bomb in their seedy hotel room. 
The character's identity is ultimately exposed as Jake's jilted ex when she corners Jake and Elwood in an underground tunnel and fires at them with a machine gun. After she complains about how Jake left her waiting at the altar "in celibacy" — after her father used up his last favor with mobster Mad Pete Trullo to hire a fleet of limos and "the best Romanian caterers in the state," no less — Jake reels off a litany of excuses: "I ran out of gas. I had a flat tire. I didn't have enough money for cab fare. My tux didn't come back from the cleaners. An old friend came in from out of town. Someone stole my car. There was an earthquake, a terrible flood — it wasn't my fault!" Shockingly, Jake's excuses melt her murderous resolve, leading Jake to give her a big kiss before literally dropping her in the mud.
April in Hannah and Her Sisters (1986)
While Carrie Fisher played neither Hannah nor a sister, she did make a lot out of a small role in Woody Allen's 1986 dramedy "Hannah and Her Sisters." Fisher played struggling actress April, friend and business partner of Dianne Wiest's Holly in their aptly-named Stanislavski Catering Co. The two also end up becoming romantic rivals for the attention of Sam Waterston's character, narcissistic architect David, whom they meet while catering a party. He takes the two women on an architectural tour of New York City, with Holly perturbed to see April's flirtatiousness is seemingly far more effective than her own. Another far-briefer scene features April auditioning for a role, showcasing Fisher's talent as a singer as she tackles the Jerome Kern classic "The Way You Look Tonight." While Fisher is hardly the focus of the film, she sparkles ebulliently whenever she appears onscreen.
Speaking with the New York Times in 1986, Fisher recalled how Allen shaped her performance, which was apparently too broad for his liking. During a scene at a party, in which her character wonders why there aren't any fascinating single men, Allen gave her some notes. "He thought I was smiling too much and gesticulating like an old Jewish woman," Fisher explained. "He told me, 'You're coming in like my Aunt Velma.' And he showed me what his Aunt Velma was like."
Marie in When Harry Met Sally (1989)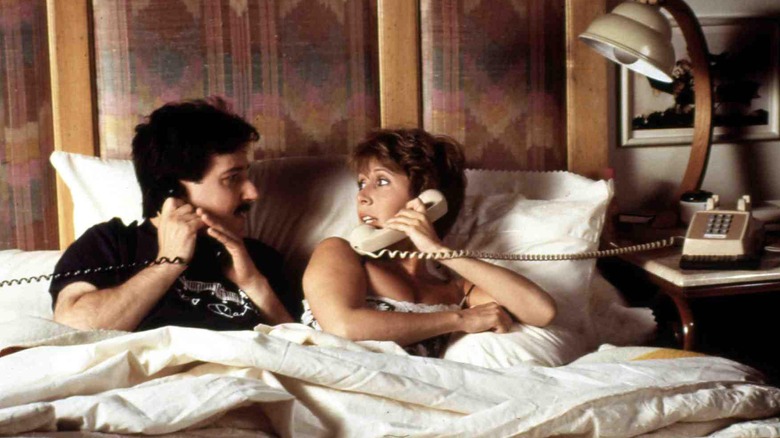 Columbia Pictures
Arguably one of the most iconic rom-coms of the late 1980s, "When Harry Met Sally" followed the rocky path to true love faced by the polar-opposite title characters, played by Billy Crystal and Meg Ryan. And while the movie is dominated by that relationship, director Rob Reiner also crafted a compelling B-story that runs throughout the film. That storyline chronicles the meeting, ensuing romance, and eventual marriage of the title characters' respective best friends, with Carrie Fisher playing Marie opposite Bruno Kirby's Jess. When viewers first meet Marie, she's ensconced in an unfulfilling affair with a married man, desperately clinging to the hope that he'll leave his wife while knowing it won't happen. Fisher once again steals every scene she's in, particularly with her character's mantra whenever Sally points out her paramour is never getting divorced: "You're right, you're right. I know you're right." 
It didn't hurt that Fisher is given some of the funniest lines in the Nora Ephron-penned script, such as, "Everybody thinks they have good taste and a sense of humor, but they couldn't possibly all have good taste." One thing even the film's most diehard fans may not realize is that Fisher was an uncredited contributor to the script; she went on to do that professionally for a number of films, punching up screenplays as a "script doctor" for a wide array of films, including "Hook," "Sister Act," "Lethal Weapon," "Scream 3," and many others. 
Betsy Faye Sharon in Soapdish (1991)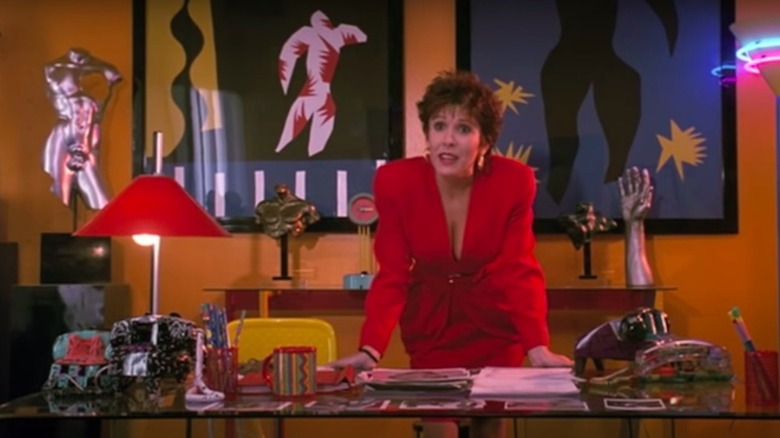 Paramount Pictures
Set within the world of daytime television drama, the 1991 comedy "Soapdish" followed the behind-the-scenes shenanigans on "The Sun Also Sets," the fictional show starring beloved soap star Celeste Talbert (Sally Field). Among a top-shelf cast that also included Robert Downey Jr., Elizabeth Shue, Kevin Kline, Whoopi Goldberg, and Teri Hatcher, Carrie Fisher proved to be a standout as the show-within-the-film's casting director, Betsy Faye Sharon. As was usually the case whenever Fisher made a brief appearance in a movie, she does a lot with a little in a scene when she meets Shue's character, who introduces herself as an actress. "An actress! Really! How nice for you!" Fisher's character says with faux friendliness that barely conceals the ferocity she then reveals. "I'm Betsy Faye Sharon — and I'm a b***h," she adds. "Now get out of here!"
By that point in her career, Fisher had already established herself as a novelist, something she referenced hilariously in a brief interview with MTV alongside "Soapdish" co-star Downey. When he implores people to see the movie, joking that it will "up our quotes," she wittily retorts, "Well no, it'll up your quote. But I'll probably get a quote on my book jacket from someone at MTV."
Nun in Jay and Silent Bob Strike Back (2001)
Dimension Films
Carrie Fisher was among the many stars to make a cameo in director Kevin Smith's Hollywood spoof "Jay and Silent Bob Strike Back," an impressive list that also included legendary comedian George Carlin, "Saturday Night Live" alum Will Ferrell, and former "Daily Show" host Jon Stewart. Fisher appears in one scene as a nun who picks up the movie's hitchhiking protagonists, Jay (Jason Mewes) and Silent Bob (Smith). The ride doesn't last long, and she kicks them out of the car after a misunderstanding about what it means to live by "the book" (she, of course, means the Bible, while Jay assumes she means the unwritten book of the road, in which hitchhikers repay those who pick them up with a very specific sexual act). According to Smith, Fisher took no salary for the role. "CARRIE FISHER agreed to be in STRIKE BACK for no money," he tweeted. "She just wanted us to buy a pair of antique beaver chairs. When I met her on set, I asked 'Why the chairs?' She said, 'I thought beaver was ironic currency to be in your movie.' Loved her so much."
Interestingly, that wasn't the only movie to feature Fisher as a nun. Just two years later, she plays Mother Superior in the sequel "Charlie's Angels: Full Throttle," which managed to slyly reference both "The Blues Brothers" and "The Sound of Music." 
Angela in Family Guy (2005-2017)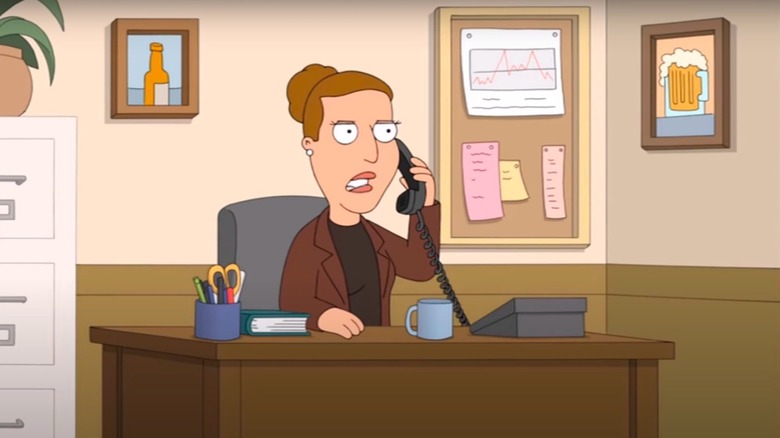 Fox
Princess Leia wasn't the only long-running role that Carrie Fisher held. Beginning in 2005, she began providing the voice of Angela (no last name), the no-nonsense boss of cartoon patriarch Peter Griffin in 25 episodes of the animated comedy "Family Guy." Interestingly, when the show produced its famed "Star Wars" spoof episode, Fisher didn't play Leia — that role went to Lois Griffin, voiced by Alex Borstein — but space politician Mon Mothma, casting that reportedly tickled Fisher. While Angela could have easily come across as a one-dimensional caricature, Fisher's performance wound up shaping how writers depicted the character over the years. "It would be easy for a less capable actress to make that character kind of one-note, gruff and yelling all the time," "Family Guy" executive producer Steve Callaghan told Entertainment Weekly. "But Carrie brought to it a depth that I don't think just anyone could have. And it enabled us to do some of the types of episodes ... where we got to know her on a deeper level."
After Fisher's death, the show paid tribute by having Peter provide a eulogy for Angela, who died in the show. Naturally, Peter's words were more a goodbye to Fisher than the cartoon character she voiced. "She may be gone, but her voice will live on in DVD and Hulu Plus and tiny droid-projected messages," Peter said. "I may have lost a boss, but heaven has gained a princess."
Rosemary Howard in 30 Rock (2007)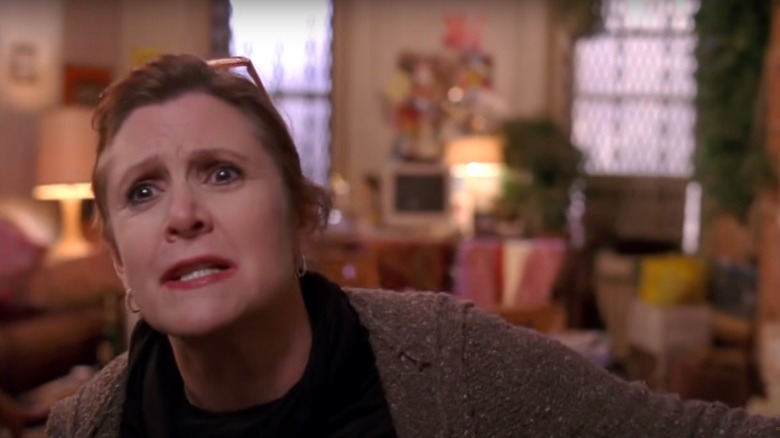 NBC
Carrie Fisher was among the many guest stars to grace "30 Rock," the acclaimed NBC sitcom starring and co-created by Tina Fey. Fey played Liz Lemon, head writer of NBC late-night sketch comedy show "TSG," and Fisher appeared in an episode as Liz's idol, Rosemary Howard, a groundbreaking feminist comedy writer whom Liz invites to be a "TSG" guest writer. While Liz is initially awestruck, she soon comes to realize Rosemary's path may not be one she wants to follow — particularly after visiting her rodent-infested apartment in the "Little Chechnya" neighborhood, and realizing that the thermos she continually slugs from isn't filled with coffee, but wine. Yet beyond the hilarity, the character also makes a scathing point about Hollywood ageism and sexism — one that Fisher, as a female actor of a certain age, had certainly experienced. "Rosemary says that women become obsolete in this business when there's no one left that wants to see them naked," Liz muses at one point. 
Of course, that point is made hilariously, while offering Fisher the chance to stretch out by playing a washed-up writer whose refusal to bend her idealism led her to an existence of poverty and squalor — as evidenced by a shot in which some Emmys and a few Golden Globes are strewn on a cluttered desk next to a 1990s-era computer. There's also the requisite "Star Wars" shoutout when Liz exits Rosemary's apartment and Rosemary follows after, declaring, "Liz Lemon — you're my only hope!"
Angela McKinnon in Legit (2014)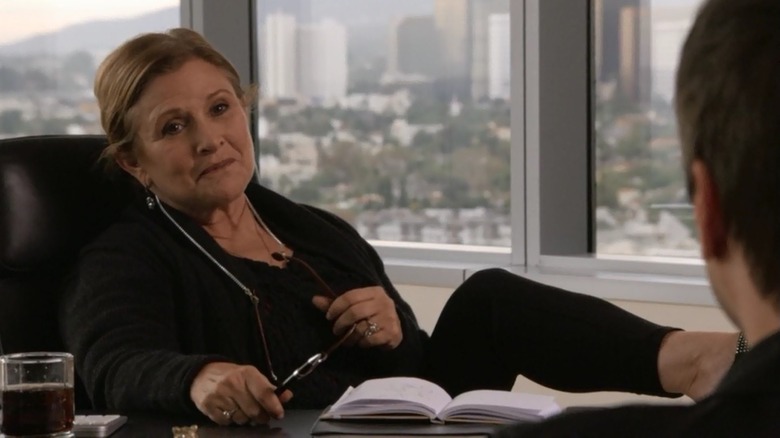 FX
One of Carrie Fisher's best but lesser-known roles was her guest spot as Hollywood comedy development executive Angela McKinnon in FX comedy "Legit," a brilliant show that few people watched. In the episode's most hilariously cringe-inducing scene, Angela is interviewing the show's protagonist, Australian comedian Jim Jefferies (playing a skewed version of himself), who's desperate to be cast in anything. Angela, lifting one leg onto her desk, offers a suggestion, one that she says has led to guaranteed steady work for other actors: He performs oral sex on her, making her indecent proposal using far less delicate language (the episode's title, after all, is "Licked"). Jim is simultaneously horrified, confused, and more than a little uneasy — but winds up doing it anyhow, particularly after she repeats her demand numerous times. As Jefferies revealed in an interview with GQ, it took a certain amount of subterfuge and finesse to convince the network to allow the beloved "Star Wars" icon to say that profane phrase 13 times. "To get 13, we put it in maybe 30-something times so we could negotiate to that figure," Jefferies explained. 
Following Fisher's death, Jefferies paid tribute on Facebook. "Working with Carrie Fisher was a real highlight of my life," he wrote. "We talked about life and love and loss .... and 'Star Wars.' She was funny, sweet and smart. The whole time I was acting with her I felt like a child. It was really hard to keep my cool."
Mia in Catastrophe (2015)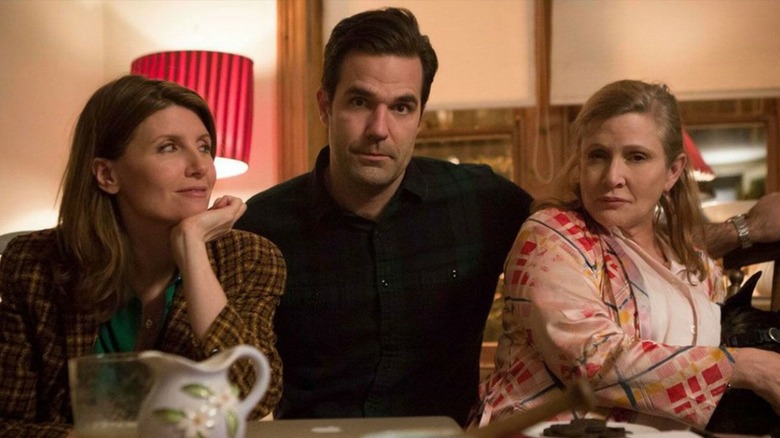 Amazon Studios
One of Carrie Fisher's final screen roles is also one of her most memorable: Mia in the British comedy series "Catastrophe." Mia is the mother of Rob Delaney's Rob Norris, an American man who becomes an accidental co-parent with Irish woman Sharon Morris (Sharon Horgan) after a booze-fuelled one-night stand results in an unplanned pregnancy. Fisher appeared in five episodes, proving her penchant for stealing scenes — particularly impressive given she was the only actor in the show whom Horgan and Delaney, the show's co-creators, allowed to ad-lib. One particularly memorable scene, in which Mia discusses her bizarre TV-viewing habits (the faux reality show "My Kids Are Schizophrenic" is a favorite), was totally made up by Fisher on the spot. "She loved playing Mia, she totally got it. You never had to explain it to her, she just did it," Horgan told the Express. "The first scene she did was me and her talking on the phone and I was supposed to be inviting her to our wedding and we ended up in the scene insulting each other and putting the phone down."
Horgan and Delaney came to firmly believe Fisher only joined the show for free trips to London, where the show shot, so she could visit friends. "We don't think she watched the pilot or read the script . . . she literally learned what the show was well after it had already aired," Horgan recalled, via Page Six.