The Daily Stream: Wishful Drinking Gives Us Carrie Fisher's Life Lessons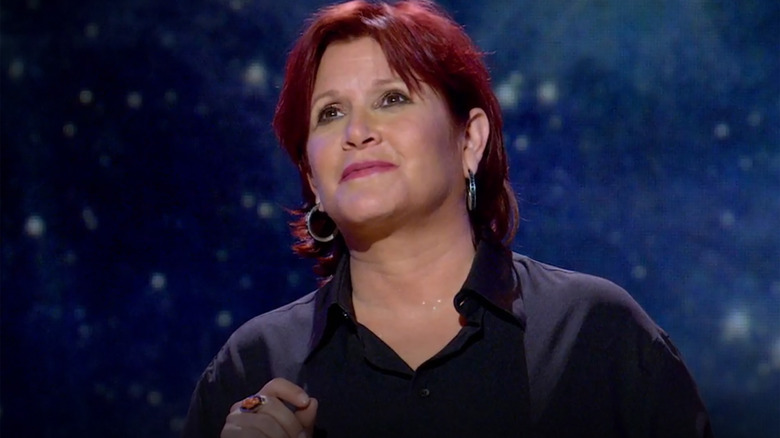 HBO
(Welcome to The Daily Stream, an ongoing series in which the /Film team shares what they've been watching, why it's worth checking out, and where you can stream it.)
The Special: "Wishful Drinking" 
Where You Can Stream It: HBO Max
The Pitch: Five years ago today, a light went out in the world. Carrie Fisher — mental health advocate, writer, actor, and my personal hero — died at the age of 60. Her impact on the world cannot be overstated, as she helped pave the way for feminism in fandom, worked to shatter the stigma surrounding mental illness, and contributed to some of the greatest movies of all time. In addition to playing Princess Leia in the "Star Wars" franchise, Fisher was also a talented script doctor, punching up screenplays ranging from "Sister Act" to "Outbreak." She also published four novels and three memoirs. Her first memoir, "Wishful Drinking," was made into a one-woman show of the same name. 
"Wishful Drinking" is an hour and 15 minutes of Fisher at her best, sharing anecdotes from her life with her trademark wit. She was never afraid to get into the tough stuff, and "Wishful Drinking" digs into her troubled marriages, struggles with addiction, the death of her good friend R. Gregory Stevens beside her in bed, and of course, the whole "no bras in space" thing. Though Fisher is gone, we can celebrate her incredible life and legacy by spending some time listening to her wisdom. Fisher taught me how to tackle the challenging parts of life with humor, and "Wishful Drinking" is a great way to learn about her special way of looking at the world.
Why It's Essential Viewing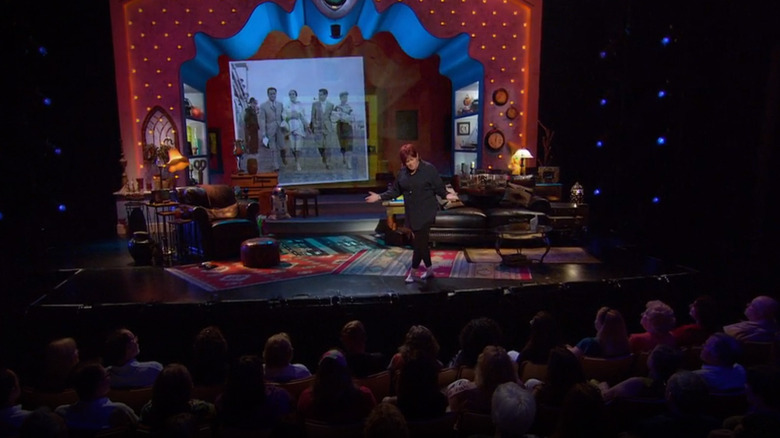 HBO
"If my life wasn't funny it would just be true, and that is unacceptable."
Fisher was born to Hollywood royalty. She never had a chance at "normalcy," with her earliest days documented by the press and her family always under scrutiny. It didn't help when her father, the crooner Eddie Fisher, left her mother Debbie Reynolds to be with another famous actress, Elizabeth Taylor. Their split was tabloid gold, but it meant that Fisher's childhood was rocky at best. She shares photos and videos of her childhood home, which she called "The Embassy" because it looked like "a place where you get your passport stamped" more than a house. 
The house had eight small pink refrigerators, a lanai, and three full-sized swimming pools, and it's where Fisher and her brother Todd spent their early days. It's a bizarre home, but it houses even more bizarre experiences. Fisher doesn't hesitate to dive in, speaking as candidly about losing her virginity to a friend as she does living with a potentially dangerous foster sibling. Hollywood is so deeply entwined with her family that her stories all hold an element of the uncanny.
"I like to think of celebrity as just obscurity, biding its time," she says before talking at length about watching her parents' careers dwindle and fade. Fisher, around age 54 when the special was shot, muses on her own stardom fading just as readily. She explains celebrity in a way few others can, as someone who has been on the inside from the day she was born. Her honesty and humor make her stories relatable because even though she's a tinsel town princess, she's still a human being. 
Words to Live By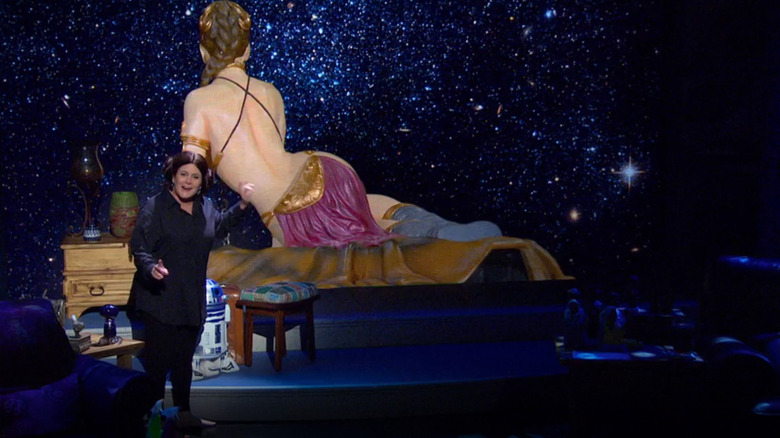 HBO
The entertainment industry is notoriously phony, but Fisher's authenticity cuts straight through it. She wanders around the "Wishful Drinking" stage, designed to look like a living room, barefoot and comfortable. She begins the show by throwing glitter on the audience, which was something she allegedly did on sets if her co-stars looked sad, and she even gives one audience member an award for following her explanation of her daughter's family tree. She's warm, caring, and bitingly funny, giving so much of herself and expecting nothing in return. 
Along with commentary on celebrity and an examination of her own adventurous life, Fisher offers hard-earned wisdom that can be applicable to us all. When I was young, my hero was Princess Leia, who could take on an entire Imperial army and stand tall, but as an adult, it became Fisher, who stared down bipolar disorder and serious trauma with a smile. She explains how her daughter, Billie Lourd, would laugh at some of Fisher's darker comments, saying: 
"And my daughter laughs and laughs and laughs, and I say, 'Baby, the fact that you know that's funny is going to save your whole life.'"
So if you have an hour and 15 minutes to spare, go watch "Wishful Drinking." It's like visiting Fisher for tea and getting a warm hug and a little tough love. If you end up wanting more, HBO Max also has "Bright Lights: Starring Carrie Fisher and Debbie Reynolds," about Fisher and her mom, who lived next door to one another for years and had a beautiful (and unusual) relationship. 
I miss you, Carrie. May the Force be with you, always.