Mike Myers Had To Fight To Get Bohemian Rhapsody For That Famous Wayne's World Scene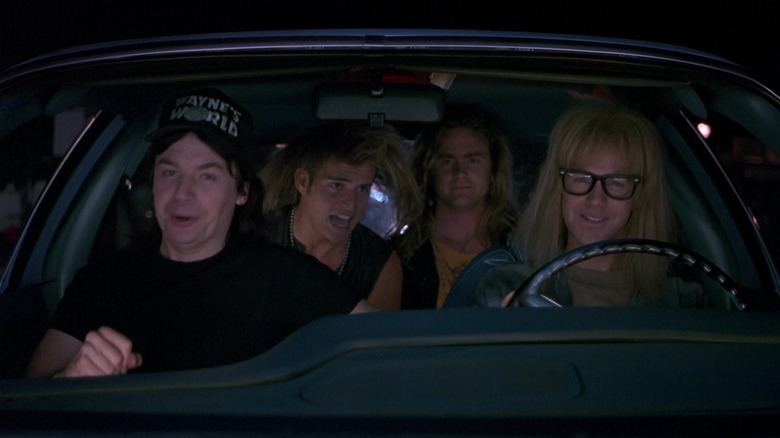 Paramount Pictures
Even if you've never seen the 1992 film "Wayne's World," you probably know about the scene where the main characters sing Queen's "Bohemian Rhapsody" in the car. It's one of those film moments that stick in your head forever. "Wayne's World" was based on the recurring "Saturday Night Live" sketch created by star Mike Myers in which his character Wayne Campbell and his best friend Garth Algar (Dana Carvey) host a cable access show in Wayne's mom's basement. In fact, it was only the second feature film based on an "SNL" sketch after "Blues Brothers" and the first to get a sequel. 
On the fictional show, Wayne and Garth waxed poetic about women, cool stuff, and the music they love. The film and the sketch spawned a ton of lines that people (me ... I mean me) still quote like, "Party on," "Scheah, as if," "And monkeys will fly out of my butt," and of course, "Schwing!" The sketches were wonderful, but I absolutely remember the "Bohemian Rhapsody" scene like it was yesterday. 
It's already a pretty cinematic song, full of wild tempo and style changes, crazy high notes, group harmony, and a sort of storyline, weird as it is. You cannot sing this song with a straight face. It is absolutely required to get all dramatic with it, even if you're in the car by yourself, something the other drivers on the road have seen me often do. You also must headbang when the big guitar break comes in, so time it right with the traffic lights, or you'll be in trouble. (These are the rules. I didn't make them up.)
The scene almost had different music, according to a Vanity Fair video with Myers, who had to fight to get the song in the film.
'If you're gonna spew, spew into this'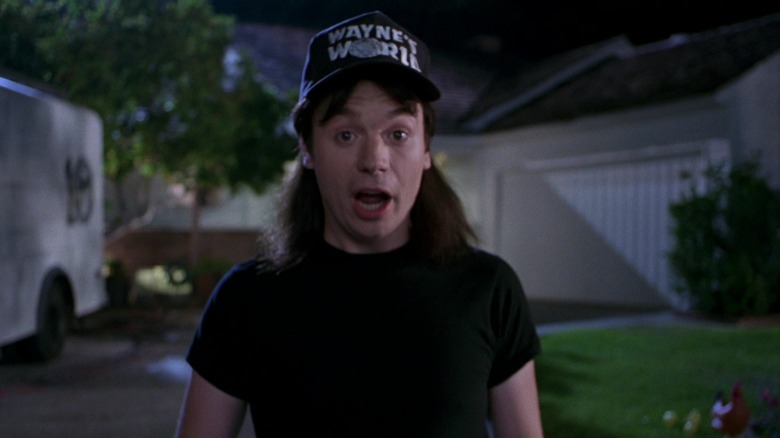 Paramount Pictures
Myers said there was another song from a different band in play, but for him, "Bohemian Rhapsody" had the right comic value. He says: 
"But what I remember most about this was fighting very, very hard for it to be 'Bohemian Rhapsody,' and they didn't want to do it. They wanted to do Guns N' Roses, which I love Guns N' Roses, but I didn't have anything funny for it. And then Lorne [Michaels - 'Saturday Night Live' creator and producer] was like, 'You really want it?' I went, 'Yeah.' So Lorne fought for it on my behalf. Lorne Michaels, and Dana and I talked about five days ago, about [how] our neck's still hurt from 'ba ba ba bom bom bom bom.'"
It's hard to think of a Guns N' Roses song that would have been as epic, as much as I love the music. The only one that comes to mind that could work in a narrative is "November Rain," but it's not exactly a funny song. Sure, it has tempo changes and a story, but it doesn't have the range-y vocals and the sense of fun that "Bohemian Rhapsody" has. It's not that kind of song. Just thinking of these guys in the back of Garth's "Mirthmobile" singing and headbanging, with a nauseated buddy's need to "spew," as the film says, being part of the song and the story still makes me laugh. 
We're not worthy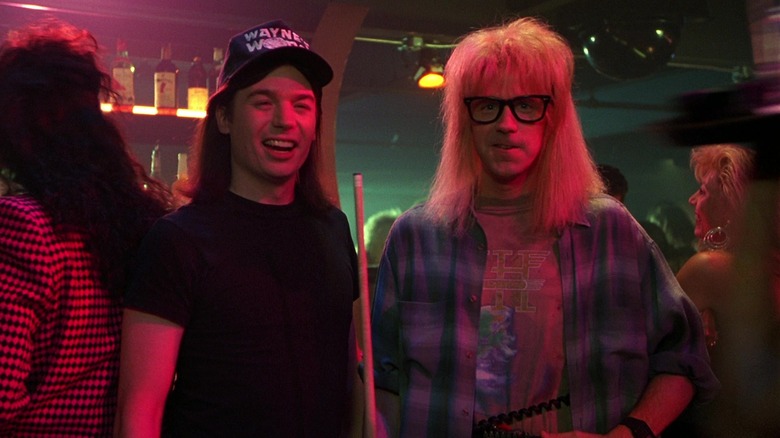 Paramount Pictures
Music was a huge part of the entire "Wayne's World" franchise, and on the "SNL" segments, the guys were visited by luminaries like Madonna and Aerosmith, with Meat Loaf and Alice Cooper appearing in supporting roles in the film. In an interview with Guitar World from 2017, Queen guitarist Brian May recalls learning about the scene. Lead singer Freddie Mercury died of bronchial pneumonia resulting from AIDS a few months before the film was released, and he was very ill while they were shooting. 
May tells Guitar World that Myers — whom he didn't know — called him "out of the blue" and asked if they could have his approval to use the scene they shot to accompany the song. May says he showed Mercury the segment. "He was ... confined to his bed, but I took it round and played it to him, and he loved it." It's beautiful to know that Mercury got to see one of the best tributes to Queen and to that song while he was still alive. It should be said, however, that in a 2022 video interview with Screen Rant, director Penelope Spheeris says she can't really believe it happened because the timeline doesn't seem to match someone's ability to get Mercury a VHS copy before he died.
Either way, let us all bow our heads ... over and over again ... to the beat and thank the rock gods that we have this scene forever.