Mike Myers Created His Wayne's World Character Long Before Saturday Night Live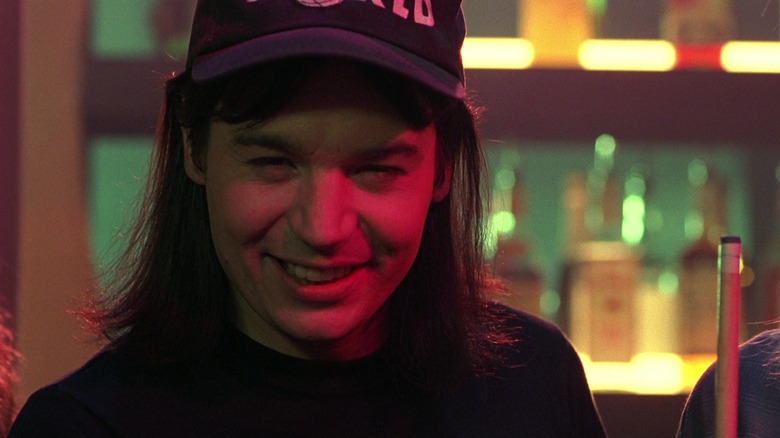 Paramount Pictures
If you are of a certain age and the Queen song "Bohemian Rhapsody" comes on, your mind immediately goes to the car scene from the 1992 film "Wayne's World." It was the story of Wayne Campbell (Mike Myers) and Garth Algar (Dana Carvey), who host a public cable access show called "Wayne's World" in Wayne's mom's basement. They talk about metal, "babes," and general partying. You probably don't remember much of the plot, but the plot was never really the point. It was all about the characters.
Wayne and Garth appeared on "Saturday Night Live" in skits and were wildly popular. The recurring segments of their fictional show often had guests like Madonna, Tom Hanks, and even the band Aerosmith. If you grew up in this time period, you knew these guys. They were the ones with long hair who seemed to be speaking a different language than you were. (If not, then you were these guys.) As someone who did grow up then, with the same music, they were my favorite part of the late-night show. 
Wayne Campbell didn't just appear when Myers joined the cast of "SNL" in 1989, though. The character — who was only the second from the show to get a feature film (after 1980's "The Blues Brothers") and the first to get a sequel — was created by Myers long before. He appeared as Wayne on Canadian television in his early 20s, according to a 2019 feature in The Ringer, and when he was a part of the comedy troupe at Chicago's Second City, according to Vulture.
Party on, excellent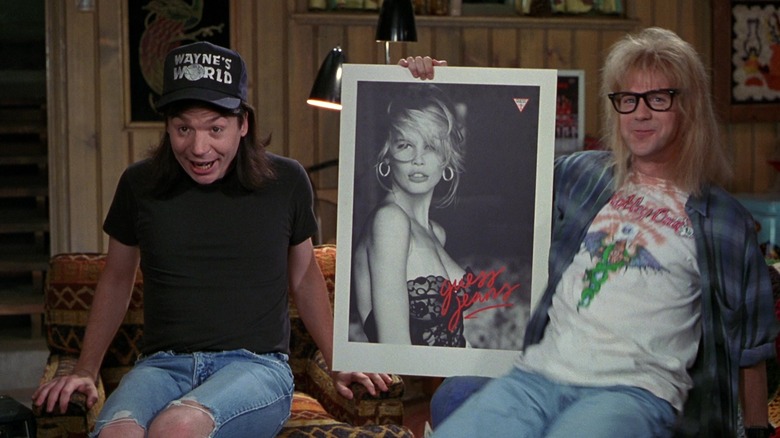 Paramount Pictures
Even if you never saw the skits or the show, you probably know the catchphrases that Wayne and Garth used. They introduced themselves on the cable access show by greeting each other with "Party on, Wayne" and "Party on, Garth." "Schwing" with an accompanying pelvic thrust showed that they were into someone. "We're not worthy" was the chant when they worshiped a musician or anyone else. If something seemed unlikely, Wayne would say, "Yeah, and monkeys might fly out of my butt."
All of it came out of little skits that Myers would do to entertain his friends in the '70s and '80s while he was growing up in Toronto, Canada. In fact, he based Wayne on himself and those friends, though he did say in a Rolling Stone article in 1992 (via The Ringer) that he (and Wayne) were smarter than people gave him credit for. "I was always a student who liked to hang out with the guys who partied — and get my homework done. People just thought I was an idiot who liked to party. People always underestimate Wayne's intellect." 
'Will you still love me when I'm an incredibly humungoid giant star?'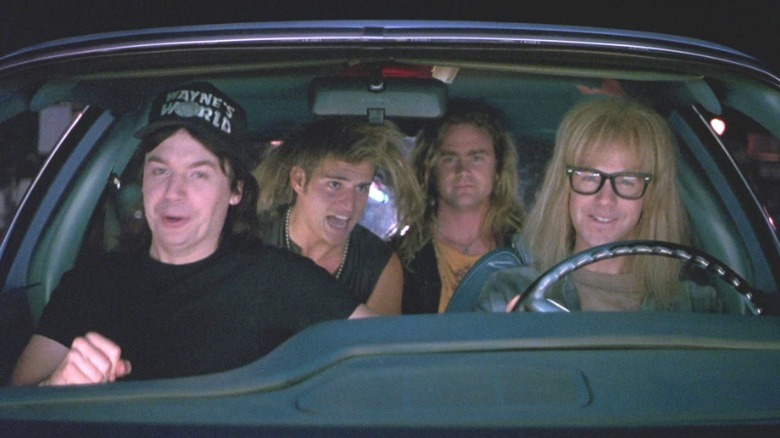 Paramount Pictures
Myers brought Wayne to a wider audience's attention when he appeared on the Canadian station MuchMusic, where he played the VJ's "cousin." That VJ was Christopher Ward, a songwriter for people like Diana Ross and groups like the Backstreet Boys. Ward tells The Ringer:
"There was a precision about Mike's work that was part of the brilliance of it. So Wayne Campbell had that whole quality of verisimilitude about him. A typical suburban guy with a ball hat."
That's the thing about Wayne Campbell. You can tell he was based on real people because he feels real. It was less a broadly drawn stereotype than a person who embodies that lifestyle. 
Wayne also showed up on CBC's "It's Only Rock and Roll," where the character hosted "Wayne's Power Minute," which was very similar to the "SNL" sketches. Myers also played the role, of course, during his time in the comedy troupe Second City in the mid-1980s. 
In the pantheon of Mike Myers characters, maybe Austin Powers is the most well-known, and Dieter from Sprockets, Linda Richmond from Coffee Talk, and the shop owner from the "If it's not Scottish, it's crap" segments have tons of fans, but Wayne is still the sweetest and the most fun to watch in my book. "Wayne's World" is definitely worth another viewing — and don't miss the sequel "Wayne's World 2" either, because it's one of the rare cases where it's just as good as the first film.
Party on, friends.