The Early Saturday Night Live Stars That Most Influenced Mike Myers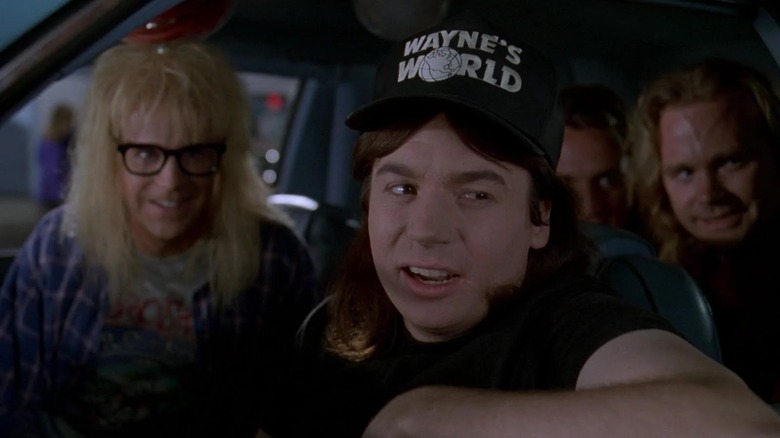 Paramount Pictures
Over his decades-spanning career, Mike Myers has crafted some of comedy's most memorable characters. You might know him most fondly as the headbanging hero Wayne of "Wayne's World," whether on "Saturday Night Live" during his '89-'95 tenure or in the celebrated movie adaptations. Perhaps you recall how he dominated the late '90s as both villain and swinging protagonist in the spy-parodic "Austin Powers" movies, and the subsequent inability to walk down the street without hearing a poorly-feigned Dr. Evil impression. Maybe ogres are your bag, making Myers' turn as an unrefined Scottish mean green machine Shrek the zenith of his talents. Or perhaps the name is fairly new for emergent comedy fans, the product of stumbling upon the cult-centric laugh-fest "The Pentaverate" on Netflix. Myers' influence on comedy is well-established, but what influences the influencer?
Speaking with fellow "SNL" alum and "Documentary Now!" co-creator Fred Armisen for The Hollywood Reporter, Myers has a handful of favorite pre-Myers "SNL" sketches at the ready as his top picks, and sings the praises of the late great Gilda Radner:
"My favorite sketches from before my time on 'SNL' would be the 'Czech Brothers,' 'Theodoric of York,' 'X-Police,' 'Fred Garvin Male Prostitute.' People ask me, 'Who are you most like from those early years?' My first reaction would be Dan Aykroyd, but it's more Gilda Radner. She was my hero. She actually passed away on the last day of my first half-season. It was very sad. This reporter asked me, 'What did you think of Gilda Radner?' I had no idea she died — this was before CNN — and he told me. I started to cry in the lobby."
Steve Martin's molecules, the stuff of stars
Mike Myers began his "SNL" service in 1989, an era when the unruly geyser of funnyman talent from up north — be it New York or beyond the Canadian border — eased to a trickle. The wounds of John Belushi's 1982 death were still tender; the ill-advised adaptation of Bob Woodward's Belushi biography "Wired" was met with mass vitriol. Eddie Murphy's films like "Another 48 Hrs." and "Boomerang" would collect modest box office sums, but nothing like the commercial success he had enjoyed for the past decade. "Second City Television" grad Rick Moranis was now working with powerhouse studios on "Parenthood" and the "Honey, I Shrunk the Kids" pictures. Second City superstar John Candy was shifting into more sentimental acting roles — both he and Steve Martin wowed audiences with heartfelt performances in John Hughes' "Planes, Trains, and Automobiles."
As for Martin, he was still active but more docile than in his "Theodoric of York" days — the result of a discerning campaign of role-choosing to make audiences believe that he was more than just a pratfall comedian; his comedy would refine itself for the Vexed Dad demographic. In short order, he would co-write and star in "Cyrano de Bergerac" adaptation "Roxanne," co-star opposite Michael Caine in Frank Oz's gem "Dirty Rotten Scoundrels," and play Vladimir in Mike Nichols' onstage revival of "Waiting for Godot." When Martin returned to host "SNL," Myers was starstruck. He tells Armisen:
"I was like, 'Wow, those are the molecules that Steve Martin's made of.' He invited us all out for lunch, he paid for us, and then said, 'I'm going to go get some gum, you want to come with me?' I was like 'Yeah!' People were like turning around in the street and nudging each other and I went into a variety store and he bought gum. I'll never forget it the rest of my life."
Gilda Radner, the stuff of legend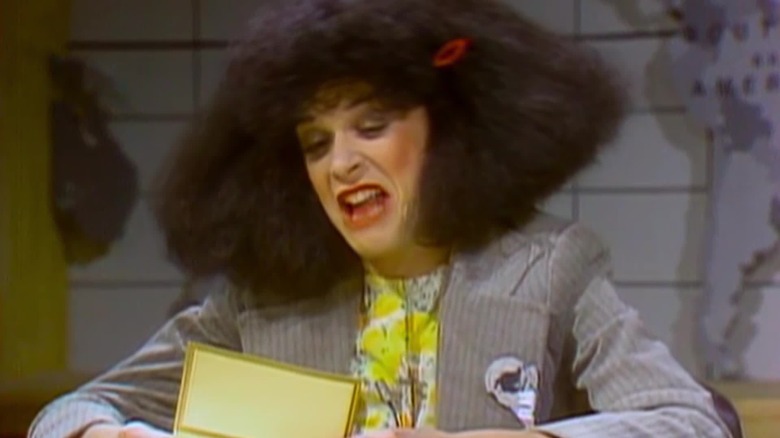 NBC
Mike Myers never forgot Gilda Radner, either. An O.G. of "Saturday Night Live" and one of Myers' stated influences, Radner was one of the freshman class of "SNL" in the mid-'70s, an original member of the group known as the "Not Ready for Prime Time Players" alongside Laraine Newman, John Belushi, Jane Curtin, Dan Aykroyd, Garrett Morris, and Chevy Chase. From her first screen test, she lit up a room and enraptured audiences; the hard part is keeping their attention, a task deftly handled through her numerous sendups of bubbly or overbearing tv personas like the poofy-haired TMI queen Roseanne Roseannadanna. /Film's Danielle Ryan celebrated Radner's Barbara Walters homage Baba Wawa as "an all-time great celebrity impersonation" that subsequent Walters-spoofers on "SNL" (Cheri Oteri and Rachel Dratch) would have to tip their caps to. But few laugh harder at the show than when a cast member stumbles and loses their composure, and Radner brings the giggles in one of the show's greatest moments of broken character. The "Extremely Stupid" sketch features Candice Bergen, who accidentally calls Radner's character the wrong name. While Bergen immediately breaks and can't control her chuckles, Radner saves the sketch with quick wit.
While Radner never shared the stage with Myers on the show, the two did share screen time together. Myers tells Conan O'Brien on his "Late Night" show that the former "National Lampoon Radio Hour" player had once played his mother when he was 10 years old, in a Canadian commercial. After "falling in love" with her, he was taunted by his brothers, who called him a "sucky baby" and pointed out that his "girlfriend" was on some no-name tv show on a Saturday night. You can guess the show, and imagine the impact it had on an impressionable young Myers, who has shown no signs of stopping the funny train.