Francis Ford Coppola's Passion Project Megalopolis Is In Trouble. Again.
Well, this sucks. While Francis Ford Coppola is undoubtedly one of our greatest living filmmakers, he's had his fair share of controversies surrounding the development of his movies. Unfortunately, his return to the big screen, "Megalopolis," looks to be another one of these problems in the making. According to a new report by The Hollywood Reporter, the $120 million self-funded epic has lost multiple key creative talents since it began filming, including its entire visual effects team.
While Coppola and his team have not commented on the report, multiple sources say that there is no longer an art department working on the film. Recent departures include production designer Beth Mickle, visual effects supervisor Mark Russell, and art director David Scott. This might result from an unstable filming environment that one talent representative described as "absolute madness." On top of that, the already-hefty budget is allegedly on track to balloon even more, putting the entire film in peril. "There's no good answer here," an anonymous production executive told The Hollywood Reporter. "[Coppola] is going to spend a lot more money than he intended."
Of course, Coppola is no stranger to chaotic sets, having a similar event happen during the production of "Bram Stoker's Dracula." However, it's unclear whether he'll be able to weather these storms, especially if the film continues to be self-funded as announced.
A brief history of Megalopolis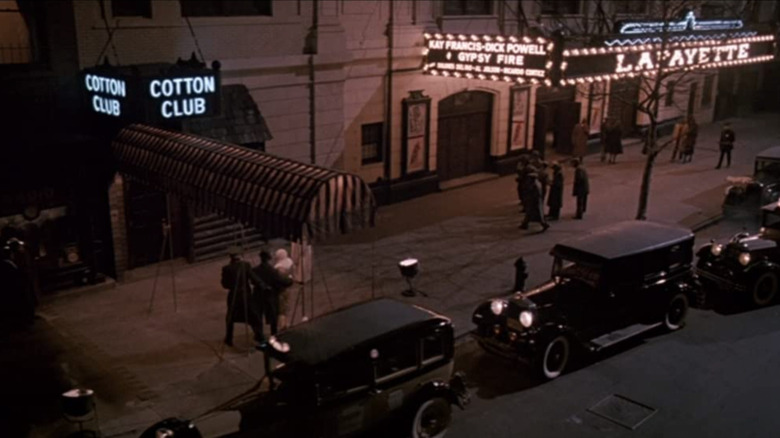 Orion Pictures
The fact that this is even a story, to begin with, has to do with just how long "Megalopolis" has been in production. Francis Ford Coppola first conceived of his epic Roman parallel all the way back in the 1980s, being in various states of production until finally starting second unit production in New York ... right before the September 11, 2001 attacks. Needless to say, production was promptly shut down, relegating it once again to production limbo.
The project was considered abandoned until 2019 when it was revealed that Coppola intended to revisit the project. While progress was slow, its star-studded cast was revealed throughout 2022 and production began in Atlanta using LED technology made famous in projects like "The Mandalorian." However, according to The Hollywood Reporter's sources, these stages may be scrapped as a cost-saving measure.
We aren't going to lie and pretend like this report doesn't hurt at least a little bit. Coppola is a genius who deserves to have his fullest vision realized. However, potentially unmanageable working conditions should not be tolerated, especially after IATSE barely avoided a nationwide strike back in 2021. We hope that "Megalopolis" is able to finally be released, but it can't be at the cost of production workers.