Don Cheadle Decided To Join The MCU Over Two Hours Of Laser Tag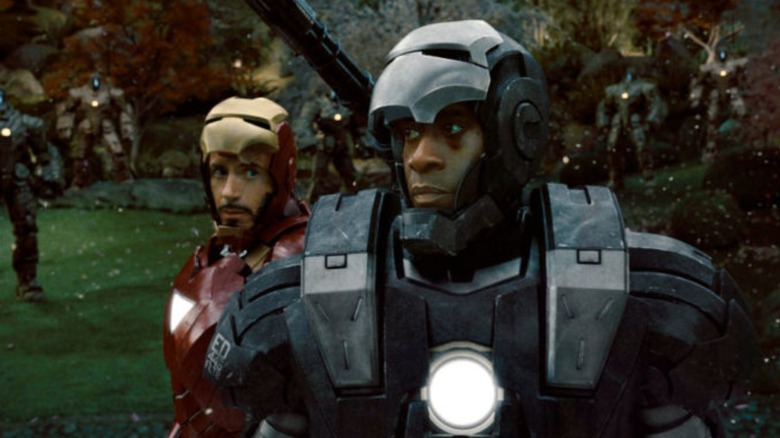 Marvel
Every Marvel star has a story about how they landed their life-changing role, but it sounds like Don Cheadle's is a little different than most. A full thirteen years into his run in the Marvel Cinematic Universe as James "Rhodey" Rhodes, Cheadle is looking back at his time in the supersuit for GQ (via Variety). The actor sat down with the outlet to reflect on his role in the MCU, as well as a career that includes turns in "Devil in the Blue Dress," "Hotel Rwanda," and much more. Along the way, he revealed that he got the part of Rhodey at a time when he least expected it: at his own child's birthday party.
"I was at my kid's laser tag birthday party," Cheadle revealed in the GQ video. "They called me and said, 'This is what's happening. We're giving you the offer. If you don't say yes we're going to the next person.'" At that time, Terrence Howard had already played the same character in 2008's "Iron Man," but Cheadle tells GQ that the role was vacant by the time he got the call. While the reason for Howard's recasting has never been publicly made clear, Entertainment Weekly reports that negotiations for his return may have broken down after he was offered a smaller paycheck for the second "Iron Man" film than he received for the first one. In 2013, Howard said that he was lowballed with a deal that was one-eighth of his original paycheck, and that when he tried to get in touch with Robert Downey Jr. to talk about it, he didn't hear back for months.
A tight turnaround for a massive decision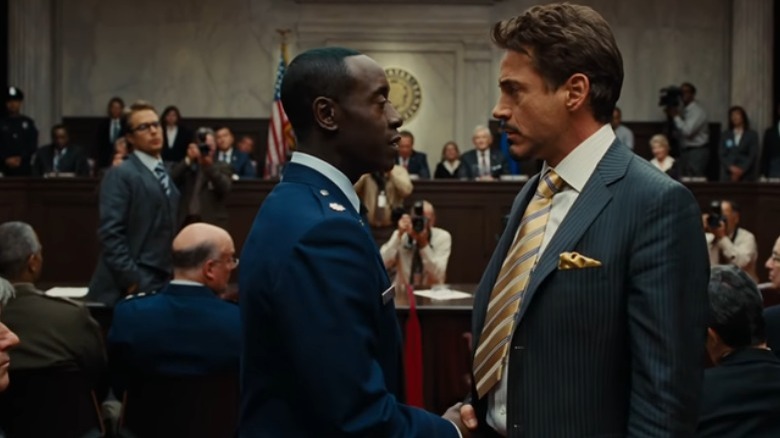 Marvel
Regardless, by the time Cheadle got the call to play Colonel James Rhodes aka War Machine, Marvel execs were clearly in a hurry to get a new actor secured for the role that would end up being pivotal for a decade's worth of films. "'This is going to happen very fast,'" he remembers the person who reached out to him saying. "'Why don't you take an hour and decide if you want to do it.'" Even looking back today, Cheadle still seems surprised that the studio would put such a short timeline on a massive decision. "It was a six-movie deal," he says. "I was like, 'In an hour I have to decide? What are the other movies?'"
Cheadle says that the studio wasn't able to give him an indication about where his character might be headed, saying they didn't know yet, but that they were able to tell him the very broad strokes of the deal. "'It's going to be these Avengers, it's going to be these many Iron Mans, this is what it is,'" he recalls the representative saying. As wild as this one hour timeline seems in any situation, it gets even more surreal when Cheadle reveals he was in the middle of a laser tag birthday party for one of his children. "I said, 'I'm at my kid's laser tag birthday party!'" he recalls, to which Marvel oh-so-generously upped the deadline for a response to two hours.
Rhodey's finally set to take center stage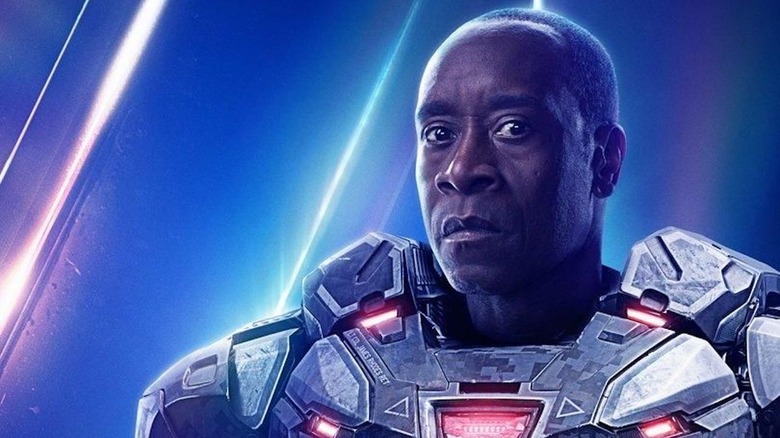 Marvel Studios
"So we played laser tag for two hours and I was talking to my wife and we just kind of thought about it," Cheadle says, adding that he talked to his agent and tried to glean more information about the deal and the movies themselves. In the end, though, between games of laser tag, he decided to do it. "We just took a flyer and said, okay, we'll do it," he tells GQ. It's a choice that seems to have paid off big-time. The actor has now played Rhodey in seven films and two TV shows, starting as Tony Stark's sidekick before donning the War Machine costume to become a superhero in his own right.
Now, Cheadle is poised to lead "Armor Wars," a Marvel project that was conceived of as a TV show before ultimately becoming a movie. "Armor Wars" doesn't have a release date yet, and Cheadle reveals the script is still in the works, but he tells GQ it's set to be an important next step for the hero. "I think in every successive film, [Rhodey] is becoming more and more out of Tony's shadow and becoming his own person," Cheadle says. 
We're eager to see it when "Armor Wars" hits theaters.