Wednesday Season 2 Ordered By Netflix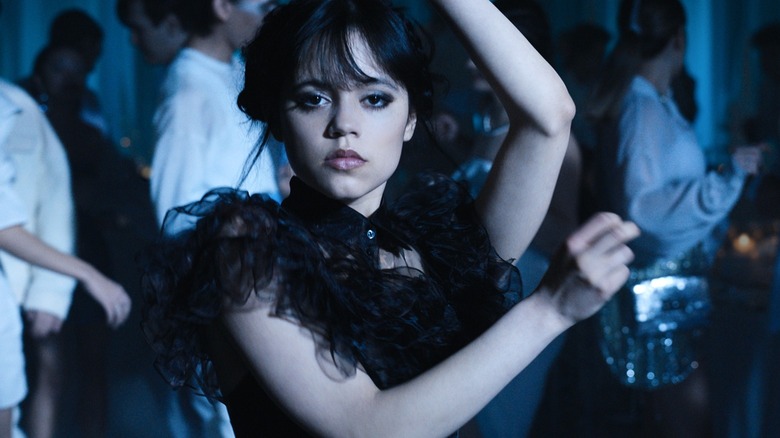 Netflix
It looks like we'll get the chance to see who's sending Wednesday Addams (Jenna Ortega) those creepy texts after all: Netflix's Addams Family-inspired series, "Wednesday," has just been renewed for a second season that will continue her journey at Nevermore Academy.
"It's been incredible to create a show that has connected with people across the world," series co-creators, showrunners, and executive producers Alfred Gough and Miles Millar told Tudum in response to the news. The pair say they're "thrilled to continue Wednesday's tortuous journey into season two, and "can't wait to dive head first into another season and explore the kooky spooky world of Nevermore." In a nod to Wednesday's notorious piranha incident and general knack for sadistic trickery, they add, "Just need to make sure Wednesday hasn't emptied the pool first."
While Netflix's viewership metrics are self-reported by the streamer, "Wednesday" has by all accounts turned out to be a smashing success. Netflix says "Wednesday" is one of only three shows — the other two being "Stranger Things" and "Squid Game" — viewed over 1 billion total hours in its first month on the air. The series also broke multiple records for the streamer with impressive early viewership numbers and sustained interest from legions of fans. Plus, its music topped the iTunes soundtrack chart.
The Addams Family-inspired story has been a massive success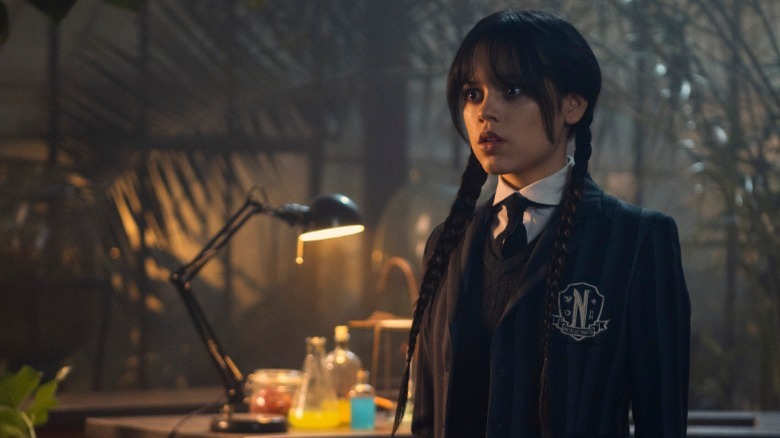 Vlad Cioplia/Netflix
But you don't really even need to do the math to see the impact of "Wednesday," as the show's online presence is ubiquitous: moments like Ortegas' dance to The Cramps' "Goo Goo Muck" have gone massively viral on TikTok, and fans showed up in full force to ship the goth teen with her much peppier roommate Enid (Emma Myers). Even Lady Gaga saw the benefits of the "Wednesday" spike in popularity, as her song "Bloody Mary" ended up in the TikTok dance craze, leading to what a Netflix press release calls an 1800% streaming increase on Spotify over the month before. Plus, according to the streamer, the hashtag #WednesdayAddams has earned 22 billion TikTok views to date.
The inarguable success of "Wednesday" is likely a relief for the powers-that-be at Netflix, as the streaming giant has struggled with unprecedented subscriber losses and associated stock market drops this past year. As a result, Netflix cracked down on password sharing and canceled a number of high-profile series throughout 2021. The tumultuous status of the streamer left "Wednesday " fans worried they might not see Wednesday, Enid, Bianca (Joy Sunday), Eugene (Moosa Mostafa), and the rest of the Nevermore crew again, and rumors even swirled that MGM-produced "Wednesday" might move to Prime Video, though IndieWire quickly debunked that theory.
In the end, Netflix clearly wanted a second serving of Addams family hijinks, as the show's popularity has only continued to explode since its November release. 
Don't expect a love triangle for season 2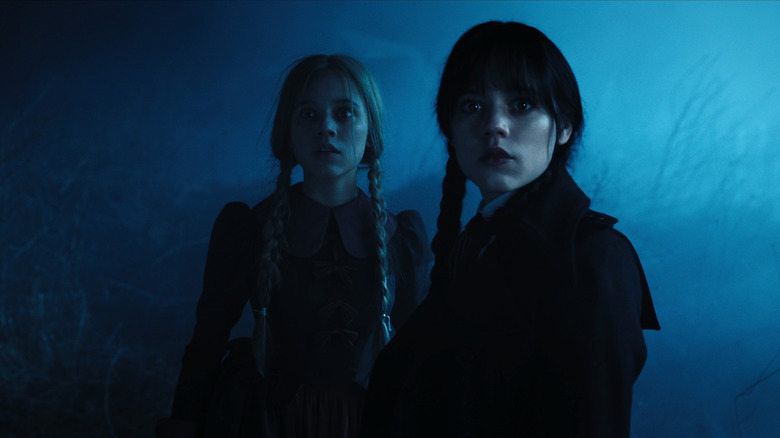 Netflix
When "Wednesday" does return, Ortega has takes on her character that writers will hopefully implement, especially in regards to a tired trope that has been slammed by critics and fans alike. The actress told W Magazine that she didn't want the show to focus on a love triangle between Wednesday and two boys at Nevermore, saying, "Nobody wants to see her in the middle of a love triangle. They want to see her torturing people." Ortega, who had a major year in 2021 with star-making turns in "X" and "Scream" as well as "Wednesday," says she "will fight [the love triangle] to this day."
Though the first season of "Wednesday" tidily wrapped up plenty of its key plot points, solving the mystery of the monster terrorizing Nevermore, it also left viewers with some cliffhangers. Before the finale's cut to black, viewers saw Tyler (Hunter Doohan), a student revealed to be a monster known as a Hyde, turning into his most dangerous form while being carted away to prison. Meanwhile, Wednesday seems to be taking a school break, but it doesn't seem like it'll be peaceful thanks to a stalker sending her photos of herself alongside threatening Bitmojis.
While it's too soon to tell which "Wednesday" cast members will make a comeback for another semester at Nevermore, there are a few characters whose futures are up in the air. Christina Ricci's Marilyn Thornhill was revealed as the season's big bad in the finale, and though the kids handily defeated her with the help of the ghost of Goody Addams and Thing the hand, Ricci's character never actually seems to have died. Gwendoline Christie's Principal Weems, though, seems to be a gone for good, unless the show's second season decides to resurrect her. Hey, anything's possible at this school for the weird.