Steven Knight Knew It Wouldn't Be Easy To Make Peaky Blinders' Birmingham Look 'Cool'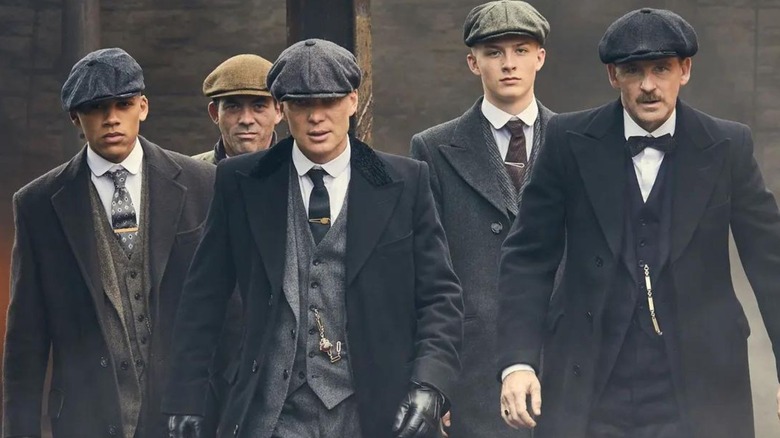 BBC
"Peaky Blinders," inspired by a real-life street gang, tells the tale of an ambitious gangster family's rise to power. Helmed by Steven Knight, the period crime drama is set against the rich tapestry of the industrial revolution in post-war Birmingham. Viewers witness how the Shelby family builds a name for themselves through violence, corruption, and crime, eventually becoming an incredibly influential organization.
Despite people in the U.K. having a negative impression of the city, "Peaky Blinders" has left a lasting legacy for Birmingham and made it as popular as ever, attracting tourist crowds toward its show-related tours and street art. Knight wanted to give Birmingham a story, and a history, and make it look "cool," which wasn't easy since people judged it for its peculiar-sounding accent and crime rates.
Birmingham is a blank canvas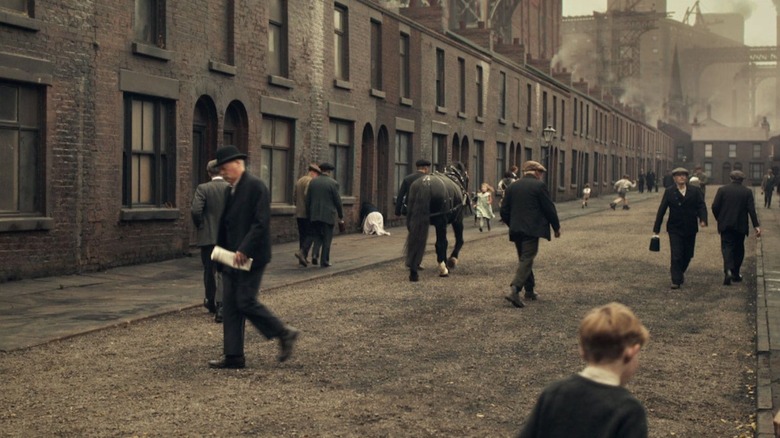 BBC
In an interview with the New York Times, creator Steven Knight discussed how "Peaky Blinders" had altered British people's perception of Birmingham. For Knight, making the city appear interesting and cool was challenging. The screenwriter compared Birmingham to Liverpool and Manchester, pointing out how the latter two were famous for being the birthplace of a rock band and for having good nightlife, but Birmingham didn't have much going for it ... until the Shelby family began calling it home.
"Part of the challenge in the beginning was to try and make Birmingham — which was a blank canvas at best before — cool. To give it a story. Liverpool has the Beatles and Manchester has the nightclub scene, Birmingham never really had anything."
Knight also revealed that in the early stages of production, it was suggested that the story be moved to London — that a different city could be chosen for its setting. The showrunner believes Birmingham being a "blank canvas" helped him redesign its mythology for the show, and explained why it seemed to work.
"There was a suggestion in the early days of moving the story to London or another city, and I said no. I think the fact that Birmingham was a blank canvas helped because there were no preconceptions."
'It has given Birmingham an identity'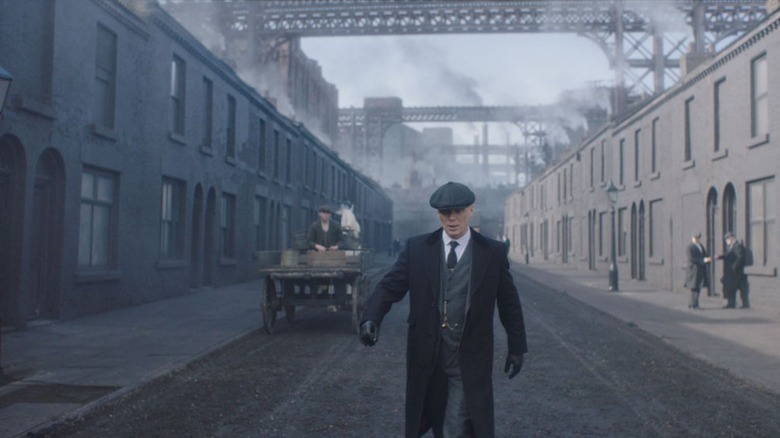 BBC
Some statistics prove that "Peaky Blinders" helped draw a record number of visitors to Birmingham — in 2018, a staggering 131 million people visited the West Midlands, which was credited in part to the "Peaky Effect" (via The BBC). Plus, the BBC drama has transformed how people view Birmingham, and tourist crowds are attracted to the city's available walking tours, theme nights, and street art. No wonder Knight was confident the show gave Birmingham a new identity.
"According to people I know from Birmingham, when they go abroad and they speak, instantly people mention 'Peaky Blinders.' And it's not a bad thing, it's always good. I think it has given Birmingham an identity that perhaps it didn't have, purely in the media."
"Peaky Blinders" has reached a global audience since finding its way to Netflix, and it's not over yet. Steven Knight is presently working on a spin-off feature film set in the same universe, which might be coming to the cinemas sooner than you think.