You People Trailer: Jonah Hill Meets The Parents In A New Kenya Barris Comedy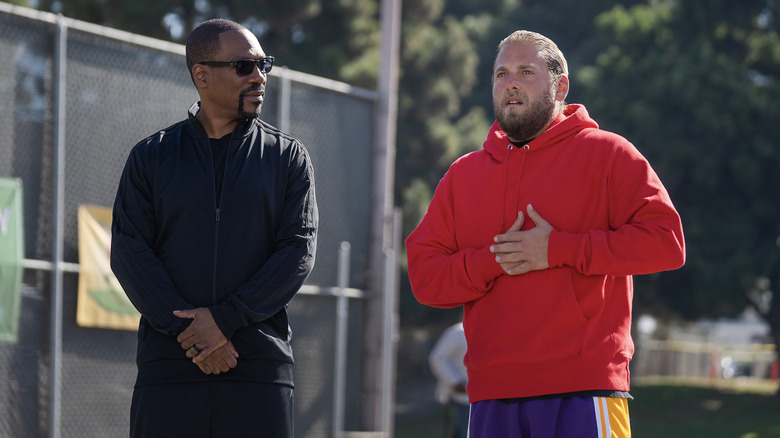 Netflix
Whether you go into the trailer without knowing a thing about it or simply listen to it with your eyes closed, it won't be hard to figure out whose mind is behind Netflix's upcoming original film, "You People." Kenya Barris' fingerprints are all over this project, which fits in neatly with the rest of his resume. Not unlike "Black-ish," "Grown-ish," "Mixed-ish," "BlackAF," and 2022's "Cheaper By The Dozen," Barris' directorial feature debut will explore the struggles of family dynamics and clashing cultures via a modern-day multiracial relationship. This time, the drama is shared between two different families on the verge of becoming one.
When Ezra Cohen (Jonah Hill) and Amira Mohammed (Lauren London) fall in love, they have no choice but to introduce their families and pray that nothing goes terribly wrong. But where's the fun in things going well? The tagline of "You People" speaks for itself: "Opposites attract, families don't." Here's the plot, per the official synopsis:
When a rideshare mix-up in L.A. brings Ezra Cohen and Amira Mohammed together, the two find themselves connecting over a shared love of streetwear and music. As they fall in love, their relationship is tested by their respective families: Ezra's progressive and semi-woke parents (Julia Louis-Dreyfus and David Duchovny) and Amira's unyielding yet concerned parents (Eddie Murphy and Nia Long), who inject themselves into their lives mercilessly.
Both onscreen and behind the scenes, the film blends the voices of experienced comedians, with Barris directing "You People" from a script he wrote with Jonah Hill. In addition to the lead cast, the film also features Elliott Gould, Travis Bennett, Molly Gordon, Rhea Perlman, Deon Cole, Andrea Savage, Mike Epps, Emily Arlook, Alani La La Anthony, and Bryan Greenberg. You can check out the latest trailer below.
Watch the trailer for You People
Bringing the two families together goes about as well as expected: Ezra's parents can't help but blurt out microaggressions while Amira's parents not-so-subtly judge her boyfriend based on appearance. And in case you missed out on the moral being broadcasted throughout the trailer, Dr. Dre's "What's The Difference?" is blaring in the background to keep you informed!
When they all join together for dinner, it sparks an argument so awkward (which marginalized group has suffered more?) that it gave me war flashbacks to another Netflix project: the infamous "Ginny and Georgia" Oppression Olympics scene.
But have no fear, the lead couple has a love so strong that the promise of endless uncomfortable situations won't break their bond. Despite all they've endured, Ezra is determined to make things work. "We've built a pretty awesome life together," he tells Amira. "We just need to protect it." Obviously, they have their work cut out for them, but given we've basically seen this film done a million times before, it'll surely work out in the end.
"You People" debuts on Netflix on January 27, 2023.