Poker Face Trailer: Natasha Lyonne Is A Human Lie Detector In Rian Johnson's New Whodunnit Series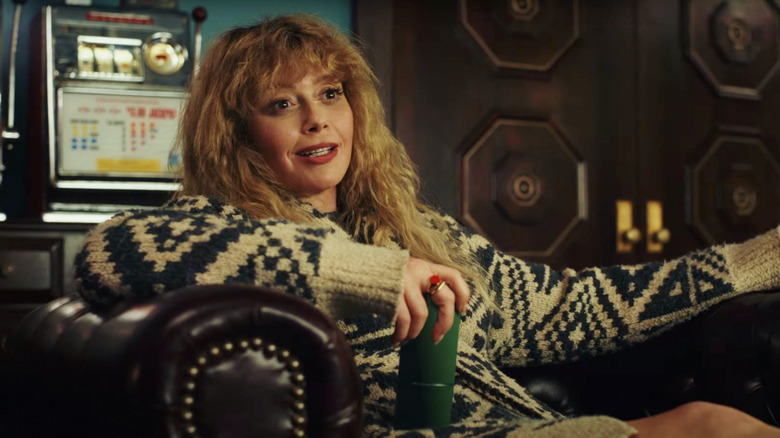 Peacock
A new murder-mystery every episode on a weekly basis? What a concept!
Rian Johnson is currently enjoying an impossibly hot hand, turning everything he touches into gold (if you'll excuse the mixed metaphor) between his three-film run that includes "Star Wars: The Last Jedi," 2019's "Knives Out," and the highly-anticipated follow-up "Glass Onion." In all honesty, it wouldn't be too much of a stretch to say that the Daniel Craig-starring Benoit Blanc franchise has singlehandedly invigorated audience interest in murder-mysteries in general. While the rest of the industry is still working on making up for lost time, Johnson continues to spearhead these efforts with yet another story ripped from the classic genre. This time, he's taking his talents from the big screen back to television — which, lest we forget, is where he found such great success directing two of the most acclaimed episodes of "Breaking Bad."
"Poker Face" was announced to great fanfare, boasting one of the most stacked casts you'll ever see. Set to debut on Peacock, the whodunnit series is advertised as taking a throwback episodic approach that'll see "Russian Doll" and "Orange is the New Black" star Natasha Lyonne (did you peep her cameo in "Glass Onion?") leading the ensemble as the tenacious detective on the run, Charlie Cale. Oh, and she apparently has a knack for figuring out exactly when someone is lying to her. Between the thrilling premise and the all-star cast, everything is coming up Rian Johnson these days. And now, you can check out the newly-released trailer for the series below!
Watch the Poker Face trailer
At this point, it almost feels like Rian Johnson is just showing off. And, yes, we're totally here for it.
"Poker Face" is a new procedural series featuring new crimes, new characters, and new settings with each and every episode, anchored by one heck of a leading star in Natasha Lyonne. Created, written, and directed by Johnson, the series will also be guided by co-showrunners Nora and Lilla Zuckerman ("Fringe," "Prodigal Son," "Agents of SHIELD," "Suits"). All three will executive produce alongside Maya Rudolph, Danielle Renfrew Behren, Ram Bergman, and Nena Rodriguez. The cast will feature a rotation of A-list guest stars: Adrien Brody (who previously starred in Johnson's excellent "The Brothers Bloom"), "Everything Everywhere All At Once" breakthrough star Stephanie Hsu, veteran actor Benjamin Bratt, Chloë Sevigny, Jameela Jamil, Nick Nolte, Tim Blake Nelson, Joseph Gordon-Levitt, Luis Guzmán, Clea DuVall, and Ron Perlman as what appears to be the main antagonist.
The show will debut exclusively on Peacock starting January 26, 2023.
"Poker Face" is a 10-episode "mystery-of-the-week" series following Natasha Lyonne's Charlie, who has an extraordinary ability to determine when someone is lying. She hits the road with her Plymouth Barracuda and with every stop encounters a new cast of characters and strange crimes she can't help but solve.