King Of The Hill Was Under 'A Lot' Of Pressure To Compete With The Simpsons' Celebrity Guest Stars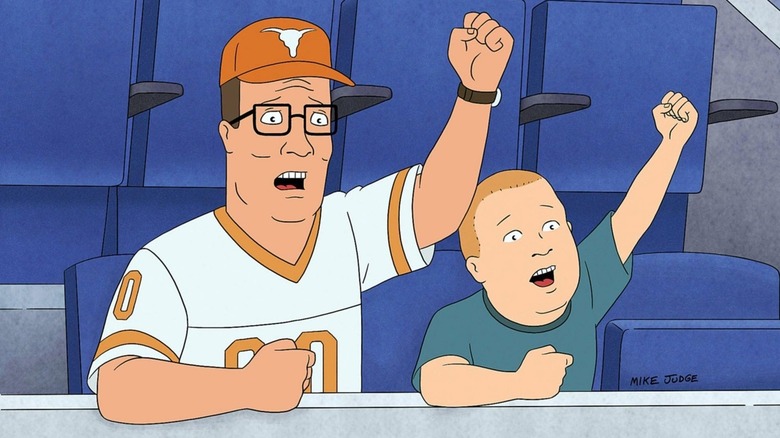 Fox
"The Simpsons" is noteworthy for a number of reasons, not least because it's seemingly been on the air since pretty much the dawn of time. One of the things that the long-running animated sitcom has become most known for, of course, is collecting an incredible and eclectic stable of celebrity guest stars, including the likes of Albert Brooks, Patrick Stewart, Mel Brooks, and John Waters.
As part of Fox's Sunday night lineup for years, it was always inevitable that "King of the Hill" would not only draw comparisons to Matt Groening's show, but also face the pressure to duplicate its success both in terms of ratings and when it comes to bringing in celebrities to lend their voices to the fictional world of Arlen, Texas.
"King of the Hill" — the brainchild of "Beavis and Butthead" and "Office Space" creator Mike Judge — obviously enjoyed plenty of success and received critical acclaim on its own terms, of course. To the joy of its fans, there are talks of a revival on Hulu. And while the sitcom about Hank Hill, his family, friends, and propane and propane accessories was of high enough quality to thrive on its own terms, Judge has admitted that there came a time when Fox, seeing how celebrated the celebrity cameos on "The Simpsons" were, began trying to push his show down a similar path. Episodes featuring guest stars were always, and continue to be, event episodes for "The Simpsons" and often bolstered ratings. So really, why wouldn't the parent network of both sitcoms want to find a way to boost Groening's Sunday night partner?
The ease of voice acting allowed for plenty of big name guests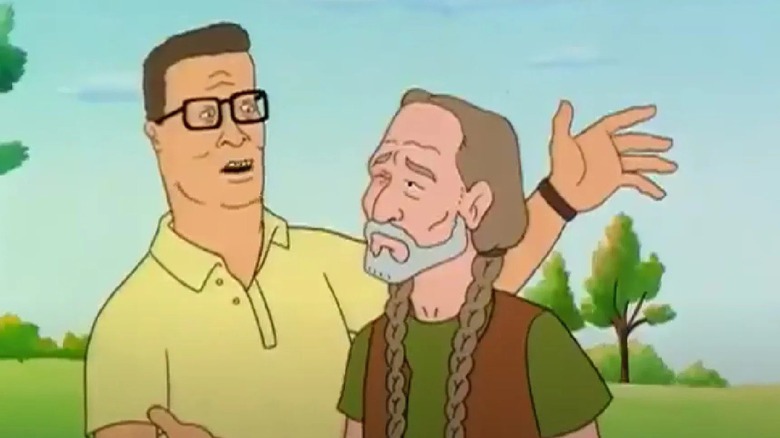 Fox
Fortunately, Mike Judge was able to attract a strong group of guest stars to "King of the Hill," including A-listers like Brad Pitt and Willie Nelson. Some stars had to be coaxed into appearances, but others were such big fans that they asked to drop by to hang out with Hank, Bobby, and the rest of the crew. As Judge told IGN in a 2006 interview: 
"['The Simpsons'] kind of started that tradition, I think. I was actually not that driven by that. It seems like if it's right and it fits. [...] There was a lot of pressure from the network to get celebrities, and I think we've had some really great ones that really worked. But it's usually a little bit of both. It's probably 50/50 of us hearing that somebody wants to do the show or having the script and then saying so-and-so would be good for this."
For some of those big guest stars, it was a bit like a paid vacation. Filming a live-action blockbuster entails a lot of long, grueling days. But a quick cameo on an animated sitcom? As Judge continued to IGN, it was a walk in the park:
"I think a lot of celebrities like it, because it's a lot easier than doing live-action, you don't have to go through make-up and worry what you look like. And it's just really quick, it's a lot quicker than a live-action shoot for the voice actor."
If and when Hulu's revival ever comes to fruition, we can only hope that the celebrity guests fit in as smoothly as they did in the original iteration, and leave most of the heavy lifting to the good folks who call Arlen their permanent home.