Quentin Tarantino Thinks He Went 'A Little Too Cool For School' With Grindhouse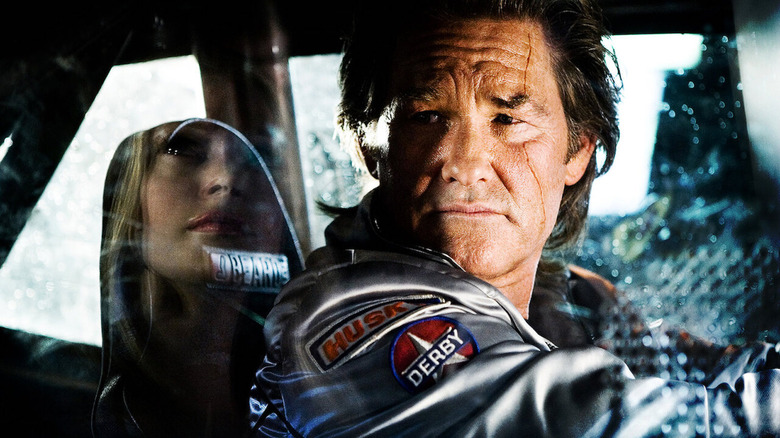 Dimension Films
When Quentin Tarantino and Robert Rodriguez teamed up for the hybrid horror crime film "From Dusk Till Dawn," audiences knew to expect a sleazy drive-in movie that was going to be filled to the brim with sight gags, bloodstained carnage, and whip-smart dialogue. The vampire action comedy featured television star George Clooney in his first major role after breaking hearts as Dr. Ross on NBC's smash-hit hospital drama "ER." Seeing Clooney playing against type as a maniacal bad boy must have appealed to the mainstream, and the cinematic clout earned from the new indie classics "Pulp Fiction" and "Desperado" translated into an unlikely hit when "Dawn" staked its way into theaters in January of 1996. 
With that success under their belts, Tarantino and Rodriguez had every right to think that the regular moviegoing public knew what a grindhouse theater was, and that they were familiar with 1970s exploitation films. "From Dusk Till Dawn" was basically two movies for the price of one, starting out as a story about two bank-robbing brothers who suddenly find themselves trapped inside of a vampire picture once they cross the Mexican border. So, why was the concept for "Grindhouse" so mystifying to audiences when the double feature experiment (with mock trailers included) premiered in 2007? Everyone apparently loved seeing Clooney as a villain, but they weren't interested in seeing Kurt Russell as a killer stuntman in Tarantino's entry "Death Proof?" Or Rose McGowan with a machine gun leg in Rodriguez's "Planet Terror?" No interest in seeing Zoë Bell risk life and limb on the hood of a 1970 Dodge Challenger? Fine.
In an Empire Q&A, Tarantino admitted that he and Rodriguez overestimated the public's knowledge of film history (a cultural yardstick I like to refer to as "IMDb I.Q."): "They had no idea what the f*** they were watching."
'A little too cool for school'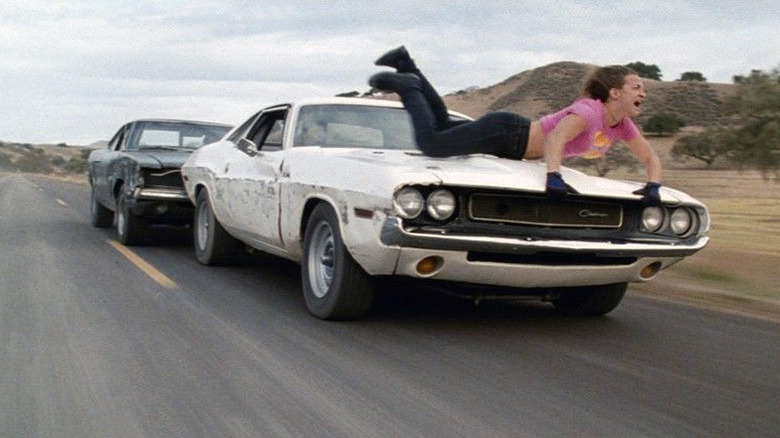 Dimension Films
Looking back on the tepid box office response to "Grindhouse," it's still a little perplexing that audiences didn't realize what they would be getting, exactly. During the film's promotional tour, Tarantino and Rodriguez appeared on virtually every single late-night talk show  with the explicit intent of telling the public that they were making an homage to classic '70s exploitation. Maybe it wasn't that the vast majority of film fans didn't understand the concept, maybe they just weren't digging it that much. In any case, there was a definite chasm between how cool QT and Rodriguez imagined their audience to be, and how uncool they really were. "It meant nothing to them, alright, what we were doing. So that was a case of being a little too cool for school," Tarantino admitted to Empire. 
It certainly wasn't unrealistic of both filmmakers to believe that they had their finger on the nation's pulse. Up until that point, they had both enjoyed a tidal wave of success. Ten years after "From Dusk Till Dawn," in retrospect, it's apparent that there was a decisive generational gap between adults that came of age during the drive-in era and younger film geeks that were energized by the independent spirit of the '90s. That proved to be a sizable divide that the "Grindhouse" formula couldn't cross. In a cruel but reaffirming twist of fate, the biggest miscalculation in two wildly influential careers probably ended up having the largest cultural ripple effect that led the way for a new era of modern exploitation films. 
The Grindhouse effect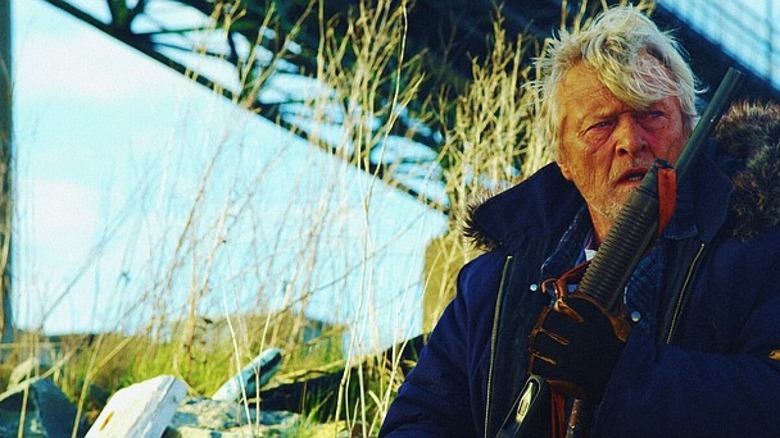 Magnet Releasing
Through the original theatrical screenings of the full double feature bill of "Grindhouse" and the subsequent re-releases and re-packaging that split up "Planet Terror" and "Death Proof" into two separate features, a slow but steady education started to happen. Exposing cinephiles to the gritty biker movies and schlocky horror of the '70s, "Grindhouse" provided a window into an underseen and undervalued segment of American independent cinema that Tarantino and Rodriguez revere. As a result, repertory theaters around the country started screening and preserving more films from the drive-in era. Films like "Vanishing Point" and "Dirty Mary Crazy Larry" have an entirely new lease on life after being referenced in "Death Proof."
"Grindhouse" started a new business model, with countless straight-to-DVD titles hitting shelves that mimicked and celebrated the B-movie aesthetic. As an example, the new wave of exploitation heavy throwbacks included the 2008 biker flick "Hell Ride," starring Larry Bishop and Michael Madsen, which was marketed under the "Quentin Tarantino Presents" banner. If "Grindhouse" wasn't considered a success, there would be no way that two of the fake trailers from the film would actually be turned into real movies. But sure enough, director Jason Eisener turned his contest-winning concept "Hobo With a Shotgun" into a Canuxploitation classic starring Rutger Hauer. Rodriguez himself wound up making a feature out of "Machete," and a sequel, "Machete Kills," at the behest of star Danny Trejo. 
Recently, the "Grindhouse" effect can be seen in the gritty, degraded style of Damien Leone's "Terrifier 2," one of the big box office surprises of 2022. Audiences may not have been cool enough back in 2007, but they're definitely catching up.