Tom Ford Almost Directed The Whale With James Corden In The Lead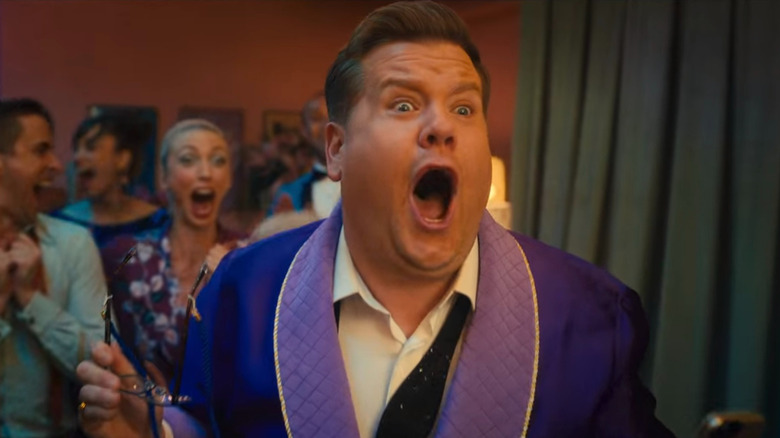 Netflix
Regardless of the immense talent of Brendan Fraser and his incredibly human performance on display, Darren Aronofsky's adaptation of Samuel D. Hunter's fatphobic stage play, "The Whale" is a difficult movie to champion. Yes, we all want Fraser to succeed. Yes, it's a delight to see Sadie Sink showcase her skills outside of "Stranger Things" and Taylor Swift's short films. But to ignore the deeply problematic ways in which fatness is presented on screen in "The Whale" is to do a disservice to the very real people who navigate the world in fat bodies every single day.
I make no qualms about how much I detest Hunter's stage play, and still cannot fathom why anyone thought this film was a good idea. Alas, we live in a fatphobic society where fat folks are viewed as not only acceptable targets for ridicule, hatred, or pity — it's encouraged to show us cruelty as if it's "for our own good." For all of the problems present in Aronofsky's adaptation, a new report out of Deadline reveals that things could have been even worse. How is that possible? HAHAHAHA STRAP IN!
Darren Aronofsky optioned the rights to Hunter's play over a decade ago and has said it wasn't until he considered Brendan Fraser that he felt it was time to pursue the film. Fraser's performance is undeniably phenomenal, and there will be no surprises if he nabs a Best Actor nomination at the Academy Awards, but imagine, if you will, James Corden in the same role and directed by Tom Ford. Don't worry, I'll wait for you to catch your breath after gasping in horror at the thought. Take your time.
'Avant-garde' or exploitation?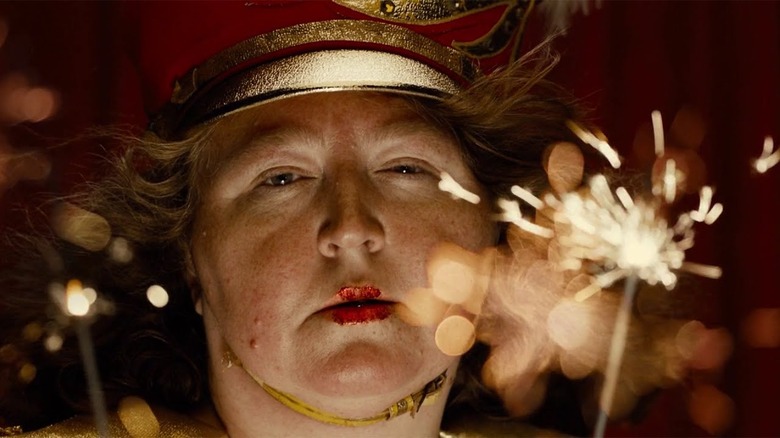 Focus Features
Deadline reporter Pete Hammond was talking to James Corden during a Q&A session for his new Prime Video series, "Mammals," where Corden mentioned his connection to Darren Aronofsky's newest film. "I was going to play that part, and Tom Ford was going to direct," he says. From Hammond's reporting, things apparently fell through because Ford wanted complete creative control. Corden also said that George Clooney had gotten involved at one point, but only wanted to make the film if they cast an actual 600-pound unknown actor to play the lead. This certainly would have been a better option than the fat suit but in all fairness, at least "The Whale" tried to look realistic instead of some ridiculously cartoonish frame like in "Shallow Hal."
Corden is no stranger to playing marginalized characters from communities he's not a part of, so it's unsurprising that he would have considered playing Charlie in "The Whale." The king of Carpool Karaoke has been trying to take on more dramatic roles as of late, but given the timeline, he would have starred in the film a few years before "The Late Late Show with James Corden," a job he might not have gotten if the world knew him most for "The Whale."
The real jaw-dropper here though is learning Tom Ford almost directed the project. For those unfamiliar with his work, Ford got his start as a fashion designer and directed the film "Nocturnal Animals" which opens with a flurry of nude, fat women on exploitive display. Ford has defended the opening and called it "avant-garde," which is officially my new favorite way to describe fat women without saying the word "fat," following closely behind "zaftig."
I've never been so thankful for Darren Aronofsky.