Cary Elwes Thought Mel Brooks' Pitch For Robin Hood: Men In Tights Was A Jim Carrey Prank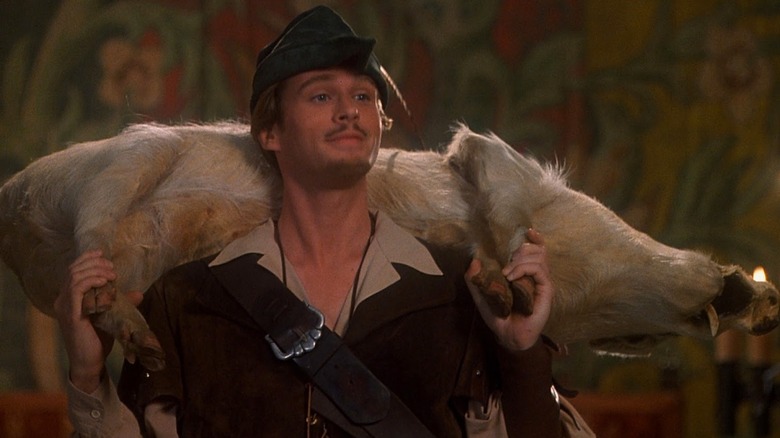 20th Century Fox
The tagline on the poster for Mel Brooks' celebrated 1974 comedy film "Blazing Saddles" was, "Never give a saga an even break." Not only is that a clever pun, but it reveals the central philosophy of modern pop satire. Anything that takes itself seriously enough the deem itself a "saga" is most assuredly ripe for ribald parody. Brooks would continue to deny even breaks to Alfred Hitchcock ("High Anxiety"), historical epics ("History of the World Part I"), and "Star Wars" ("Spaceballs"). In 1993, Brooks — reacting to the massive, massive popularity of Kevin Reynolds' 1991 actioner "Robin Hood: Prince of Thieves" — elected to make "Robin Hood: Men in Tights," a raunchy, slapstick farce that skewered all things Sherwood. 
Many of Brooks' gags in "Men in Tights" were shamelessly recycled from his unsuccessful 1975 sitcom "When Things Were Rotten," starring Dick Gautier as Robin Hood, but he at least did have the good sense to very occasionally skew modern. Case in point: one of the more pointed gags in "Men in Tights" comes when Robin Hood (Cary Elwes) is asked why he should be taken seriously by the court. "Because unlike some other Robin Hoods," he said, "I can speak with an English accent." Notoriously, Kevin Costner, star of "Prince of Thieves," sounds like he came to Sherwood Forest via Southern California. 
Elwes was certainly committed to "Men in Tights" and delivered an energetic and hilarious performance. In a 2021 interview with the Hollywood Reporter, however, the actor revealed that he hung up on Mel Brooks when offered the role. Elwes merely assumed that it was a prank.
'Don't hang up! It's really me!'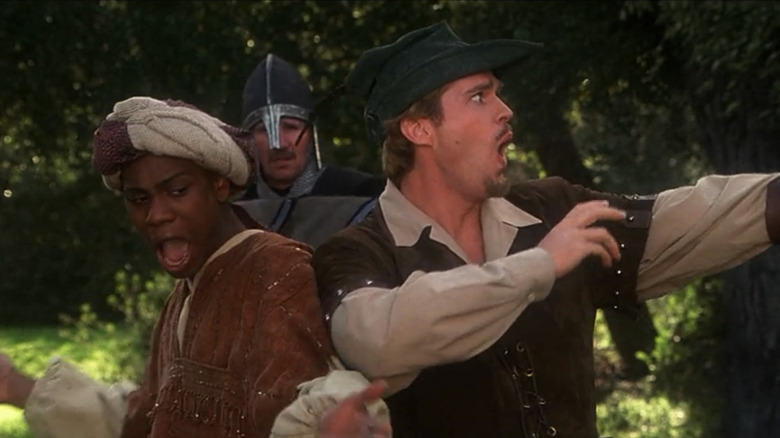 20th Century Fox
It's not every day that Mel Brooks calls you personally on the phone, so Elwes can be forgiven for assuming it was someone else pretending to be Brooks. Indeed, he assumed it was Jim Carrey specifically. He told THR:
"Mel is wonderful. He called me up out of the blue, and I thought someone was putting me on. I thought it was someone doing a great Mel Books impression. And he said, 'This is Mel Brooks.' I said, 'Uh-huh. Sure.' And I hung up on him. I thought it was Jim Carrey messing with me. And then when he called back, he said, "Don't hang up! It's really me! I want you for Robin Hood. We'll cast the film together.'"
In the early 1990s, Elwes was already a known quantity, thanks to his appearances in films like "The Princess Bride," "Hot Shots!," and "Bram Stoker's Dracula." Jim Carrey, however, wouldn't break out as a major movie star until 1994, and it wouldn't be until 1997 that Elwes and Carrey would work together (on Tom Shadyac's "Liar Liar"). At the time, Carrey was best known for the sketch comedy show "In Living Color," and delightfully strange cult comedies like "Earth Girls Are Easy." 
As such, it might be unclear as to why Elwes would assume Carrey would call him pretending to be Mel Brooks, but the two have been friends for a long time, and it's likely that friendship extends back before their first on-screen collaboration.
Elwes and Carrey would appear in a second film together, with the 2009 motion-capture animated film "A Christmas Carol." In that film, Carrey played four characters — Ebenezer Scrooge and all three of the Ghosts of Christmas — while Elwes played eight roles. In the scenes where Carrey acted opposite himself, Elwes served as his stand-in.