Sony Pictures Animation Intentionally Avoided Having An In-House Animation Style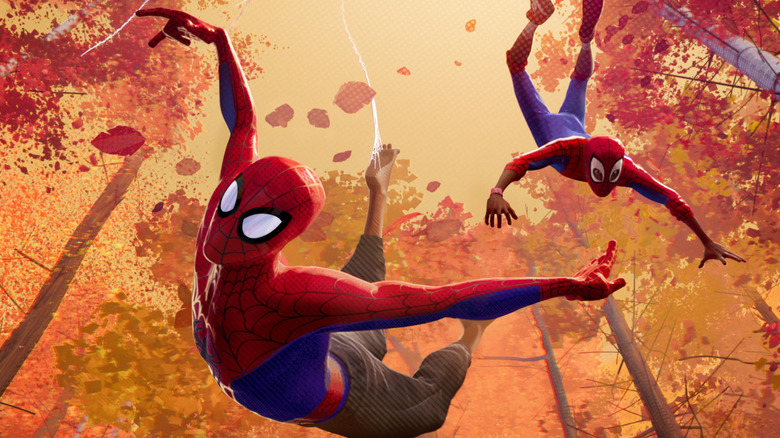 Sony Pictures
Most animation studios have a distinct in-house style that sets them apart from their peers. For example, it's pretty easy to look at a Pixar animated film and recognize it immediately, but Sony Pictures has the rare distinction of not having an in-house style. Each of their films, made by Sony Pictures Animation (SPA) and Sony Pictures Imageworks (SPI), have their own unique look that best serves the story being told. In a 30-year retrospective, The Wrap traced the past, present, and future of SPA, and revealed that not having an in-house style is actually an important rule that kept Sony unique. 
By focusing on the filmmakers' needs and ideas instead of trying to hold to a consistent style, the various films made by SPA and SPI are able to go above and beyond, breaking the boundaries of animation in bold new ways. Something as groundbreaking as "Spider-Man: Into the Spider-Verse" required a studio that was willing to test the limits of technology and people's skills, along with a willingness to get a little weird, and it paid off for Sony in massive ways. 
Room for creative exploration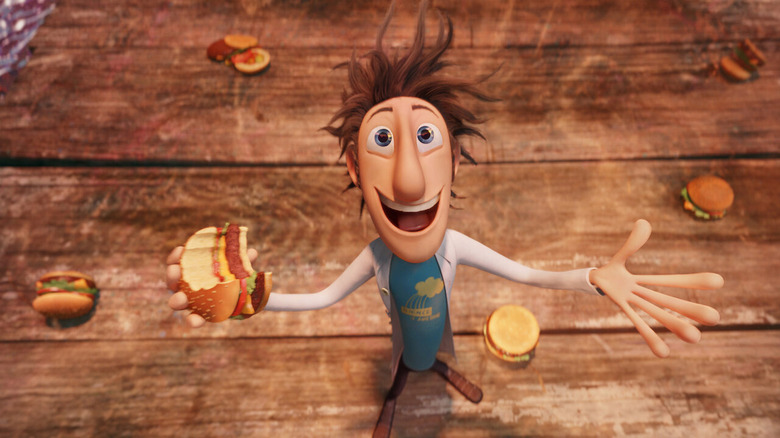 Sony Pictures
"Cloudy with a Chance of Meatballs" was the first major hit for Sony Pictures Animation, which had previously released "Open Season" and "Surf's Up." Despite both being about cartoon animals, they are wildly different movies stylistically. Each project that SPA released was totally unique from the ones before (save for sequels, of course), but it wasn't until "Cloudy with a Chance of Meatballs" that people realized just how great SPA's dedication to a filmmaker's vision really was. Even in those days, the creative vision was more important than branding or a recognizable animation style, and that helped other filmmakers become more comfortable with approaching the studio. 
Sony Pictures took a chance on Phil Lord and Chris Miller's take on  "Cloudy with a Chance of Meatballs," and their success as a team led to several more films for the duo at SPA, including "Into the Spider-Verse" and "The Mitchells vs. the Machines," which was nominated for an Oscar In 2021. They were told that SPA had no house style, which they felt gave them a "lot of latitude" to really explore the boundaries of animation. 
"Into the Spider-Verse" and "The Mitchells vs. the Machines" both mix 2D and 3D animation styles to create something totally unique, pushing the capabilities of the technology further than ever before and giving them the ability to tell stories more creatively. It's just not just about photo-realism or trying to replicate something perfectly, but instead, they try to tell the story in the most visually compelling way possible.
Why not get weird?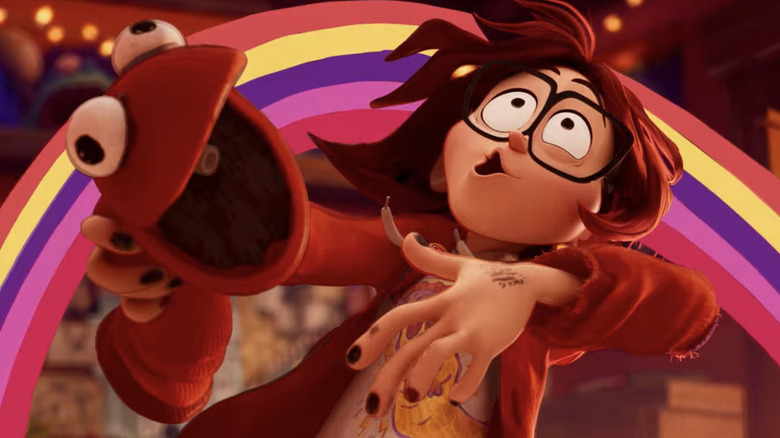 Sony Pictures
Instead of trying to force their projects into a mold, the team at SPA really try to give the filmmakers the last say. Kristine Belson, president of SPA, explained that the studio was pretty different from others she had worked with because of their willingness to go to bat for creatives:
"I think a lot of us answer it the same way. But I'm going to suggest that maybe we mean it a little more, which is truly, truly filmmaker-led movies and not a studio that is run by executives. I've worked with a lot of studios, I've observed a lot of studio cultures. And when I got to Sony, we all agreed, the executives serve the filmmakers. We are here to serve them and serve their visions."
Pam Marsden, head of production at SPA, joked that the "brilliant idea" to not have an in-house style is either "a key to our success or absolutely our undoing," because it's the foundation for their animation strategy. The teamwork between SPA and SPI helps the animation studio take things to the limit as well, because SPI's specialty is creating visual effects that seem totally impossible for live-action and animated movies alike. Combining those skills with the talents of more traditional animators allowed for the brilliance of some of the studio's most recent films, and it's what will continue to make Sony's animated offerings stand far above the competition. Big swings can lead to big payoffs, and Sony Pictures Animation knocks their films out of the park.