Genndy Tartakovsky's R-Rated Animated Movie Fixed Won't Rely On Pop Culture Humor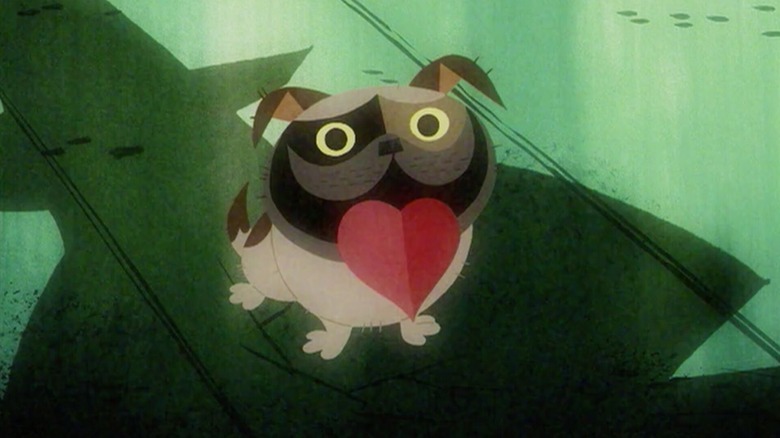 Cartoon Network
Genndy Tartakovsky is one of the most important figures currently working in animation. He's had his hands on beloved shows like "Cow and Chicken," "The Grim Adventures of Billy & Mandy," and "The Powerpuff Girls," as well as creating "Dexter's Laboratory," "Samurai Jack," "Star Wars: Clone Wars," "Hotel Transylvania," and the Emmy Award-winning epic, "Primal." Tartakovsky's work covers a wide scope of tone, thematic material, and animation styles, but always centers around a wholly unique story with striking visuals.
While a show like "Dexter's Laboratory" or a film like "Hotel Transylvania" makes it sound like Tartakovsky is exclusive to animated children's fare, both "Samurai Jack" and "Primal" are proof-positive that animation is not just kids' stuff. For many years, Tartakovsky has been trying to get a project called "Fixed" off the ground, an R-rated 2D animated feature about a dog's last 24 hours before getting neutered. It's been described as a raunchy, entertaining comedy, but one that doesn't share the same silly sense of humor as something like "Sausage Party" or "South Park." Fortunately, "Fixed" is actively in production with Sony Pictures Animation, over a decade after Tartakovsky first pursued it.
In a retrospective on the first 20 years of Sony Pictures Animation over at The Wrap, Tartakovsky admits that he felt like "Fixed" was dead in the water. "When you think back to 2010/2011, adult animation is in a totally different place than it is now," he says. "It's quite different. For us to do an R-rated feature back then was way beyond its days. It didn't feel like there was any movement on it."
Thankfully, those times have changed.
Refusing to rely on referential wisecracks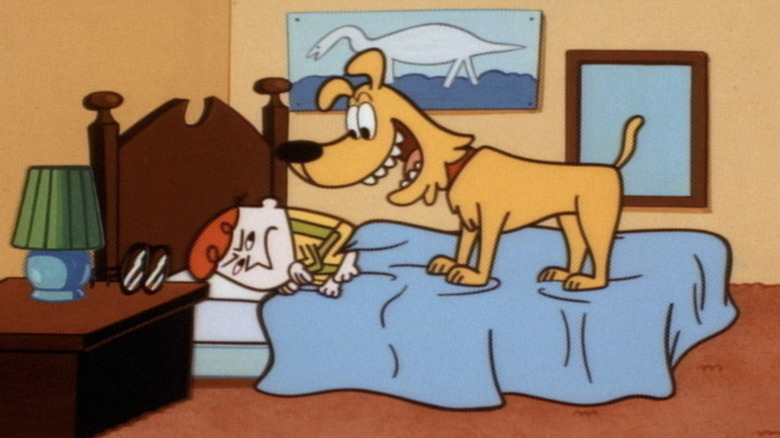 Cartoon Network
Sony Pictures Animation is partnering with Renegade Animation for "Fixed," to finally bring Genndy Tartakovsky's rated-R 3D animated feature to life. "That is the golden ring that we've been after since we were in our early 20s," Tartakovsky told The Wrap. "And on top of that, it's well-animated." Renegade Animation was founded by former Disney and Warner Bros. animator and director Darrell Van Citters and his business partner Ashley Postlewaite, and the company has produced "Hi Hi Puffy Amiyumi," "The Tom and Jerry Show," "Unikitty!," and the upcoming "Bossy Bear."
While the premise of "Fixed" could easily lend itself to cheeky jokes, with Tartakovsky originally worried the film would get slapped with an X rating, he has stood firm in wanting the humor not to be dictated by current trends. "It's raunchy but it's got character and it's cartoony and it's got heart," he says. "The humor isn't pop culture humor. That's the biggest thing." Tartakovsky cited examples, saying "There's no Kardashian jokes, there's none of that. It's all character humor." This is a huge breath of fresh air for a project of this caliber, as studios often shoehorn in references to current events for ... some reason. "That's what makes it much more unique and stand out," Tartakovsky says. "It feels like nothing else."
There's no current release date for "Fixed," but with Tartakovsky at the helm, it's sure to be a weird and wonderful ride.