Harrison Ford Ignored All Advice To Star In The Mosquito Coast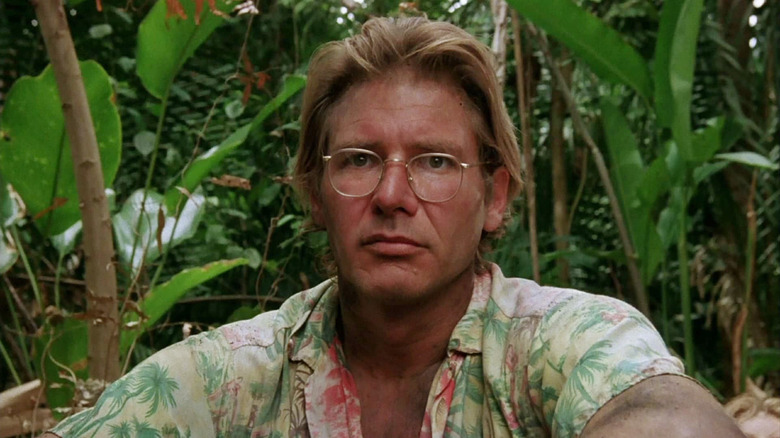 Warner Bros.
From the very beginning of his career, Harrison Ford viewed himself as an actor rather than a movie star –- sometimes to his detriment. He washed out of Columbia Pictures' New Talent Program in the 1960s after failing to impress in a few bit parts, and played against his rakish charm until he broke through as Han Solo in "Star Wars." Even after that, he sought out challenging roles in less commercial films before returning as the charismatic smuggler in "Star Wars: Episode V –- The Empire Strikes Back."
Ford played the matinee idol game pretty much by the book in the early 1980s ("Blade Runner" might've been a box-office failure, but it was a massive production sold on his name), which, after the completion of the original "Star Wars" trilogy and his second go-round as Indiana Jones, earned him decidedly more leeway to take risks than he'd had in the past. He wasted no time by jumping into Peter Weir's "Witness," a masterfully rendered fish-out-of-water cop thriller that wound up being the surprise hit of early 1985. Critics cheered Ford's performance, and that enthusiasm kicked back up a year later when he received his first Academy Award nomination for Best Actor.
Having meshed well with Weir on "Witness," Ford warmed to the director's enthusiasm for Paul Theroux's novel "The Mosquito Coast." The role of Allie Fox –- a disillusioned inventor who whisks his family off to South America to start a new, enlightened civilization –- offered Ford the opportunity to go way against type. The material didn't have a great deal of commercial potential, but the re-teaming of Weir and Ford (and, not for nothing, a screenplay adaptation by Paul Schrader) augured well for awards season.
The iceman intrudeth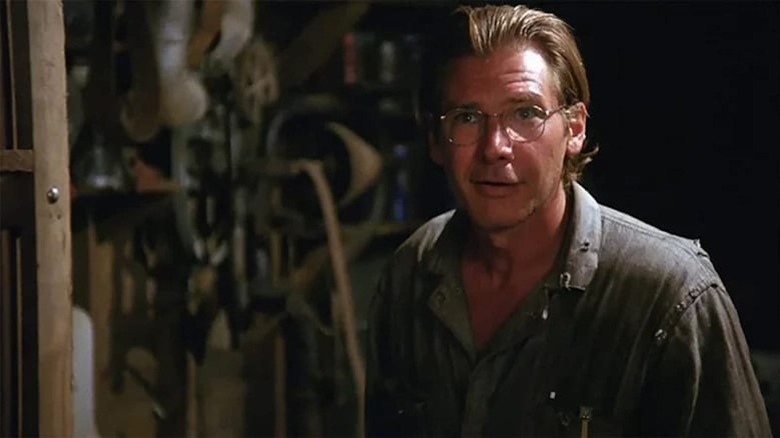 Warner Bros.
Harrison Ford's excitement for the project was not, however, shared by his agent, Patricia McQueeney, who, according to Lee Pfeiffer's "The Films of Harrison Ford," believed "The Mosquito Coast" would bomb. She wasn't wrong about this, but Ford was right to disregard her concerns.
There were only a handful of stars working in Hollywood at the time who could've secured a $25 million budget for Peter Weir's fascinatingly downbeat drama –- and one of them, Jack Nicholson, had already turned the part down. It's not hard to understand their apprehension. Allie comes on from the start as a mentally-unwell prophet, and only grows more unstable as the story proceeds. He isn't completely full of it, of course. He's a brilliant engineer who creates a machine that can generate ice deep in the rainforest of Belize. But he hasn't thought through how this invention will benefit the Indigenous people of the area.
Allie goes further off the rails when he encounters Reverend Spellgood (Andre Gregory), a Christian missionary doing the Lord's work, which runs directly contrary to Allie's hatred of organized religion and Western civilization in general. He's determined to undermine Spellgood, but with only his family to support him, his crusade is doomed to fail. When his ice machine is destroyed, he lies to his family that they cannot return to the U.S. because it's been destroyed in a nuclear war. His zealotry ultimately proves every bit as dangerous as Spellgood's, and it brings him to a tragic end.
Ford takes on his critics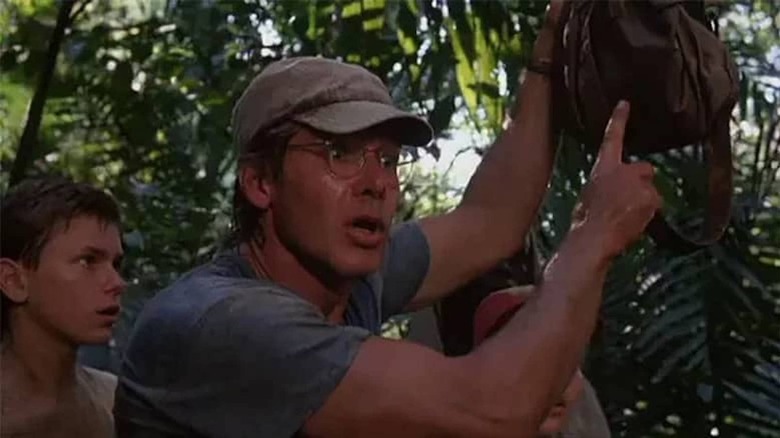 Warner Bros.
Harrison Ford gives the finest performance of his career as a man convinced of his own genius. He's complemented nicely by Helen Mirren and River Phoenix, who, respectively, play his wife and oldest son. For the film to turn any kind of profit, it needed strong critical support, which it did not receive. Roger Ebert wrote off Allie as a "bore," while The New York Times' Vincent Canby lamented Peter Weir's decision to shift the book's narrative focus away from Phoenix's character.
As the film limped into awards season with insufficient fanfare, Ford fired back at the critics. In an interview with The Hollywood Reporter's Vernon Scott in late 1986, he said:
"There have been mixed reviews and I think the film has been very unfairly treated in some quarters. I have never seen a serious film treated so badly by the critics. And I think they're wrong. I don't mind saying I'm here trying to counter those negative reviews.... I'm not defensive about the picture, but I want the public to hear another point of view. Critics see a film and then rush to review it. This is the sort of movie that really doesn't sink home for about three days. It is disturbing and makes you think. It stays with you."
He was absolutely right. "The Mosquito Coast" has more of a spiritual kinship with Weir's "The Last Wave." It's a haunting meditation on the messianic folly of seemingly civilized men. Allie's ambitions aren't selfless at all. His misadventure in Belize comes at great cost to the villagers whose lives he purports to improve. This isn't about helping people. It's about being proven right. About everything. It's about becoming god. And Weir's film has never been more relevant than it is now.