Harrison Ford's Chemistry With Sean Connery In Indiana Jones Came From Sharing A Common Bond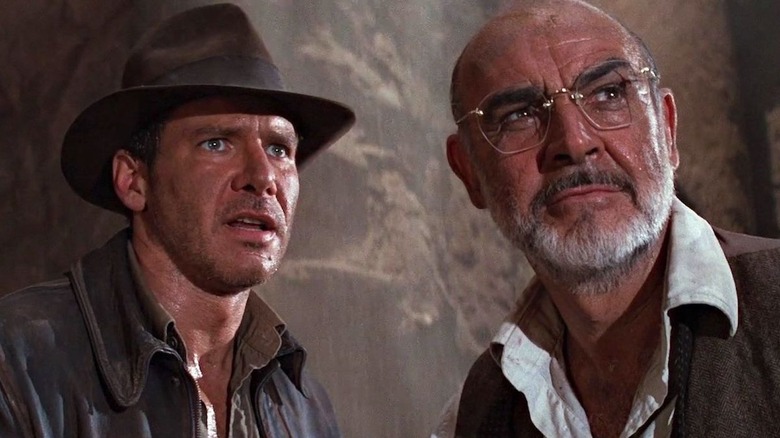 Paramount
Harrison Ford didn't exactly need a hit in 1989 when he signed on for "Indiana Jones and the Last Crusade," but his agent was probably overjoyed that he was returning to the blockbuster franchise that broadened his appeal beyond "Star Wars." Though the character of Indiana Jones was not tailor made for Ford (Tom Selleck had been offered the role first), he'd imbued the whip-cracking archaeologist with the same roguish, seat-of-his-pants charm that made Han Solo such a dashing delight. Indy is certainly capable, but not overly confident. He's accident prone. He's constantly improvising his way out of peril, and, in doing so, piles more rough mileage on that middle-aged frame.
Moviegoers lined up to see Ford as Han and Indy, but they were less enthusiastic about his dramatic turns. He'd scored a surprise hit as a Philadelphia cop hiding out in Amish country in Peter Weir's "Witness," but found few takers for his wild-eyed performance as inventor Allie Fox in Weir's "The Mosquito Coast" (a pity because this remains his finest hour as an actor). He took the boyfriend role in Mike Nichols' "Working Girl," and supported his co-stars (Melanie Griffith, Sigourney Weaver and Joan Cusack) to Academy Award nominations, but hit the box-office skids as the lead in Roman Polanski's thriller "Frantic."
After taking a five-year break from blockbuster adventures (and striking out commercially with 1987's "Empire of the Sun"), Ford's Indiana Jones director Steven Spielberg was keen to prove he still had his crowd-pleasing chops. For George Lucas, a third Indy flick was an opportunity to end a live-action losing streak as a producer that included disappointments ("Labyrinth") and historic disasters ("Howard the Duck"). It was a get-right movie for just about all involved, save for Sean Connery, whose brilliant second act as an actor had just kicked into high gear. He knew exactly what these men, especially Ford, were going through, and sharing this wisdom forged a lifelong bond between them.
An Oscar-winning Connery breathes new life into the Indiana Jones saga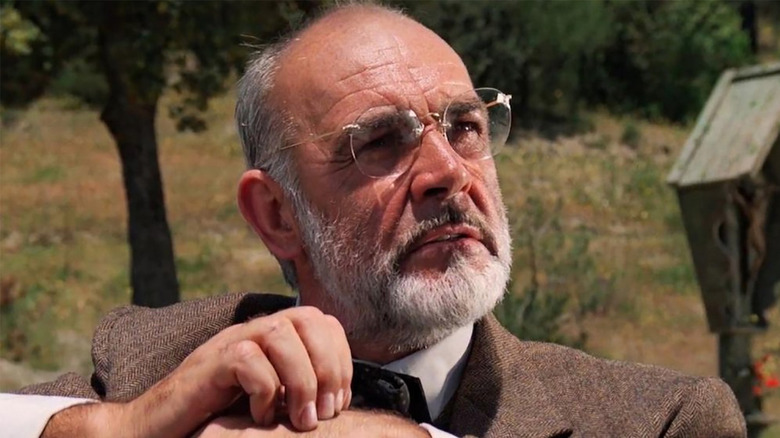 Paramount
Connery was scuffling something awful in the 1980s. Aside from a small part as King Agamemnon in Terry Gilliam's "Time Bandits" and a return engagement as James Bond in Irvin Kershner's "Never Say Never Again" (a stale remake of the already leaden "Thunderball" made possible via a rights claim by executive producer Kevin McClory), Connery seemed out of juice. He'd made some marvelous post-Bond movies in the 1970s (e.g. John Huston's "The Man Who Would Be King" and Richard Lester's "Robin and Marian"), but, now in his 50s, he seemed in danger of becoming one of those once-great actors who take whatever's offered.
Brian De Palma's "The Untouchables" changed this overnight. The prohibition-era action-thriller allowed Connery to lean into his elder statesman stature as a veteran beat cop who preaches the "Chicago way" to Kevin Costner's untested federal agent Eliot Ness. David Mamet's screenplay is loaded with quippy dialogue, and Connery's having a ball all the way to his bloody dispatching at the hands of Al Capone's hitman Frank Nitti. Academy Awards voters fell in love with the star all over again, and honored him with the 1987 Best Supporting Actor Oscar.
According to Lee Pfeiffer's "The Films of Harrison Ford," the star found the rejuvenated Connery to be an utter delight on set. "Sean is, of course, such a terribly experienced actor," he said. "And that made it interesting to work with him. He's an awfully nice guy, too. I've enjoyed knowing him as well as working with him."
A pair of franchise fellow travelers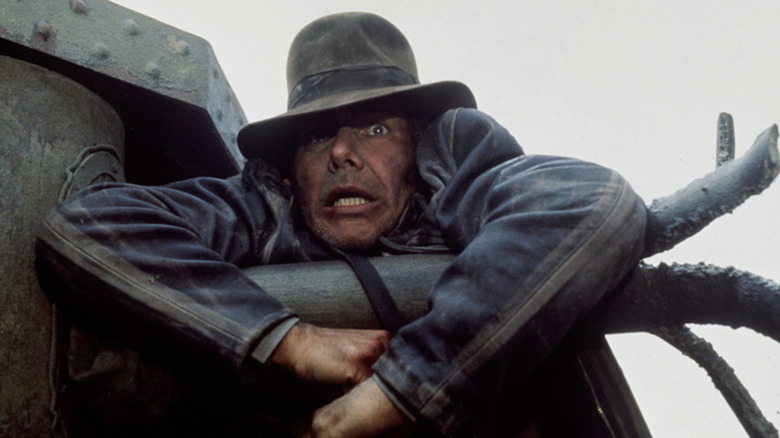 Paramount
The actors' camaraderie did not go unnoticed by Spielberg. As he told Empire in 2012, "[Connery] was able to use his comedic skills, and Harrison was in a fantastic mood because he was able to be the foil for the father. It was the most fun we had between actors in all of these movies." Ford's admiration for his costar extended beyond the shoot. In 1990, he attended Connery's 60th birthday party, and, in 2006, paid tribute to his friend when the American Film Institute honored the legendary Scot with its Lifetime Achievement Award.
Though Ford would encounter his own struggles in the 2000s, and never entirely shed his most celebrated franchise characters (he helmed the Millennium Falcon one last time in "Star Wars: Episode VII – The Force Awakens" and will don the Fedora one last time in James Mangold's "Indiana Jones and the Dial of Destiny"), he's clearly having a blast as he enters his ninth decade on this planet. While Connery ultimately tired of the industry in his 70s (according to "Billions" co-creator Brian Koppelman, a notoriously unprofessional director played a key role in hastening his retirement), the example he set for Ford likely saw him through the late-breaking low points of "Hollywood Homicide" and "Firewall."
It's a thrill to have an engaged Ford giving his all at 80, and a blessing that we had Connery for as long as we did.