The Biggest Superpower Of Hulu's Koala Man Is Its Australian Setting [Exclusive]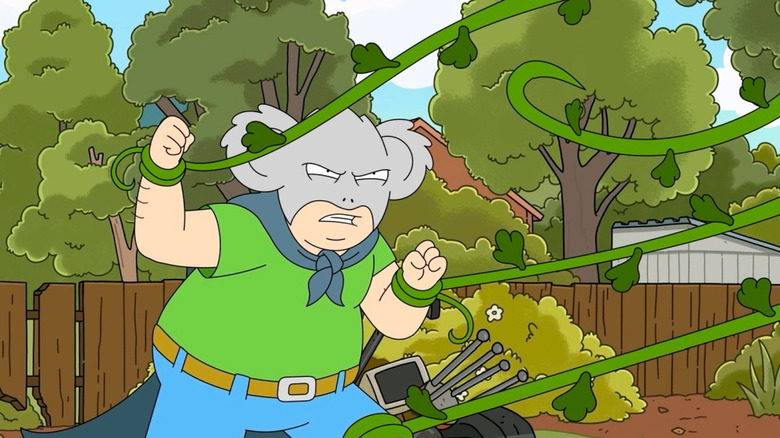 Hulu
One of my favorite songs to listen to around the holiday season is British-Australian musician/comedian Tim Minchin of "Matilda the Musical" and "Back to the Outback" fame's delightful "White Wine in the Sun." It's a really beautiful song about why Christmas can still be enjoyed by people who aren't religious and find the gross display of commercialism pretty egregious. It's also one of the few holiday songs that isn't constantly mentioning snow, cold, or a burning fire. Minchin celebrates the day in Australia, which means December 25th falls during the summer season — hence drinking white wine in the sun.
Whenever this song is played on my wife and I's annual holiday playlist, there's always at least one person who hears the lyrics and is incredibly confused by the sentiment of Christmas being warm and sunny. My response is usually the same — "I, uh, don't know how to explain the concept of Southern Hemispheres (or, you know, states like Florida or California) any deeper, my dude." The realization that Australia celebrates the holiday season in the sun is often mindblowing for some stateside folks, further proving that many Americans don't know jack about the land down under.
Fortunately, for the upcoming Hulu animated series, "Koala Man," this ignorance works to the benefit of the writers' room. In a recent interview with showrunners Dan Hernandez and Benji Samit, /Film's own Rafael Motamayor learned that the Australian setting and perspective of the show is one of the strongest factors in helping the adult animation show feel unique compared to its many contemporaries.
A comedic cultural exchange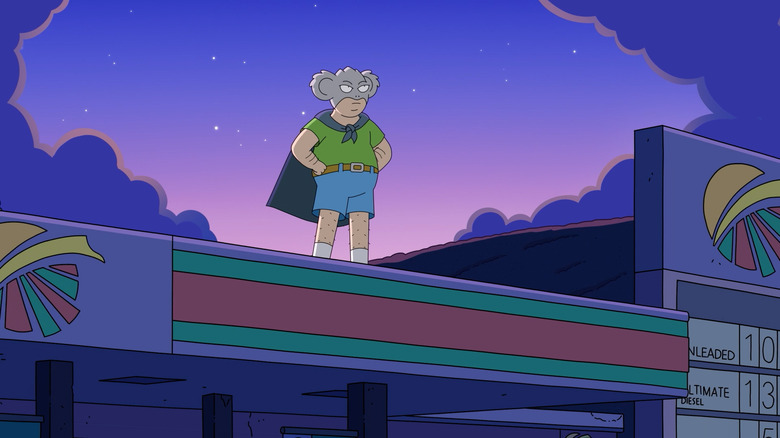 Hulu
Co-showrunner Dan Hernandez tells Rafael Motamayor that "Koala Man" is set in Australia, but a surrealist version of the country/continent as it's being shown through Australian creator/animator Michael Cusack's eyes. "What we learned in the writers' room is that there was nothing that our Australian writers could say to us that we wouldn't sort of halfway believe," said Hernandez. "Like, 'Oh, we rode to school every day on a kangaroo, and that's just how we got to school.' You kind of don't believe them, but for a second you go, 'Is that true? Could that be true?'" Hernandez says that Australian culture has a lot of similarities to American culture, but it's different enough that it "seemed odd."
Fortunately, this was perfect for "Koala Man" and how stories were presented. "It allowed us to tell stories that, in adult animation, hadn't been told a million times before," says Hernandez. Here's what else he had to say:
"Because there are all these amazing shows like 'The Simpsons,' like 'Family Guy,' 'South Park,' all of these classic legacy shows that we all grew up watching and appreciating, but sometimes when you're in a writers' room, it really is that thing of "'Simpsons' did it, 'Simpsons' did it." And with this show, because we were coming from an American point of view to learn about all this Australian stuff, it allowed us to tell stories that we hadn't seen before."
Short of flying across the globe, there's also no real way for any of us Americans to fact-check what we're presented, and if the "Oh, Naur" debate on TikTok is any indicator, Australians also love to commit to the bit, and convince us idiots of just about anything.
"Koala Man" arrives on Hulu on January 9, 2023.