How Christopher Nolan Used Daylight To Make Insomnia Feel Even Darker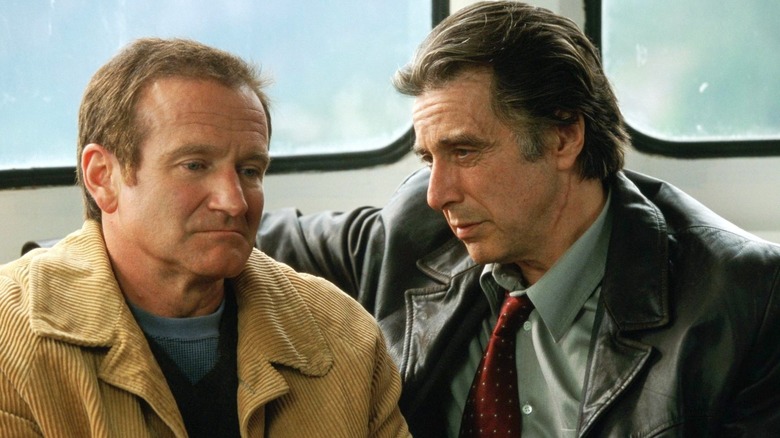 Warner Bros.
Imagine yourself trapped, helplessly bound in an emotional void of blacks and grays, condemned by forces that are out of your control. That's the vibe of the film noir genre. The French phrase translates to "black film," as in dark, both literally and figuratively. Created in the 1940s, the genre was crafted partly due to feelings of post-war dread as American soldiers returned home to a changing society.
World War II left many weary of U.S. politics and how it seeped into the film industry, often times via the Good Neighbor Policy. Additionally, the transition from fighting on the battlefield to mundane office jobs left returning veterans restless. There was also a new perceived threat at home. Women were deservedly more empowered, having done their part entering the workforce during the war. Times were changing, and the increasingly popular film noir style captured these melancholy feelings with distrustful and unsettling narratives, dark color palettes, and shifty femme fatale characters.
As the film industry transitioned from the Classical Hollywood studio era to a more daring and independent New Hollywood era, bold new filmmakers were breaking older, established genre conventions. By the time the independent film movement of the 1990s arrived, the door had been opened for new filmmakers like Christopher Nolan to rewrite the rules for older genres.
That's how Nolan managed to make a brilliant "black film" despite the entire film being set in daylight.
Nolan's journey of subversion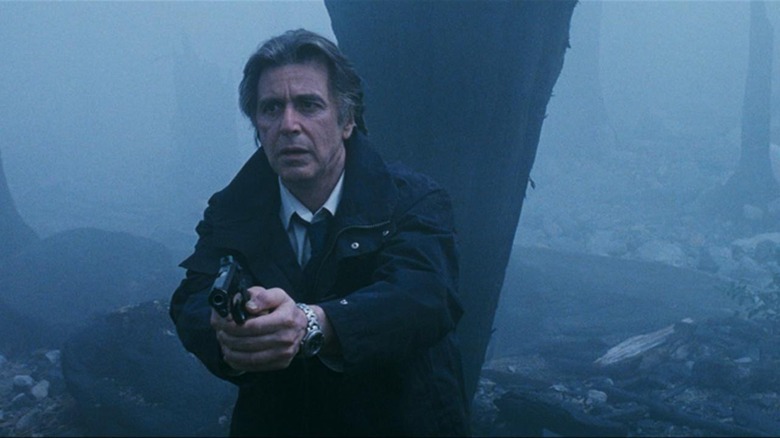 Warner Bros.
Christopher Nolan is one of today's most revered filmmakers, and he got there by taking chances. The British filmmaker wrote, directed, and edited his first film in 1998, called "Following." If Alfred Hitchcock and the French New Wave had a baby, it would look a little something like "Following."
But it was Nolan's second film that put him on the map in 2000. "Memento" was based on a short story written by his brother Jonathan. The film noir was told in a non-linear fashion, with a color timeline in reverse order and a second black and white timeline told in sequential order. The two timelines merge at the end, yet Nolan still manages to pull off a climactic finale. The daring narrative demands your complete attention and several watches to fully understand it (or watch it once and then read the ending explained here).
A pattern was emerging which suggested that subversive psychological thrillers were Nolan's forte. So when Warner Bros. wanted to remake the 1997 Norwegian film noir "Insomnia" it made sense to select Nolan as its director. But there was a catch. As he did with his previous movie, the filmmaker would again have to subvert all established conventions of the film noir genre.
In "Insomnia," a Los Angeles detective (Will Dormer, played by Al Pacino) travels to Nightmute, Alaska, to help investigate the killing of a teenager. When Dormer accidentally kills his partner, the teen's killer (Robin Williams) uses the accident to exploit the detective. But Dormer faces another foe in the unrelenting sunlight from the arctic environment.
How would Nolan pull off a film noir in a setting that produced 24 hours of sunlight?
Finding the dark side of the light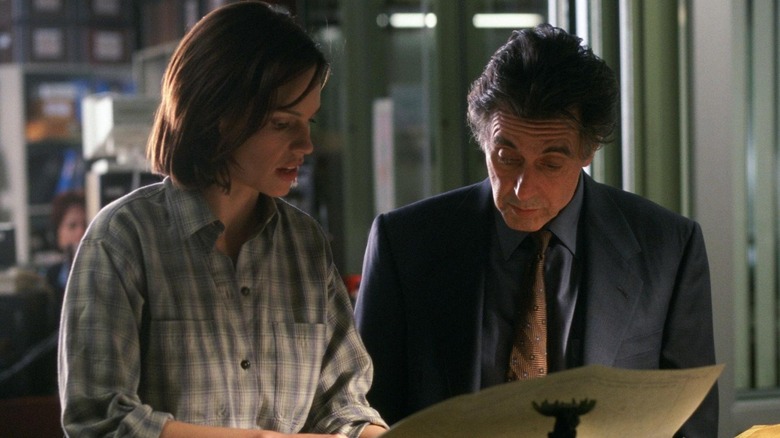 Warner Bros.
To solve the problem of creating a dark feel within the confines of a well-lit setting, Nolan played with the concept of contrast. He used the natural light to his advantage in emphasizing darker images. The filmmaker told Movie Web in 2002:
"Having daylight constantly present in the background of a scene actually allows you to create even darker images than if you would if you were shooting at night. Because If you are shooting at night you are effectively having to use artificial illumination, you are having to put lamps on in the room. Whereas what we were sort of trying to create was these dark interiors where somewhere in the back of the room there is a window with some sort of light peeping in and that allows you to create very dark silhouettes, and forms, interesting textures, and depths."
Nolan doesn't need dark shadows to hide characters from the audience because it's revealed early on that Robin Williams is the killer (which is another subversion in and of itself). The film is not a whodunnit but rather an exploration of the psychological effects of the surrounding environment.
Nolan plays with the contrast between light and dark as the stress of a murder case, the accidental killing of his partner, and the ceaseless irritation of sunlight all compound into a debilitating case of insomnia for Dormer. It resulted in what we called Nolan's most underrated film.
"Insomnia" was a daring film noir that allowed Christopher Nolan to make the leap from independent filmmaker to Hollywood blockbuster director. His next film would help define a superhero film noir franchise. "Batman Begins" was the first of a billion-dollar collection known as "The Dark Knight Trilogy."