The Book Of Life Director Guilted The Studio Into Letting A Character Wear A Certain Color [Exclusive]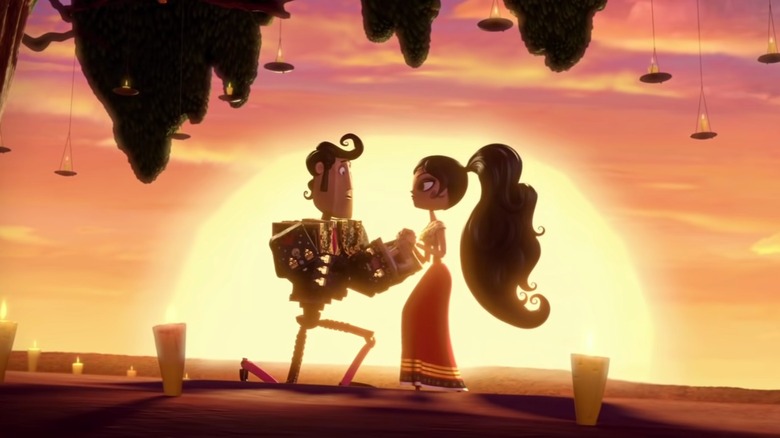 20th Century Studios
Jorge R. Gutiérrez's "The Book of Life" is an extremely vibrant and colorful film. After all, the 2014 computer animated film takes place largely in the Land of the Remembered, an afterlife that echoes the often bright and celebratory aesthetics of the Mexican holiday of Día de los Muertos. It comes as a bit of a surprise, then, that during the making of the movie, studio execs reportedly wanted to keep one color out of the hero's wardrobe. According to Gutiérrez, who recently spoke with /Film's Rafael Motamayor about the making of the film, the powers-that-be were initially not happy about bullfight Manolo (Diego Luna) wearing pink socks.
That's right: in a move that feels emblematic of the upside-down world of film marketing, a film that was lauded as a major step forward for on-screen representations of Latino culture almost didn't get to include a piece of matador tradition for a very silly reason. According to Gutiérrez, representatives from the consumer products department of one of the studios involved in the film (it was made by 20th Century Animation and Reel FX Animation Studios) thought they wouldn't be able to market a toy with pink socks to boys. To reiterate the ridiculousness of this situation: bullfighters wear pink socks in real life, and also, "The Book of Life" is an extremely colorful movie!
The filmmaker had to explain the concept of Mexican pink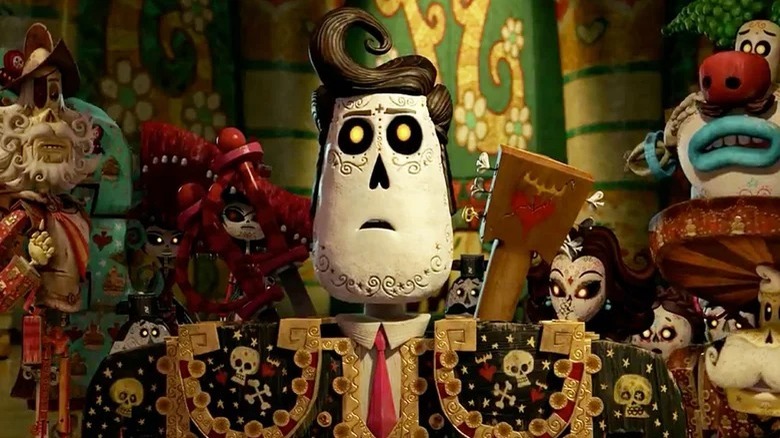 20th Century Studios
Gutiérrez says he made the case for the pink socks, telling /Film, "I basically explained all the cultural significance of why the socks are pink and how important Mexican pink is in Latin culture." Mexican pink, a popular color in Mexican garb and decorations, has been around for generations, but was officially named thus in 1949 when the fashion designer Ramón Valdiosera brought his designs to America (per The Mazatlan Post).
Not only does the color have plenty of precedent in Mexican culture, but it's also been spotted on the feet of matadors for years. Just as Spanish bullfighters adorn themselves in red capes, Mexican toreros have long-since been facing off against angry cattle with bright pink socks. Apparently, though, this wasn't enough to move the needle on the pink sock decision. According to Gutiérrez's conversation with Motamayor, producer Guillermo del Toro was eager to see how Gutiérrez would handle the tricky situation. And he came up with some sneaky reasoning.
Execs eventually agreed for a different reason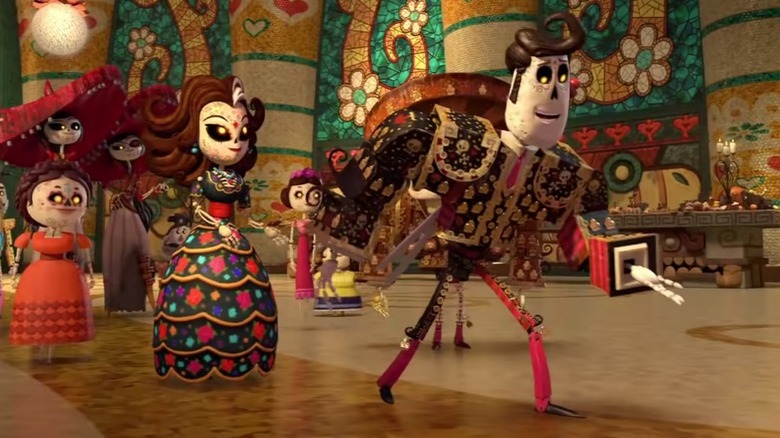 20th Century Studios
Ultimately, the director was able to convince the studio to let him keep Manolo's pink socks, but it took a roundabout strategy to get them on board. Gutiérrez realized that the film's October release date put it smack-dab in the middle of Breast Cancer Awareness Month, which by 2014 had become a major opportunity for companies to do what eventually became known as "pinkwashing," signifying support for a cause regardless of how much money they were actually giving to charity.
Gutiérrez appealed to the studio by bringing up the awareness campaign. He recalled, "I tell the executives, 'Are you telling me 20th Century Fox is not supporting Breast Cancer Awareness Month? NFL, NBA, all the major macho sports are using pink. Why can't we?'" According to the filmmaker, "The executives, they look at each other like, 'You son of a b****. You get your pink socks.'" Thus, it was settled.
The studio figures in this anecdote come across as so baldly money-motivated and culturally insensitive that it's hard not to hear this and let your mouth drop open in shock (or, if you're more cynical than me, disappointed non-surprise). The good news is that after all the back-and-forth, Manolo got his pink socks. "The Book of Life" went on to win an Annie Award and the hearts of fans who still talk fondly about the film today.