15 Shows Like Gilmore Girls That You Really Should Watch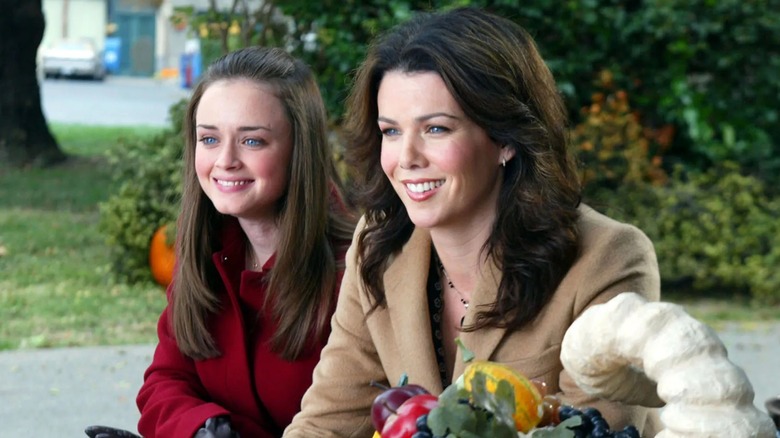 Warner Bros. Television
When "Gilmore Girls" first made its debut on the now-defunct WB network back in 2000, it would have been easy at first glance to lump the show together with The WB's roster of female-skewed dramas at the time, including the likes of "Dawson's Creek" and "Felicity." Yet those who tuned in discovered something far deeper and richer, a series that deftly blended comedy and drama in telling the story of single mom Lorelai Gilmore (Lauren Graham) raising her studious teenage daughter Rory (Alexis Bledel) in Connecticut's quirkiest town. Created by Amy Sherman-Palladino, her gift for hilariously authentic dialogue was ever-present in characters who spoke fast, quipped hard, and always had the perfect retort in conversations that played out like verbal tennis matches.
While the Lorelai-Rory relationship remained the show's heart, soul, and spine, as the show evolved "Gilmore Girls" also introduced an entertainingly eccentric cast of supporting characters who lived in Stars Hollow. These ranged from wannabe cinema auteur Kirk (Sean Gunn) to wisecracking chef Sookie St. James (Melissa McCarthy in her breakout role), to say nothing of Lorelai's wealthy parents (Kelly Bishop and the late Edward Hermann). When "Gilmore Girls" ended its run in 2007, persistent fan outcry over the years lead to a four-part reunion series on Netflix called "Gilmore Girls: A Year in the Life." For fans looking for a similar viewing experience, read on to discover 15 shows like "Gilmore Girls" that you really should watch.
My So-Called Life (1994-1995)
Debuting in 1994 on ABC, "My So-Called Life" offered a modern look at the life of teenagers that was something of a precursor to "Gilmore Girls." Created by Winnie Holzman (who would go on to write the book for the musical "Wicked"), "My So-Called Life" took an angsty look at the fraught high school years of 15-year-old Angela Chase, played by a young Claire Danes who was just 13 when she filmed the pilot. While it shouldn't have been, a show about teenagers who were played by actual teenagers was kind of groundbreaking, given that most so-called teen dramas starred actors who were far older than their characters (see: "Happy Days," "Beverly Hills, 90210," etc.). 
Despite glowing reviews, the show was ultimately a victim of its horrible Thursday night time slot, pitted against established hits "Mad About You" and "Friends." After its cancelation after a single season, however, the show was picked up by MTV, where it ran repeatedly, garnering even more fans and becoming something of a cult classic while launching the careers of Danes and co-star Jared Leto. 
While "My So-Called Life" is certainly darker in tone than the often-whimsical "Gilmore Girls," both shows share a key similarity in that a mother-daughter relationship is at the heart of both shows. In this case, the loving yet contentious relationship between Danes' Angela and her mom Patty (Bess Armstrong). Consisting of just 19 episodes, "My So-Called Life" makes for an excellent binge for "Gilmore Girls" fans.
Veronica Mars (2004-2007, 2014, 2019)
Take the mother-daughter dynamics of Rory and Lorelai and transpose them onto single father PI Keith Mars (played by Enrico Colantoni) and his sleuthing teenage daughter Veronica (Kristen Bell), and you've pretty much got the premise of "Veronica Mars." The tone of both shows is surprisingly similar, with Veronica and her dad bantering in a style that will seem very comfortable for "Gilmore Girls" fans, despite navigating subject matter that is significantly darker. In the pilot, Keith is removed as sheriff in the seaside California tourist town of Neptune after the murder of Veronica's best friend (played by Amanda Seyfried), launching her into an investigation that uncovers some unsavory secrets about people she thought she knew. 
The show ran for four seasons before its cancelation in 2007. Interestingly enough, "Gilmore Girls" and "Veronica Mars" began and two different networks — The WB and UPN respectively — but wound up on the same schedule when those two networks merged into what became known as The CW. Yet, as has often been the case in the annals of television, you can't keep a good show down. Fans kept demanding a reboot for years, an effort that led to a long-awaited "Veronica Mars" feature in 2013 that was crowd-funded via Kickstarter. "Veronica Mars" returned once again after that, in the form of an eight-episode revival series that streamed on Hulu in 2019.
The Return of Jezebel James (2008)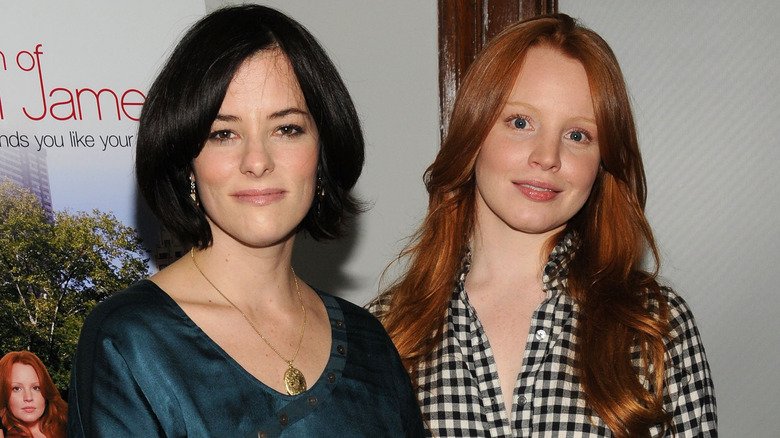 Bryan Bedder/Getty Images
"The Return of Jezebel James" bears the dual distinction of being both the first post-"Gilmore Girls" series created by Amy Sherman-Palladino, and a quickly canceled flop that was axed after just a few episodes due to ridiculously low ratings. While the reasons for the show's failure are debatable (one theory holds that Fox Network, which aired the show, was a poor fit), there's no denying there was a clever concept at play. 
Parker Posey (who had previously proven her comedy cred in Christopher Guest's "Waiting for Guffman," "Best in Show," and "A Mighty Wind") starred as Sarah Tompkins, a successful editor of children's books who is devastated to learn she's unable to bear children. She reaches out to her estranged younger sister, Coco (Lauren Ambrose, who was just coming off the success of HBO's "Six Feet Under") and asks her to move in with her and carry her baby for her. For those wondering who the titular Jezebel James might be, Sherman-Palladino explained to Entertainment Weekly that the title of a book that Sarah wants to publish was named for Coco's childhood imaginary friend.
With the entire series consisting of just seven episodes, it's a brisk watch, but "Gilmore Girls" aficionados will find Sherman-Palladino on familiar ground with a female-led comedy exploring the complicated bonds of sisters, with her gift for hilarious dialogue on full display throughout.
Parenthood (2010-2015)
After "Gilmore Girls" wrapped in 2007, star Lauren Graham didn't commit to another TV series until 2010. That series proved to be another gem, NBC's "Parenthood," loosely based on the Ron Howard-directed 2009 comedy film starring Steve Martin. The ensemble dramedy focused on the Braverman siblings, Sarah (Graham), Adam (Peter Krause), Crosby (Dax Shepard), and Julia (Erika Christensen), along with their children, spouses, and parents Zeek (Craig T. Nelson), and Camille (Bonnie Bedelia). While there's an argument to be made that Graham's character is the soul of the show, she was actually a last-minute addition, replacing Maura Tierney when scheduling conflicts caused her to bow out after filming the pilot.
For viewers of "Gilmore Girls," Graham's role certainly didn't seem to be much of a departure from Lorelai Gilmore. Like Lorelai, Sarah Braverman is a single mother of a smart, headstrong daughter (Mae Whitman), whom she shares with her irresponsible, alcoholic rock musician ex-husband (John Corbett). Even though the series proved to be more of a critical hit than a commercial one, it nonetheless ran for six seasons, concluding in 2015. Viewers of the "Gilmore" reboot series on Netflix may have noticed the link between the shows thanks to the "Parenthood" cameos that were sprinkled in, with Krause (who was then Graham's real-life boyfriend), Whitman, and Josh Ritter all making brief appearances in "Gilmore Girls: A Year in the Life."
If you or anyone you know needs help with addiction issues, help is available. Visit the Substance Abuse and Mental Health Services Administration website or contact SAMHSA's National Helpline at 1-800-662-HELP (4357).
New Girl (2011-2018)
While there's no tangible connection between "Gilmore Girls" and "New Girl" (other than the word "girl" used in both titles), the latter can certainly be seen as something of a spiritual descendent. Sharing a similarly quirky vibe, "New Girl" is, like "Gilmore Girls," constructed around an eccentric female (Jess, played by Zooey Deschanel), and sprung from the mind of a female writer-producer, in this case, Elizabeth Merriwether. 
Jess is a schoolteacher who marches to the beat of her own drummer. When she walks in on her long-term boyfriend in bed with another woman, the life she thought she had is completely blown up, leading her to move into a spacious Los Angeles loft alongside three male roommates: Nick, a bartender (Jake Johnson), Schmidt (Max Greenfield), a marketing exec, and Winston (Larmone Morris), a former pro basketball player for the Latvian Basketball League.
For fans of "Gilmore Girls," "New Girl" has plenty to love, from an array of idiosyncratic supporting characters who wouldn't seem out of place in Stars Hollow, to the kooky charm of star Deschanel. Meanwhile, viewers of both shows may not be aware that they share a connection in star Greenfield, who made a brief appearance in an episode of "Gilmore Girls."
Bunheads (2012-2013)
Following the inauspicious cancelation of "The Return of Jezebel James," "Gilmore Girls" creator Amy Sherman-Palladino moved on to create an entirely new show. "Bunheads," debuting in 2012, was another female-led comedy in which smart, funny people spoke fast in witty repartee. Broadway veteran Sutton Foster, in her first major television role, starred as Michelle Simms, a former ballerina (a.k.a. "bunhead") whose dreams of ballet cratered, leading her to become a Las Vegas showgirl. She winds up getting married on a whim, only to have her new husband die in a car accident. She finds herself alone in a small town, teaching ballet to teenage girls at the local dance studio owned by her mother-in-law. 
The fact that the mother-in-law character was played by "Gilmore Girls" veteran Kelly Bishop not only gave fans of the earlier show an "in" to this one, she also brings her own dance experience, having won a 1976 Tony Award for her performance in the Broadway production of "A Chorus Line." "Bunheads" also shared a lot of similarities with "Gilmore Girls." Quirky small town? Check. Engaging female lead? Bingo. A beloved "Gilmore Girls" alum onboard? You bet. In fact, "Bunheads" was more than a little reminiscent of Miss Patty's Dance Studio in Stars Hollow — not surprising when you realize that Sherman-Palladino's mother was a professional dancer, and she was a dancer herself before gravitating toward writing for television.  
Mom (2013-2021)
Viewers of "Gilmore Girls" looking to be entertained by a different mother-daughter duo won't do better than "Mom," the award-winning CBS sitcom from Chuck Lorre, creator of such hit comedies as "Two and a Half Men," "The Big Bang Theory," and Netflix's "The Kominsky Method." "Mom" centers around Christy Plunkett (Anna Faris) and her mother Bonnie (Allison Janney), with the twist being that both are recovering alcoholics in a 12-step program. Given Bonnie's extreme behavior during those lost years when she was a slave to the bottle, and the way that Christy enthusiastically rebelled while likewise being perpetually under the influence, these two have plenty of amends to make as they reconnect — this time, and for the first time, both sober.
A serious topic addressed in a hilariously comedic and typically irreverent manner, "Mom" — as the title suggests — is primarily focused on that mother-daughter relationship. Like "Gilmore Girls," "Mom" has also cast some exceptional actors in quirky supporting roles, including Mimi Kennedy, Jaime Pressly, Kristen Johnston, Beth Hall, and William Fichtner. With the show having concluded after eight seasons in 2021, that leaves a lot of episodes that can be binged by curious "Gilmore Girls" fans on the lookout for something new.
If you or anyone you know needs help with addiction issues, help is available. Visit the Substance Abuse and Mental Health Services Administration website or contact SAMHSA's National Helpline at 1-800-662-HELP (4357).
Younger (2015-2021)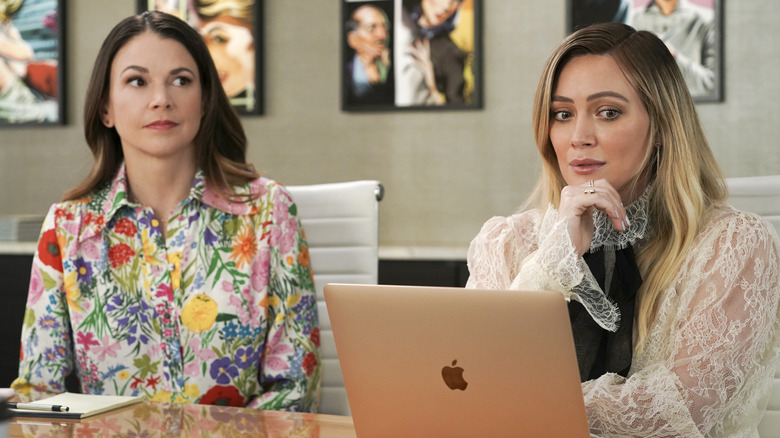 Paramount+
Amy Sherman-Palladino's "Bunheads" only ran for 18 episodes over the course of two seasons, but it propelled star Sutton Foster into another comedy that boasted similarly "Gilmore Girl"-esque vibes. "Younger," which premiered in 2015, was built upon a high-concept premise. Foster played Liza Miller, a 40-year-old divorced mother who tries to jump-start her career and break into the world of publishing. After being told one too many times she's a little long in the tooth for an entry-level position, she decides to lie about her age, passing herself off as a 20-something. 
Her gambit works, landing herself a job working for Diana Trout (Miriam Shor), the volatile head of marketing for Empirical Press. On the job, she finds herself befriended by an actual 20-something co-worker, Kelsey Peters (Hilary Duff), whose insistence on bringing Eliza along with her to do 20-something stuff is at total odds with her actual age. As a result, Liza must live two separate lives, concealing her secret identity while on the job.
"Younger" definitely found an audience, ultimately running for seven seasons until ending in 2021. Foster managed to come full circle when she reunited with Sherman-Palladino for the Netflix revival "Gilmore Girls: A Year in the Life." She and fellow Broadway star Christian Borle (who's also Foster's real-life ex-husband) played actors who come to Stars Hollow to perform in "The History of Stars Hollow: A Musical." 
Insecure (2016-2021)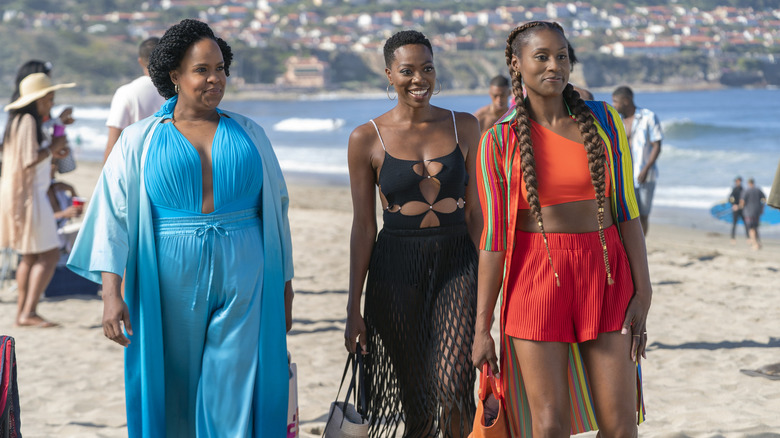 HBO
While "Gilmore Girls" is all about that complicated relationship between a mother and a daughter, "Insecure" is all about sisterhood, as in the non-sibling kind. The breakthrough project from writer-creator-star Issa Rae, the HBO comedy focused on Rae's character, Issa Dee, and her friendship with BFF Molly (Yvonne Orji). Like Rory and Lorelai, these two always have each other's backs while trying to live their best lives in the City of Angels. 
As they and their friends navigated challenges both personal and professional, "Insecure" brought viewers a thoroughly unique series decimated stereotypes by telling the stories of Black women in a fresh and funny new way. As Rae explained in an interview with The Hollywood Reporter, her motivation is to both entertain and inform, with a mission to "normalize Blackness" on television. 
"I wanted to see a Black female character reflected that I could relate to, but in this particular series, I just wanted Black people to have the opportunity to be regular," she said. "Regular meaning doing everyday things, being boring, having relationship issues and not having it fully centered on the burden of race."
The Marvelous Mrs. Maisel (2017-2023)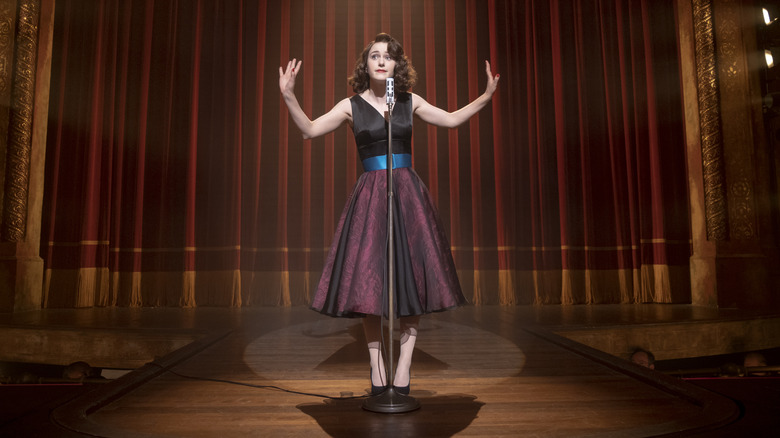 Prime Video
To say that television viewers who enjoyed "Gilmore Girls" would also appreciate "The Marvelous Mrs. Maisel" is both completely true and a massive understatement. After "Bunheads" ended after two seasons, Amy Sherman-Palladino and her long-time producing/writing partner (and husband) Dan Palladino launched into their next project, and it was nothing if not ambitious. 
A period comedy set in the late 1950s, "The Marvelous Mrs. Maisel" follows the journey of Miriam "Midge" Maisel (Rachel Brosnahan), an Upper West Side NYC housewife who discovers her husband's been cheating — with his secretary, no less. Distraught, she hilariously spills her guts onstage in a Greenwich Village nightclub and discovers she has a knack for standup comedy. During the course of the show, Midge's hobby evolves into her career, tracing her ups and downs as a trailblazing female comedy pioneer under the tutelage of sketchy but talented manager Susie Myerson (Alex Borstein) while being befriended by legendary real-life comic Lenny Bruce (Luke Kirby).
The same type of snappy dialogue that "Gilmore Girls" fans came to know and love is alive and well in "The Marvelous Mrs. Maisel," as is Sherman-Palladino's knack for creating lovably quirky supporting characters. That's certainly the case with Midge's parents, persnickety professor Abe Weissman (Tony Shalhoub) and perfectionist mother Rose (Marin Hinkle), along with the overbearing parents of her ex-husband Joel (Michael Zegen), Moishe Maisel (Kevin Pollak) and wife Shirley (Caroline Aaron). 
Derry Girls (2018-2022)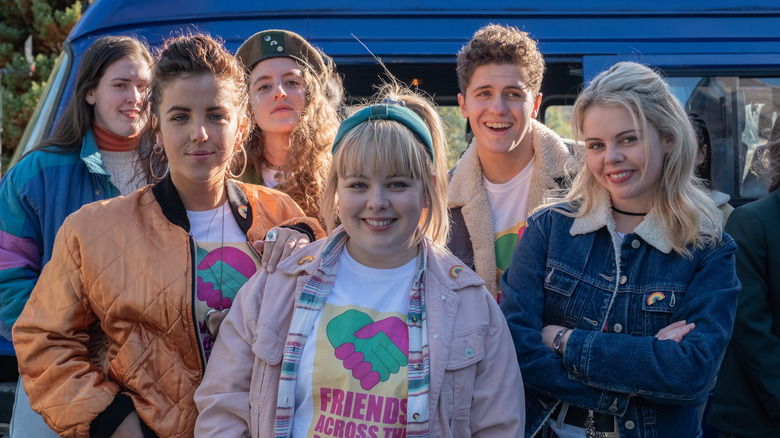 Netflix
Fans of the early seasons of "Gilmore Girls," when Rory was still in high school before heading off to Yale, may want to head over to Netflix to check out "Derry Girls." This Irish import, set in the titular city (also known as Londonderry) in Northern Ireland, follows a group of four teenage girls during the mid-to-late-1990s, during the peak of "the Troubles." The girls — Erin (Saoirse-Monica Jackson), Orla (Louisa Harland), Clare (Nicola Coughlan, who went on to play Penelope Featherington in "Bridgerton"), and Michelle (Jamie Lee O'Donnell) — are seen navigating all those typical coming-of-age milestones with humor and aplomb, all in the midst of political and social unrest.
"Derry Girls" not only shattered stereotypes of Irish women, but this ensemble comedy also reveled in showcasing the layered, nuanced personalities of each of the lead characters, as female-forward a series as they come. It's also very, very funny, boasting hilarious dialogue on par with that of "Gilmore Girls" while tackling those universal teen themes.
Never Have I Ever (2020-2023)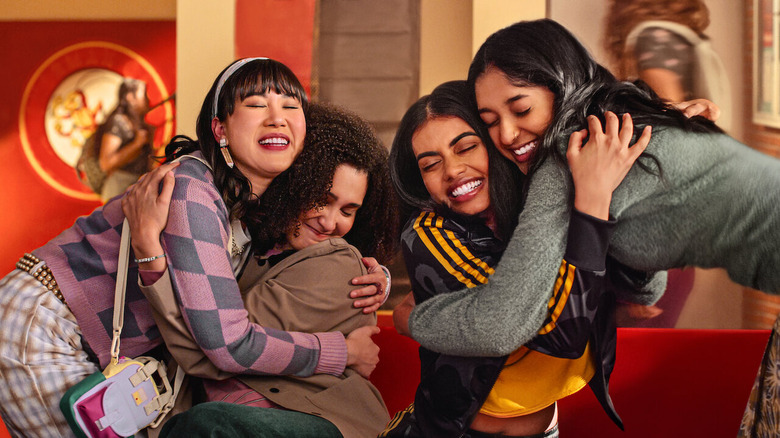 Netflix
Mindy Kaling is one of the most prominent female TV writer-producers to emerge in the wake of "Gilmore Girls," making a splash as a writer-actor on "The Office," and then on her own as the star-writer-creator-producer of critically acclaimed Fox comedy "The Mindy Project." Kaling's Netflix series "Never Have I Ever" will feel reminiscent of Rory Gilmore's teen years to "Gilmore Girls" fans, given that the show follows the exploits of plucky Indian-American teenager Devi Vishwakumar (Maitreyi Ramakrishnan), supported to the max by best friends Eleanor Wong (Ramona Young) and Fabiola Torres (Lee Rodriguez). 
Like Rory, Devi is a very smart overachiever, yet doesn't always make the best decisions. Determined to lose her virginity in her sophomore year of high school, she finds herself in a Rory-like love triangle with two boys, cool kid Paxton Hall-Yoshida (Darren Barnet) and the nerdy (but also quasi-charming and very wealthy) Ben Gross (Jaren Lewison). In the midst of all this, Devi's entire world is turned upside down when her father (Sendhil Ramamurthy) unexpectedly dies.
Devi is a teenager living in two worlds, that of her all-American high school life and, at home, the traditional values of her Indian heritage. As an extra layer of hilarity, tennis great John McEnroe is the narrator, serving as a sort of twisted Jiminy Cricket to put Devi's experiences in perspective, both for her and the audience. 
Zoey's Extraordinary Playlist (2020-2021)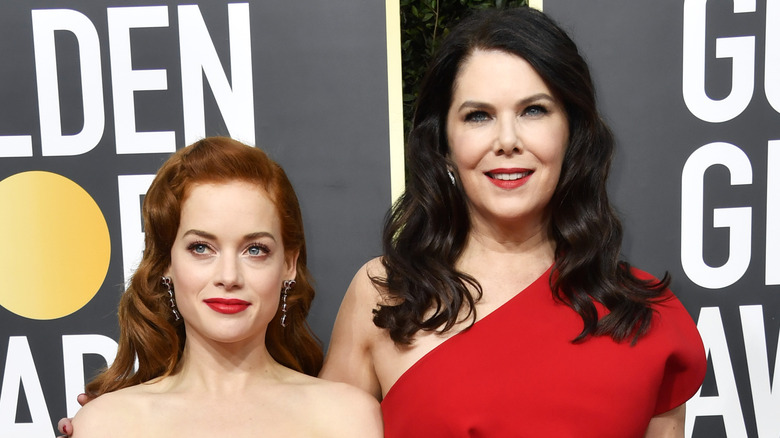 Frazer Harrison/Getty Images
Truth be told, there's not a lot about NBC's boldly inventive musical dramedy "Zoey's Extraordinary Playlist" that resembles "Gilmore Girls," but there are some connections that will no doubt appeal to "Gilmore" fans. The first and most obvious of these is the presence of Lauren Graham, who will always be Lorelai Gilmore to fans. Graham, however, takes the back seat in this series, which centers on the titular Zoey (Jane Levy), with Graham playing her boss, Joan. 
The series' premise is certainly a unique one: when Zoey is in the midst of getting an MRI on her brain, an earthquake occurs, leaving her with the bizarre ability to hear the thoughts of others — not as actual thoughts, but as pop songs they perform, Broadway-style, and which only Zoey can see and hear.
One big draw for "Gilmore Girls" fans is the opportunity to watch Graham participate in song-and-dance numbers right out of a Hollywood musical. Among the series' most memorable is an episode in which Joan and Zoey enter a nightclub, prompting Graham's character to launch into an emotional version of Katy Perry's "Roar," and another in which she absolutely kills with the Miley Cyrus hit "Wrecking Ball."
Ginny & Georgia (2021-present)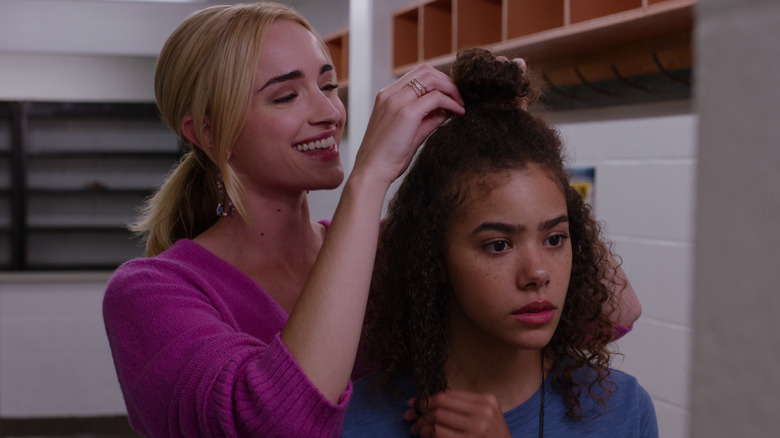 Netflix
Netflix teen comedy "Ginny & Georgia" has been compared to "Gilmore Girls," and not just because the premise is jarringly similar, but also because the show has literally invited those comparisons. Georgia (Brianne Howey) gave birth to daughter Ginny (Antonia Gentry) when she was just a teenager, pretty much a mirror image of Lorelai and Rory. "[We're] like the Gilmore Girls, but with bigger boobs," Ginny tells her mom in the first episode. Deliberately making that comparison, of course, is the show's way of subverting it. While the basic premise might be the same, Ginny and Georgia are definitely not Lorelai and Rory. Their relationship, in fact, is far more codependent and complicated, with Georgia so desperate to be her daughter's best friend that she completely slacks on the mother part of her role — to the point that Ginny occasionally has to remind Georgia that she has a brother that she mostly ignores.
Another big difference is that Lorelai held a legitimate job with a lot of responsibilities, while Georgia is basically a grifter who's dug her way out of poverty and has no intention of ever experiencing it again. Ultimately, "Ginny & Georgia" depicts a mother-daughter relationship that's far less sugar-coated than the one seen in "Gilmore Girls" — and that's a good thing.
The Sex Lives of College Girls (2021-present)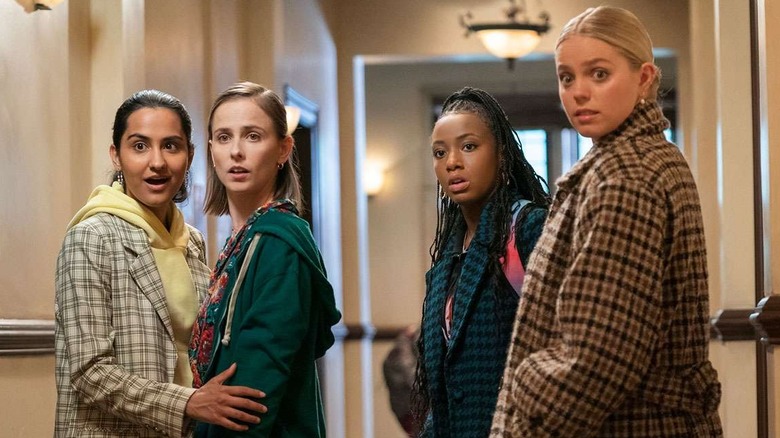 HBO
Another comedy from the fertile mind of Mindy Kaling, this provocatively titled HBO Max series will definitely resonate with "Gilmore Girls" fans who particularly enjoyed the seasons following Rory's experience at Yale. "The Sex Lives of College Girls" chronicles the journey of four disparate female freshmen as they embark on their first year at a prestigious Essex College in Vermont. Despite their inherent differences, the four wind up as roommates: rich girl and closeted lesbian Leighton (Reneé Rapp), Arizona-based work-study student Kimberly (Pauline Chalamet), Indian-American aspiring comedy writer Bela (Amrit Kaur), and Whitney (Alyah Chanelle Scott), Black daughter of a U.S. Senator, who's also a superstar soccer player and having an affair with her married, older soccer coach. 
As the women come to know and trust each other, they form a deep bond and support each other through their college years and all that entails — much like Rory did with Paris Gellar (Liza Weil), who was her arch-nemesis in high school but came to be her lifelong friend after they attended Yale together.