Joe Pesci Received Serious Burns From One Of Home Alone 2's Most Famous Stunts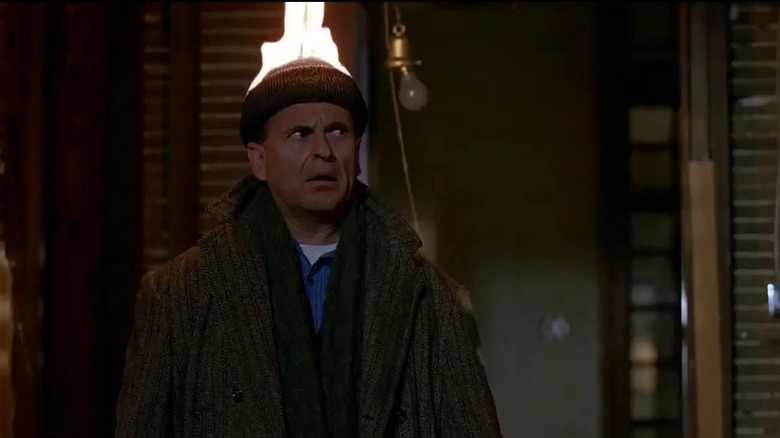 20th Century Fox
Chris Columbus' 1990 comedy film "Home Alone" owes a great deal of its massive success to its brazen, little-kid wish-fulfillment premise. The young Kevin McCallister (Macaulay Culkin) lives in a large, expensive home with a retinue of siblings so large that he rarely seems to be acknowledged. Thanks to the chaotic bustle of a large-scale family trip, paired with a brief nighttime power-out, Kevin oversleeps and his entire family makes it onto a plane to Paris without him. Kevin is initially frightened that he is home alone but soon learns to take advantage of the situation, eating junk food and watching rubbish on TV to his heart's content. One can assume most children had similar fantasies, and families flocked to theaters in droves. Even not accounting for inflation, "Home Alone" made $476 million worldwide. 
Families came for Kevin's rule-breaking but stayed for his capacity for mayhem. The 9-year-old noticed that a pair of dodgy-looking thieves (Daniel Stern and Joe Pesci) had been lurking around the neighborhood, eager to rob the many mansions left empty by traveling families. Kevin, using the resourcefulness of a child, boobytraps his house, managing to harm the home invaders with swinging paint cans, heated door knobs, and nails punctured through feet. The violence was presented in a slapstick fashion, leaving the burns and impalements in the realm of comedy rather than horror. 
Given the film's success, a sequel was naturally put into production. This time, Kevin would be lost in New York, and the same bandits from the first film would return to get their revenge. The sequel upped the violence by a factor of like, 30, seeing Kevin construct pain-delivery machines that wouldn't feel out of place in a "Saw" movie. 
Despite safety precautions, Pesci recently admitted to being injured by a fire-based device.
The flame-thrower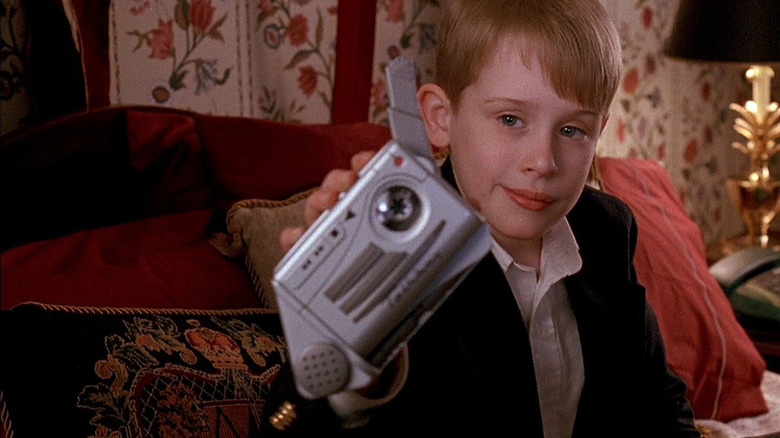 20th Century Fox
The plot of "Home Alone 2: Lost in New York" is a classic example of cinematic "how did this happen twice?" incredulousness. To paraphrase Oscar Wilde, to lose Kevin once may be regarded as a misfortune, but to lose him twice looks like carelessness. Also, with Kevin's death traps now far more harmful, paired with the character being a year wiser, audiences might immediately begin to suspect something dark stirring in his soul. When Kevin lured his two assailants, Marv and Harry, into an abandoned tenement, he was free to rig up electrical wires and flame throwers to deadly effect. 
In a recent interview with People Magazine, Joe Pesci — who played Harry — recalled some of the stunts and violent slapstick in "Home Alone 2," particularly one stunt that actually left burns on his head. In the film, Harry opens a door that had been rigged with a fire-spewing device, an homage to a similar stunt pulled in the first film. Of the moment, Pesci recalls: 
"In addition to the expected bumps, bruises, and general pains that you would associate with that particular type of physical humor, I did sustain serious burns to the top of my head during the scene where Harry's hat is set on fire. I was fortunate enough to have professional stuntmen do the real heavy stunts."
Incidentally, the stunt coordinator for "Home Alone 2" was Freddie Hice, who had been doing movie stunt work since the 1974 film "Earthquake." He worked on "Avalanche," "RoboCop," and "Iron Man" in addition to a hundred others. His first credit as a stunt coordinator was on the first "Home Alone." Most recently, Hice worked on the 2020 miniseries "The Good Lord Bird." 
His kind of slapstick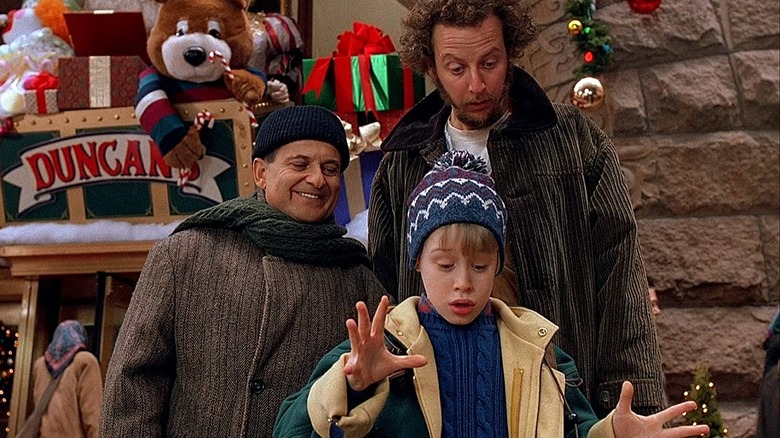 20th Century Fox
Up until the "Home Alone" movies, Joe Pesci, 79, had played in several comedy and genre films — "Home Alone 2: Lost in New York" came long after his star-making turns in "Goodfellas," "My Cousin Vinny," and "Betsy's Wedding" — but he had typically cleaved skillfully toward character roles and sometimes broad funny characters. Funny, like a clown. He amuses me. Pesci, however, was rarely asked to participate in something so cartoonish as "Home Alone 2," a change he actually welcomed. He added: 
"It was a nice change of pace to do that particular type of slapstick comedy. The 'Home Alone' movies were a more physical type of comedy, therefore, a little more demanding."
Pesci would not return to any of the additional four films in the "Home Alone" series, but he did play the character of Leo Getz through "Lethal Weapon 4." His most recent film was Martin Scorsese's 2019 film "The Irishman," for which he was nominated for an Academy Award. It was his fourth collaboration with Scorsese and he reportedly had to be asked "50 times" before accepting the part, not wanting to play a gangster again. 
In 2017, Pesci released an album called "Still Singing," which in this writer's opinion, would make a great Holiday gift.