How Martin Scorsese And Robert De Niro Rescued Joe Pesci's Acting Career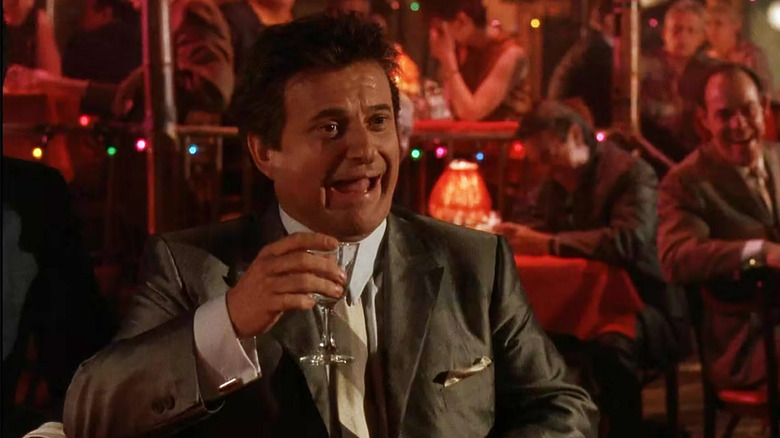 Warner Bros
Maybe the most intimidating question ever asked in a movie consists of only two words: "Funny how?" 
The moment comes 20 minutes into Martin Scorsese's mob classic, "GoodFellas." Tommy DeVito (Joe Pesci) is in a restaurant entertaining his cronies, including partner-in-crime Henry Hill (Ray Liotta), with a story about getting beaten up by a cop. The whole gang is in stitches, which is when Henry makes the mistake of calling Tommy funny.
We already know he's a ruthless gangster because we saw him brutally stabbing a guy with a carving knife in the opening scene, but this is our first indication of his hair-trigger temper. Would he really turn on his friend like that over such an innocuous compliment? As the laughter in the room quickly dies and Henry stammers his explanation, it looks like all his pals certainly think so. The first time I saw the movie, I sat watching the scene with my heart in my mouth. This guy seemed genuinely dangerous.
Finally, Henry has the courage to call him out, and it's all laughs once more, but then Tommy switches again, busting a bottle over the restaurant owner's head. The scene is one of many great moments in "GoodFellas," the perfect way to introduce us to the combustibility of Pesci's character and the way these men's lives can descend into violence in a blink.
Pesci had a big year in 1990. He won the Best Supporting Actor Oscar for his performance as Tommy, and he also played the slightly smarter half of the Wet Bandits in "Home Alone," where he spent much of the movie threatening a little kid with physical violence. But he might have never reached his acting peak in that dinner table scene if Scorsese and Robert De Niro hadn't come calling a decade earlier.
Pesci almost gave up on acting completely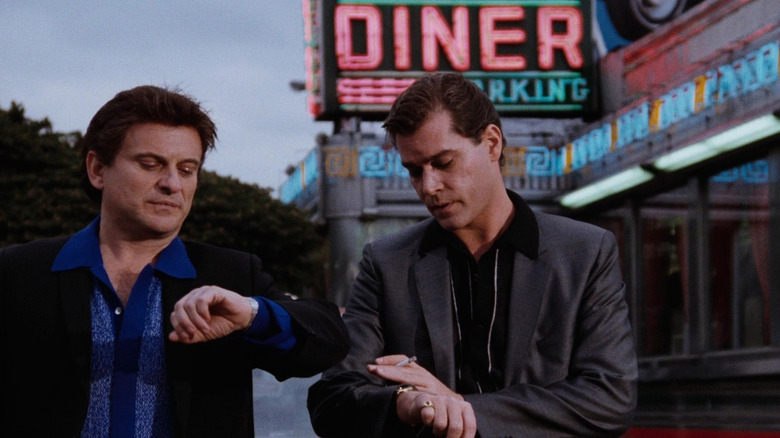 Goldstone Film Enterprises
Joe Pesci got his taste for showbiz at an early age, when his dad enrolled him in a school for acting, song, and dance when he was just four years old. As a young man, he tried his hand at music by playing with various bands before releasing an album of covers called "Little Joe Sure Can Sing!" It sure sounds a lot like Joe Pesci singing!
In the early '70s, he formed a comedy double act with Frank Vincent, who would go on to play the made man who Tommy viciously murders for "breaking his balls" in "GoodFellas." Pesci recalled (via Empire):
"He'd play the drums and do stand-up; I'd f**k up his act."
Vincent played the straight man while Pesci got the laughs, and they made a go of it, touring for six years and graduating from playing clubs to larger venues, but they never got to the next level. During that time, they released a few singles including the novelty track "Can You Fix The Way I Talk For Christmas," which surely deserves a place on any movie buff's festive playlist alongside "Christmas in Hollis."
Vincent and Pesci eventually quit the act, but they both made their screen debuts in "The Death Collector." It wasn't a hit, and Pesci gave up on acting, leaving the auditions in Hollywood behind to open up a restaurant in New York. Unknown to him, one of the few people who had seen his only credited screen appearance to that point was Robert De Niro.
Scorsese and De Niro visit Pesci at work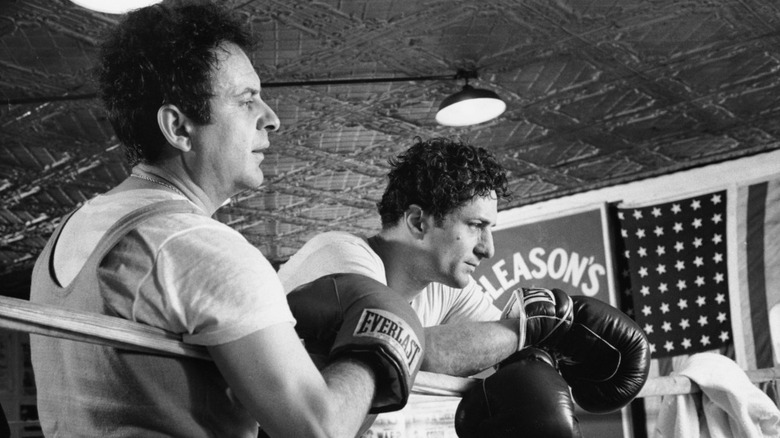 United Artists
During the early stages of his career, Martin Scorsese liked casting unknown or unproven actors. When it came to finding talent for "Raging Bull," De Niro remembered Pesci's performance in "The Death Collector" and recommended him to the director. Although he hadn't acted for four years, the pair tracked him down to the restaurant and offered him the tasty role of Jake La Motta's brother.
Pesci also became instrumental in finding Cathy Moriarty for the part of Vikki, Jake's abused young wife. He saw a photo of her in a beauty contest pinned on the wall of a nightclub she frequented and suggested the 17-year-old send it to the casting director. She got the part and was later nominated for a Best Actress Oscar. Only in Hollywood.
Playing the long-suffering and slightly less volatile La Motta brother, Pesci certainly grabbed his second chance with both hands. He looked right at home opposite De Niro in the brutal sports drama, making full use of the coiled, nervy energy that he displayed in "The Death Collector." He even had a great scene that prefigured "GoodFellas." Scorsese also cast his old partner Frank Vincent as mobster Salvy Batts, who Joey kicks the crap out of in a bar when he catches him drinking with Vikki.
It was an eye-opening performance from Pesci, one that voters remembered come awards season. He won a BAFTA for Best Film Newcomer and the Oscar for Best Supporting Actor. Then approaching 40 years old, his acting career was finally on the up and would give many memorable performances, from the buffoonish Leo Getz in the "Lethal Weapon" franchise to his searing cameo in "JFK." It just goes to show that it's never too late to fulfill your dreams, although it does help if you have someone like Robert De Niro in your corner.