Jenny, The Lovely Little Donkey From The Banshees Of Inisherin, Has Already Retired From Acting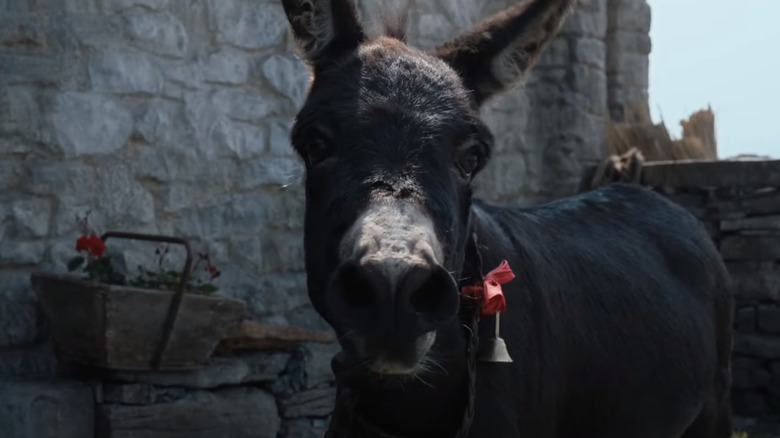 Searchlight Pictures
Jenny the Donkey, scene-stealing star of "The Banshees of Inisherin," is going to end her career on a high note. The miniature donkey who played the character of the same name in Martin McDonagh's latest film has officially retired from acting, according to the January 2023 issue of Empire Magazine. In the film, little Jenny is the closest companion of Colin Farrell's character Pádraic. She's a charming little creature who is more of a pet than livestock to Pádraic and the two of them are pretty much inseparable on the lonely fictional island of Inisherin, off the coast of Ireland. Things aren't great with Pádraic and his human former best friend, Colm (Brendan Gleeson), so Jenny is the one he turns to in his sadness more than anyone else. She's adorable, even if she kicked Farrell pretty hard one day for getting too close to her without warning!
Jenny is poised to become the most famous miniature beast of burden since Li'l Sebastian from "Parks and Recreation," as "The Banshees of Inisherin" has impressed festival audiences and critics alike (read our review) and Jenny manages to steal the screen from as talented of thespians as Farrell, Gleeson, and Kerry Condon. That's one seriously charismatic donkey, especially given that "The Banshees of Inisherin" was her first film, but her particular brand of movie magic will only grace the screen this once. 
Living her best donkey life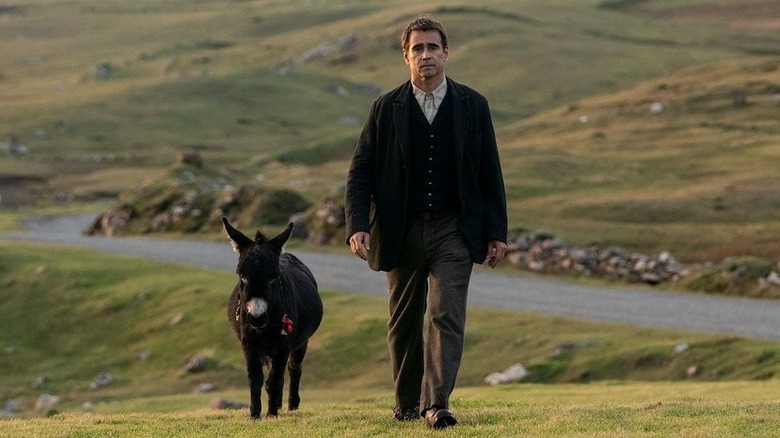 Searchlight Pictures
Working with children and animals is genuinely considered difficult, but it's even harder when they're as stubborn as a, well, donkey. Little Jenny could apparently be convinced to hit her marks with carrots, but if she decided she didn't want to look at the camera, no one could make her. Jenny's handler, Rita Maloney, told Empire that Martin McDonagh didn't want to put Jenny through the rigmarole of promoting the film and acting in other films, so he ensured that she could have a nice retirement in another county in Ireland, where she can run with a bunch of other donkeys in a field. Maloney even said that she had visited Jenny recently and that even though she was the smallest donkey in the whole field, she still had a "diva attitude." 
What kind of diva attitude, you might ask? On top of kicking her co-star, she also required her own emotional support animal to be kept just off-screen at all times. Ok, so that's more cute than awful, especially since it was another mini donkey named Rosie, who was a bit older and reassured Jenny with her presence. Film sets are chaotic places, even for a film as serene as "The Banshees of Inisherin," so it's hard to blame lil' Jenny. 
The world's cutest and apparently sassiest miniature donkey will live out her days as every donkey should, with wide fields to roam and other donkeys to annoy. "The Banshees of Inisherin" might be one seriously morose movie, but Jenny's retirement is the feel-good ending of the year.