White Noise Trailer: Adam Driver And Greta Gerwig Try To Survive Mundanity And Disaster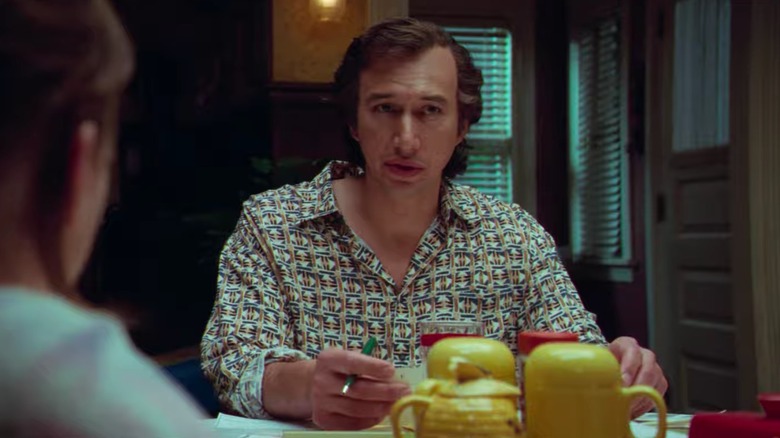 Netflix
Historically, it's been pretty easy to tell from the outset whether you'll like a Noah Baumbach film or not. The writer-director tackles a lot of similar themes across his filmography, from the specific ennui of the educated class to the woes of growing up — even once you're already an adult. He's also a New York filmmaker through and through, with movies that feel more overtly East Coast than most. But the trailer for Baumbach's latest film, "White Noise," just dropped, and it seems set to throw audiences a few curveballs.
"White Noise" stars frequent Baumbach collaborators Adam Driver and Greta Gerwig, along with Don Cheadle, Jodie Turner-Smith, and André 3000. Interestingly, it's the first movie Baumbach has adapted as a director, as it's based on the Don DeLillo novel of the same name. The brand of absurd humor featured in DeLillo's postmodern 1985 book is immediately obvious in the trailer, which features "New Body Rhumba" by LCD Soundsystem, and which you can check out below. 
Baumbach does DeLillo
I'll confess I'm not always the biggest Baumbach fan, but I think this movie looks like a lot of fun. Driver's under-reactive suburban dad character is a hilariously mundane protagonist in a surreal-looking story about apocalyptic events. The visual design of the film is also really striking, with shots of perfectly spaced grocery store shoppers with color-coded carts and synchronized bag boys that look like something out of a musical. That feeling is helped along by a great, energetic soundtrack complete with lots of clapping and "la las."
If you asked me based on this trailer what "White Noise" is about, I'd say it seems like it's about whatever force compels dorky a white dad's urge to give a little wave to the other guy who lets his car merge into traffic, even during the end of the world. The official plot synopsis is a little more straightforward though. Here's part of it:
'White Noise' dramatizes a contemporary American family's attempts to deal with the mundane conflicts of everyday life while grappling with the universal mysteries of love, death, and the possibility of happiness in an uncertain world.
"White Noise" debuted at the Venice Film Festival this summer, and in her early review, /Film critic Lex Briscuso wrote that while the film drags at times, it's "electric, eccentric, and delightfully hilarious." Audiences will be able to see if they agree when "White Noise" hits streaming this holiday season; the film is set for a theatrical release on November 25, 2022 before debuting on Netflix on December 30, 2022.