Ben Affleck And Matt Damon Take Their Friendship To The Next Level By Launching Their Own Film Studio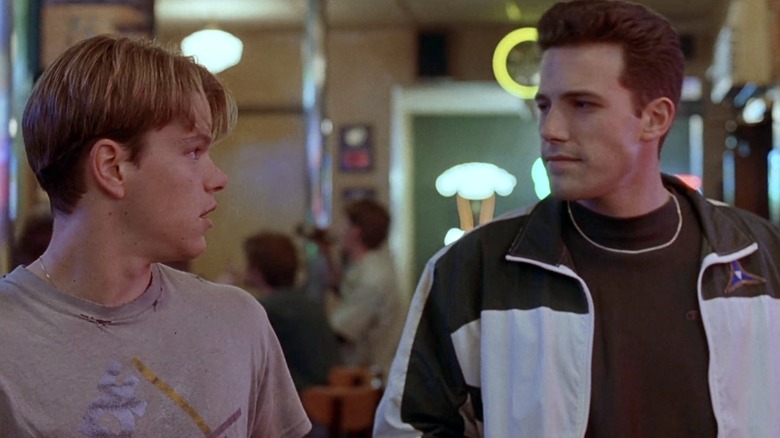 Miramax
After reuniting onscreen last year in Ridley Scott's "The Last Duel," Ben Affleck and Matt Damon are ready to embark on a new entrepreneurial phase in their careers by heading up their own production company. Per The Wrap, Affleck and Damon will serve as the chief executive officer (CEO) and chief creative officer (CCO) of the new independent film studio, Artists Equity.
Affleck and Damon are reportedly teaming with business leader Gerry Cardinale and his investment firm RedBird Capital Partners to make Artists Equity a profit-sharing venture for "established and emerging filmmakers" and all production hands. The L.A.-based company will enlist Michael Joe, a one-time exec at Universal Pictures and STX Films (the latter of which sold last year for $173 million), as the chief operating officer of Artists Equity. The studio's first project is the forthcoming "Air Jordan," the now-titled movie about the Nike shoe brand, which is already in post-production and which we reported on earlier this year.
"Air Jordan" is directed by Affleck and co-written by him, Damon, and Alex Convery. Affleck and Damon are also co-starring with Viola Davis, Jason Bateman, Marlon Wayans, Chris Tucker, Chris Messina, and more. In a statement about Artists Equity, Affleck said:
"Artists Equity was conceived from Matt's and my longtime passion for the art of storytelling and our shared desire to help creators deliver on their vision, as we have been fortunate to do throughout our careers. The entertainment industry is defined by great partnerships – writers, directors, producers, crew, actors – and throughout my career I have learned that collaboration is what drives success. Our goal with Artists Equity is to build a creator-focused studio that can optimize the production process with shared participation in the commercial success of projects."
Good Will Producing through Artists Equity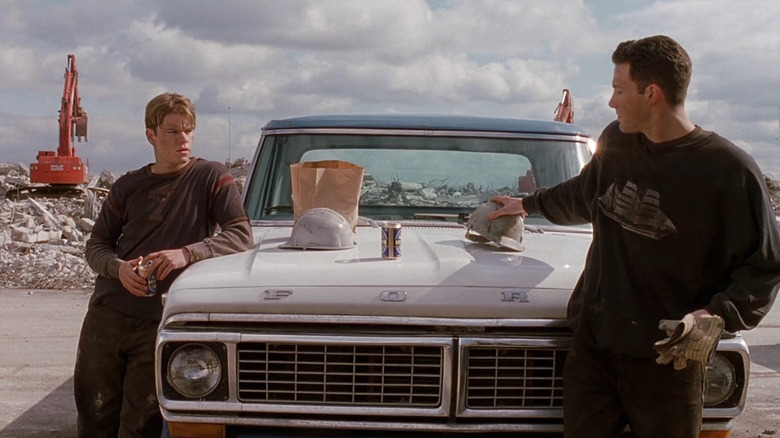 Miramax
It's been 25 years since Affleck and Damon had their big breakthrough with "Good Will Hunting," which won them Best Original Screenplay at the 70th Academy Awards. Since then, Affleck has embarked on a directorial career and he and Damon have both racked up producing credits, with Affleck winning Best Picture for "Argo" and Damon earning a nomination in that regard for "Manchester by the Sea."
Artists Equity isn't their first time being involved in a production company's creation. In 2000, they co-founded LivePlanet with Chris Moore and Sean Bailey, and it was through this studio, initially, that they produced their HBO (and later, Bravo) series "Project Greenlight," which sought to find and fund first-time filmmakers through writing and directing contests. By 2007, Affleck and Damon had both moved on from LivePlanet, but they resumed "Project Greenlight" for one season in 2015, and now they're back in the saddle as CEO and CCO of Artists Equity. For his part, Damon said in a statement:
"Historically, the success of a film was based on its box office performance. Now, with the rise of streaming, the business behind filmmaking has intrinsically changed. However, Ben and I know that the power will continue to be in the hands of the creators, no matter which direction the industry evolves. Artists Equity enables these visionaries to take ownership of their creative power, providing a platform for both established and emerging filmmakers to streamline the development of their content."
Cardinale has also described Artist Equity as an investment in line with RedBird's history of building "intellectual property monetization platforms." Beyond the business language, it sounds like Affleck and Damon are going back to their "Project Greenlight" roots with Artists Equity in the hopes of enabling other creatives to tell stories.