M. Night Shyamalan Gave Anya Taylor-Joy A Piece Of Direction That Changed Her Entire Perspective On Acting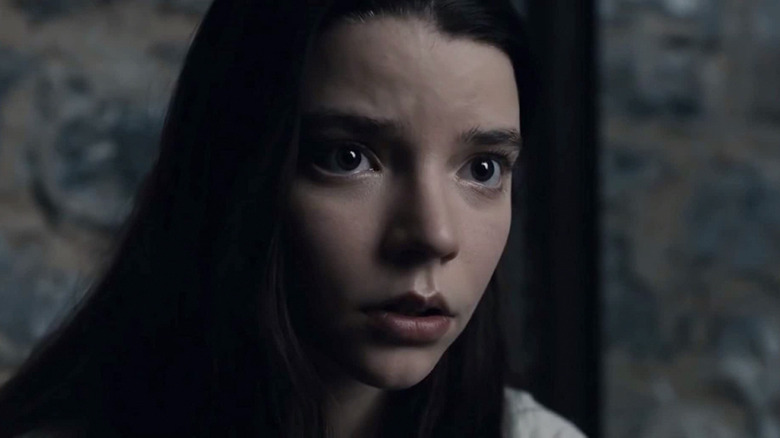 Universal Pictures
Over the span of 12 months following her feature film debut in early 2016, Anya Taylor-Joy went from living deliciously in "The Witch" to raising hell as an artificial being in "Morgan" and matching wits with 23 shades of James McAvoy in "Split." She has only further cemented herself as one of the more fascinating actors of her age bracket since then, starring in pitch-dark satires, lively Jane Austen movies, and even Viking epics. But it's not just their subject matter that makes Taylor-Joy's projects so intriguing.
Every film or TV show she's worked on has called for a very different type of screen acting. For example, Taylor-Joy's highly physical turn in Edgar Wright's stylish Giallo love letter "Last Night in Soho" stands in sharp contrast to her far more internal performance as a troubled chess prodigy in the miniseries "The Queen's Gambit." Then there are her collaborations with M. Night Shyamalan on "Split" and its sequel "Glass," both of which see Taylor-Joy adapt her acting to fit the auteur's uniquely formalist thrillers.
Her latest movie "The Menu" brings Taylor-Joy back into dark satire territory, this time for a tale about an enigmatic, twisted celebrity chef (Ralph Fiennes) who operates out of a remote high-end restaurant. Speaking in a joint interview with her co-star from the film, Nicholas Hoult, Taylor-Joy recalled how she ended up changing her entire perspective on acting thanks to a piece of direction Shyamalan gave her during the production of "Split."
'Give the character her own tears'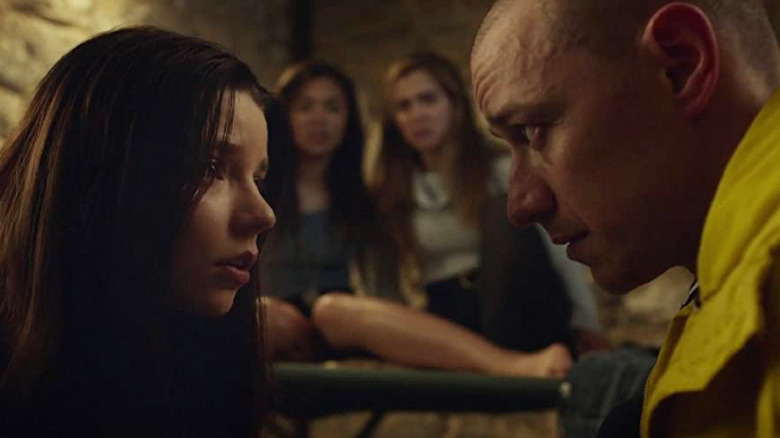 Universal Pictures
Anya Taylor-Joy stars in "Split" as Casey Cooke, a traumatized teenager who is kidnapped with two other girls her age by Kevin Wendell Crumb (James McAvoy), a man with dissociative identity disorder (although portrayed inaccurately) who has developed 23 distinct personalities. The three teens are meant to be sacrificed in a bizarre ritual that will bring out a new personality in the form of a cannibalistic, superhuman entity dubbed "The Beast." Complications arise when Casey — whose disturbing backstory is slowly revealed over the course of the film — finds a way to engage with Kevin's many personalities, giving her and the others a chance at escaping their grim fate.
"I got told once, I think it was one of my first really big emotional scenes [in 'Split'], and M. Night Shyamalan was like, 'I've seen you cry, and these are your own tears. Don't be selfish. Give the character her own tears,'" Taylor-Joy told BBC Radio 1. She said that this "completely changed" the way she thinks about acting, "because before then I'd always thought that it was about mining yourself for experiences, and in that moment it was like, 'Oh. This is a person that I take care of, and I have to feel their feelings through empathy.'"
The art of crying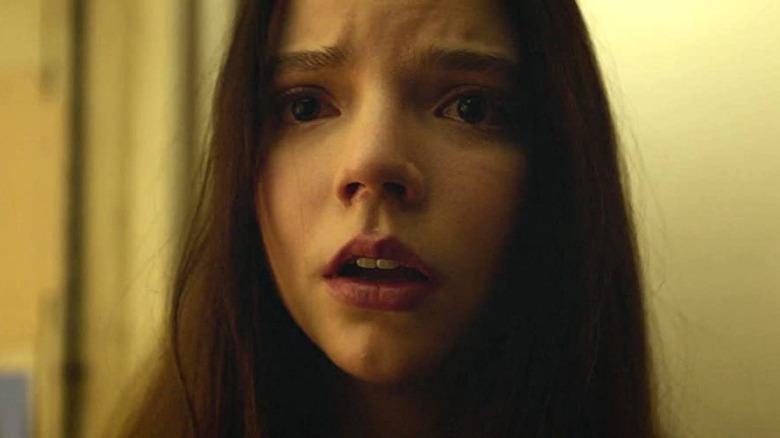 Universal Pictures
The art of acting (be it film, TV, or theater-based) tends to be incredibly personal and esoteric. No two actors seem to take the same exact approach to immerse themselves in their roles, and even those who describe themselves as "method actors" may resort to dramatically different "methods" to get into character. In Anya Taylor-Joy's case, treating the person she's playing as an individual separate from herself appears to afford her a great deal more endurance as a performer when it comes to tackling emotionally draining material. As she told BBC Radio 1:
"And that actually means that you can cry, or at least I can cry, all day long. Because it's like your sister or your mum or your best friend. Literally just like, 'Don't be selfish, give the character her own tears.' And I was like, 'Whoa.' That, really, boom."
Say what you will about Taylor-Joy's (and, by extension, M. Night Shyamalan's) way of thinking, but it has served her extremely well as an actor so far, allowing her to completely embody characters as unalike as Casey in "Split," Emma Woodhouse in "Emma.," and Beth Harmon in "The Queen's Gambit." Just remember: When you hear Taylor-Joy crying as the voice of Peach in "The Super Mario Bros. Movie," those tears are for the Princess Toadstool.
"The Menu" is now playing in theaters.