The Menu Was Written For Ralph Fiennes, But The Performance Was Even Better Than The Filmmakers Hoped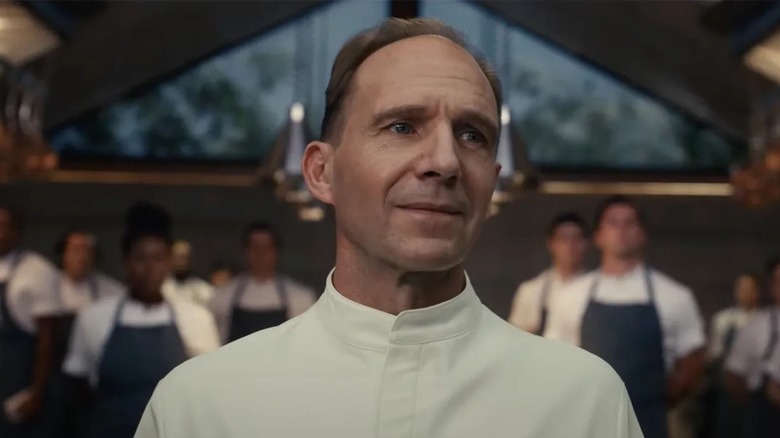 Searchlight Pictures
Mark Mylod's new film "The Menu" takes place over the course of a single night at Hawthorne, one of the most expensive and prestigious restaurants in the world. Hawthorne is located on a remote, deserted island that is only occupied by its employees. The island's buildings are all devoted to food preparation, and the restaurant's star chef, Julian Slowik (Ralph Fiennes), has taken to making elaborate, story-driven, muti-course meals that are meant to stimulate the intellect as much as the palate. 
Julian, however, seems to have begun taking his meal-crafting a little too seriously. Backed up by an army of devoted-to-the-death kitchen workers, Julian has constructed a meal that will force his clientele to confront their own sins and vices, and will, by the end of the evening, involve human bloodshed.
"The Menu" was written by Seth Reiss and Will Tracy, comedy writers who previously — between them — wrote for The Onion, College Humor, and "Last Week Tonight." "The Menu" is their first feature film, and clearly they wanted to send up the antiseptic nature of well-moneyed foodie culture (inspired by Tracy's honeymoon trip to Cornelius Sjømatrestaurant in Bjørøyhamn, Norway). While Julian may be a monster, each of his diners has a shallow soul, each one more concerned with money, infidelity, or fame than taste. 
Appearing on "Late Night with Seth Meyers" recently, Reiss admitted that when he and Tracy were writing their script, they kept thinking of Fiennes in the role. When Fiennes agreed to actually play the part, they were elated. 
Doing it 15 times better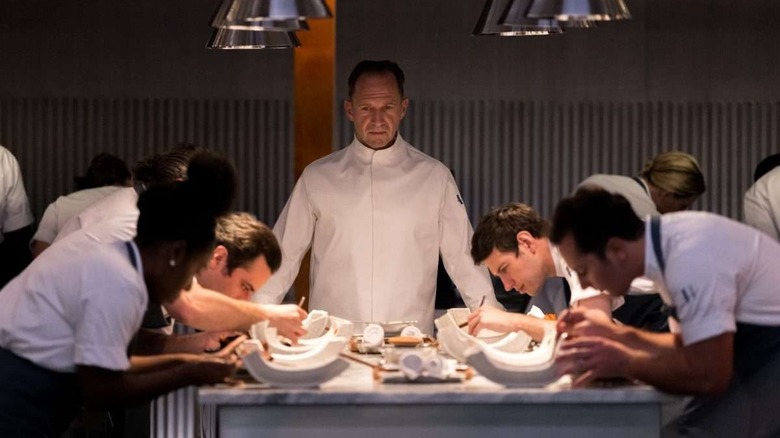 Searchlight Pictures
It was a mere stroke of alchemy that Fiennes agreed to act in "The Menu." As long ago as 2019, Fiennes became attached the to the project, back when he was to star opposite Emma Stone, and the film was to be directed by Alexander Payne. That version of the "The Menu" fell through, and it would re-manifest over the following years as the version currently on screens. Fiennes remained constant throughout, and not only were the screenwriters impressed at his involvement, but by how well he handled the material. Said Reiss: 
"[W]hen we were writing the movie, there came a point where we thought 'This would be amazing for Ralph Fiennes.' And we started kind of writing it for Ralph Fiennes. And then when he agreed to it, it was shocking and amazing. And then I remember ... we were on set. And we showed up to Ralph Fiennes — he had three days before he was going to start shooting — and he was completely off-book."
Off-book, meaning that Fiennes had all his lines memorized; he no longer needed to consult his script. Julian, throughout "The Menu," gives multiple highfalutin monologues about the history of food as it relates to class, and, evidently, Fiennes had them nailed. Reiss described it thus:  
"[H]e presented to me, Will, and our amazing director, Mark Mylod, exactly what he was going to do for his first four big monologues. And he was completely off-book! And I think you do know that feeling whenever you write something for someone, and then they're doing it exactly in the tone you thought they would do it, and then they're also doing it 15 times better."
Foodie culture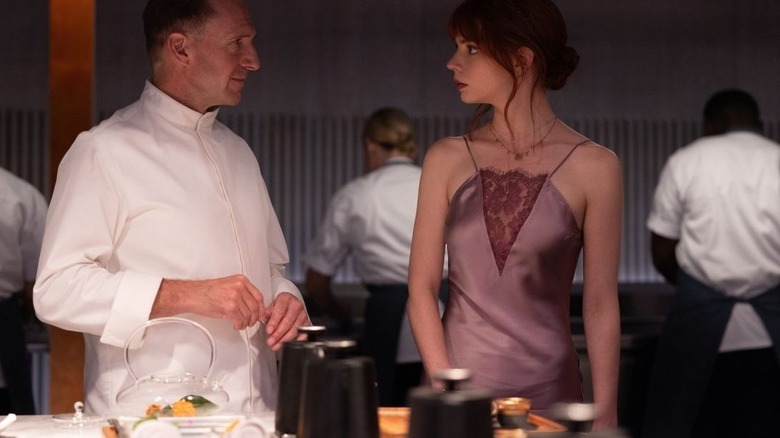 Searchlight Pictures
"The Menu" eventually becomes explicitly about the interplay between Julian and a character named Margot, played by Anya Taylor-Joy. Margot is a last-minute replacement date for the sniveling Nicholas Hoult character, and admits that she doesn't understand Chef Julian's particular brand of conceptual cooking.
Fiennes hasn't commented on what kind of research he did to capture the part of an artisan/celebrity chef, but — as someone who has eaten at a few high-end, multi-course restaurants — he certainly nails the part. Fiennes isn't so much spoofing one chef in particular, as much as he's spoofing a trend in modern cuisine that defers to the cook more than the customer. One of the courses in chef Julian's dinner is a sampling of spreads and olive oils meant to be spread on bread ... but without the bread. Bread, he feels, is peasant food. Why not cut it from the equation? 
Fiennes is so convincing in his monologues that, for a brief moment, the audience might find themselves agreeing with his theories. Eventually, however, violence becomes part of the meal experience, and the audience has presumably stopped listening by then. Fiennes also has a few wonderful moments with Margot wherein he confesses that the two have an unexpected connection. "The Menu" is perhaps broad in its satire, but it certainly found just the right lead actor.