Bel-Air Season 2 Trailer: No One Is Making Choices For Will Anymore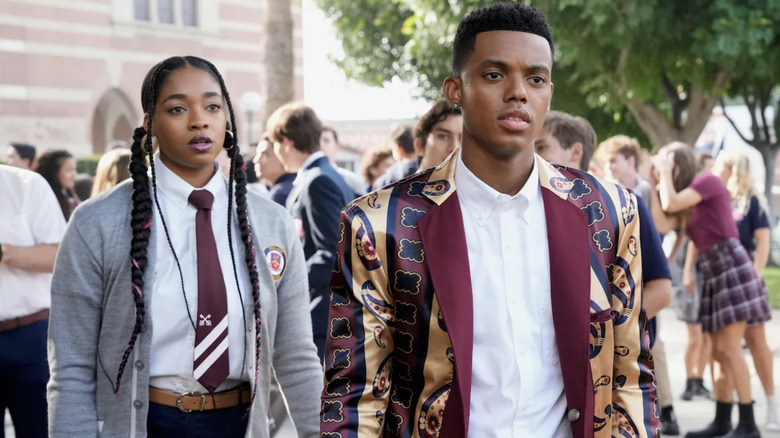 Greg Gayne / Peacock
'90s kids remember the flashy fashion and hilarious hijinks of Will Smith on "The Fresh Prince of Bel-Air," but the modern remake of the series, "Bel-Air," is not just a massive hit for Peacock, it's also a completely new take on the story of young Will Smith (Jabari Banks) as he adjusts from the streets of West Philadelphia to the gated mansions of the Bel-Air neighborhood in Los Angeles. The series' humble beginnings are rooted in Morgan Cooper's fan-made fake trailer for a dramatic envisioning of "The Fresh Prince of Bel-Air," but has since evolved into a legitimate hit for Peacock, with Cooper serving as co-writer, director, and executive producer.
The hit series has also breathed new life into the original show for a new generation. As one of /Film's resident writers who spends an embarrassing amount of time on TikTok, the existence of "Bel-Air" has definitely inspired Gen Z to look back at the 1990s original, because the clip of Will Smith confronting his dad in an episode from season 4 makes the rounds every other month. 
Season 2 of "Bel-Air" will pick up right where the last season left off, continuing to explore its trademark themes of racial tension, culture shock, and what it means to exude Black excellence. Here's the official synopsis from Peacock regarding season 2:
"Season two of Bel-Air picks up with Will at a crossroads in his life as a new figure comes into his life who challenges what he's learned in Bel-Air and competes for control of his influence. He juggles this while navigating his home life with the Banks family and trying to rebuild the trust that was broken at the end of last season."
Check out the Bel-Air season 2 trailer here
The first trailer is just a teaser, with the voice of Will saying, "Life is a series of choices — the world of either this or that." The main cast of characters appears on screen, as Will describes each character's challenges while trying to find their place in the world. Peacock's synopsis includes a more in-depth breakdown of what it all means:
"We'll see Will and Carlton's brotherhood start to evolve as they grow closer, but still challenge each other about their differences. We'll also see Hilary evolve as she becomes more of a boss in her influencer world and how that spills over into her relationship with Jazz, and also highlight the relatable struggles around Viv and Phil balancing marriage and family while trying to forge their own career paths and reconnect to the things that are important to them."
"Bel-Air" stars Jabari Banks in his acting debut, Adrian Holmes ("V Wars") as Phillip Banks, Cassandra Freeman ("Atlanta") as Vivian Banks, Olly Sholotan ("Evolution of Nate Gibson") as Carlton Banks, Coco Jones ("Vampires vs. The Bronx") as Hilary Banks, Akira Akbar ("Captain Marvel") as Ashley Banks, Jimmy Akingbola ("Most Dangerous Game") as Geoffrey, Jordan L. Jones ("Snowfall") as Jazz, and Simone Joy Jones ("The Chair,") as Lisa.
"Bel-Air" is scheduled to return on February 23, 2023.