Elemental Teaser: Opposites Attract In Pixar's Newest Original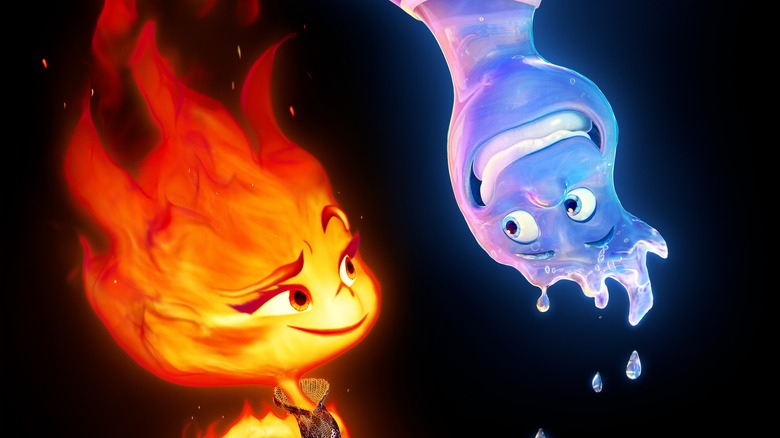 Pixar
At this point, few can question Pixar Animation's prowess when it comes to creating wholly original worlds out of nothing but pure imagination. Despite some rather hasty, sky-is-falling panic after a string of (admittedly disappointing) sequels and prequels in the 2010s, the animation giant's standing amid the industry simply can't be denied. From talking toys to bugs (justice for "A Bug's Life," the studio's most underrated picture!) to dinosaurs to emotions to giant red pandas, few can compete with the breadth of storytelling and innovation going on with the many talented filmmakers under the Pixar umbrella — especially at a time when it feels like animation as a medium continues to be marginalized more and more.
Pixar's latest effort will take the form of something far more "Elemental." As the title would suggest (along with previous descriptions of early footage), this movie will tell the tale of anthropomorphized elements and the conflicts that inevitably arise when they attempt to mix. Today we got our first teaser trailer and — stop me if you've heard this before — the latest Pixar movie looks wonderfully rendered and irresistibly charming. Check it out below!
Watch the Elemental teaser trailer
Talk about a meet-cute for the ages. Opposites react, as the film's tagline cheekily says, when characters made out of fire, air, land, and water end up crossing paths during their daily lives. Sparks can fly anywhere, however, even between fire and water on public transportation.
Directed by Peter Sohn (Pixar's "Partly Cloudy" short and "The Good Dinosaur," though he's also an accomplished voice actor dating back to 2004's "The Incredibles") and produced by Denise Ream (a visual effects producer who's also been credited on "Up," "Cars 2," and "Toy Story 4"), "Elemental" stars Leah Lewis as the voice of the fiery main character Ember Lumen and Mamoudou Athie as the water-based Wade Ripple. Here's the official synopsis:
Disney and Pixar's "Elemental," an all-new, original feature film set in Element City, where fire-, water-, land- and air-residents live together. The story introduces Ember, a tough, quick-witted and fiery young woman, whose friendship with a fun, sappy, go-with-the-flow guy named Wade challenges her beliefs about the world they live in.
Pixar also released a brand-new poster for the film, which you can see below.
"Elemental" will make its grand debut (presumably in theaters, though a Disney+ release similar to "Turning Red" can't be ruled out just yet) on June 16, 2023.