Zoë Kravitz Says Big Little Lies Season 3 Won't Happen After The Death Of Director Jean-Marc Vallée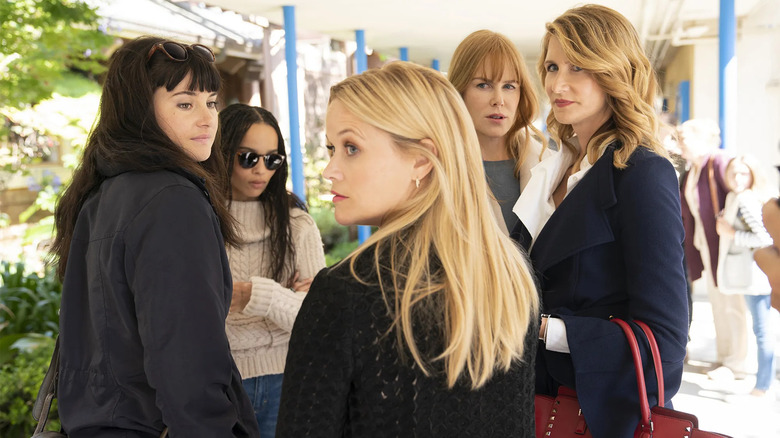 HBO
The first season of "Big Little Lies" was a gift. The short but effectively addictive murder-mystery saga put five women at the epicenter of a tragedy and spent seven incredible episodes unraveling exactly why it happened. It quickly became one of the most beloved series of 2017 and garnered so much buzz that HBO gave the once-limited series a second season order. And since then, fans have been impatiently awaiting the third. But according to Zoë Kravitz, the story of the Monterey Five has already concluded.
While answering fan questions during a GQ video, Kravitz addressed the question, 'When is "Big Little Lies" coming back' with a bittersweet, "I don't think it is." Kravitz went on to explain that she can't imagine moving forward with the series following the loss of director Jean-Marc Vallée, who died in December 2021:
"We talked about doing a Season 3 a lot. Unfortunately, Jean-Marc Vallée, our incredible director, passed away this last year, which is heartbreaking. And I just can't imagine going on without him. He really was the visionary for that show. So, unfortunately, it's done."
Prior to his death, Vallée (also known for directing "Dallas Buyers Club" and "Wild") helmed every episode of "Big Little Lies" season 1. Along with series creator David E. Kelley, he played a critical role in defining the show's sense of identity. After it debuted to much fanfare, Vallée won an Emmy for his work on the series and afterward, helmed another HBO hit, the Amy Adams-starring limited series "Sharp Objects." When the second season of "Big Little Lies" rolled around, Vallée stayed involved creatively, but Andrea Arnold took over directing duties for all seven episodes.
Is this really the end for Big Little Lies?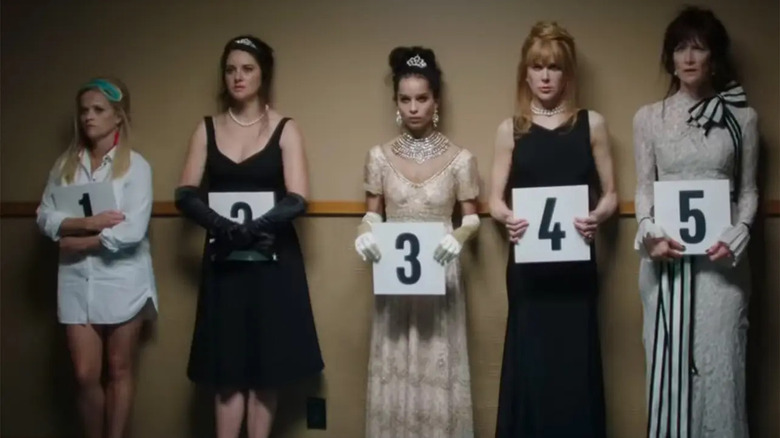 HBO
If you're still holding your breath over the possibility of a "Big Little Lies" return, I suppose all hope isn't lost. Despite Kravitz's comments, HBO has yet to officially confirm the series' fate. And as far as everyone else involved, the thought of returning seems to at least pique some interest. Just last month, Laura Dern encouraged fans to keep asking for more (via Entertainment Tonight): "I mean, we would all love nothing more, we're like family, just very lucky. I say, let's hold out hope. Let's keep asking, it might just come true."
Prior to that, David E. Kelley admitted that getting the cast together would be a scheduling nightmare (and he's right — even HBO isn't powerful enough to pull Kidman away from AMC). But Kelley didn't entirely dismiss the idea, saying: "Down the road? Maybe." So what's the truth?
Ultimately, this is one of those only time will tell situations. Obviously, nothing is impossible, but continuing the story seems incredibly unlikely. They've already exhausted the source material, having covered all of author Liane Moriarty's novel in the first season — and anyway, with the mystery solved and the trial concluded, all the loose ends have been tied up. It might just be time to officially bid farewell to "Big Little Lies." The series had a great run: Its perfect first season delivered on all fronts, successfully concluded its mystery, and kickstarted the Laura Dernaissance. The very uneven second season is less of an accomplishment, but even so, gifted us some worthwhile memes. We might as well continue as we were, thinking fondly of the first season and trying to forget where the second fell apart.
All that being said, if they announce a third season tomorrow, I'll throw all my better judgement out the window and cheer them on.